The fact that the VW Beetle was the most prolific single model of all time, with some 21.5 million built over its 65-year lifespan, has meant that it has become one of the most popular and best-loved classics of all, and this popularity has spawned the collectability of many other VWs too. For enthusiasts of the marque, Air-Cooled Technology have almost everything you could need, under one roof.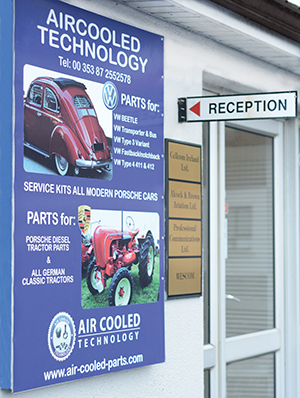 One of the most influential cars of all time, there aren't many people out there that don't have a Beetle story of some kind. Proprietor of Galway-based Air-Cooled Technology, Michael Higgins is no exception. "I have an interest in Volkswagens all my life" he begins, as we sit in his office surrounded by parts and books. "We had them at home – my mother drove one, my first car was one, a '59, and I still have it." In fact, the first eight of Michael's cars were Beetles, followed by Type 3 Notchbacks and Variants; he competed in them in various forms of motorsport, and as an engineer really learnt what made them tick. Having left a career in communications in 2008 Michael took the opportunity to change his hobby into a business, and since then has been building up Air-Cooled Technology to where it is today, a parts specialist that ranks on the world stage thanks to their extensive website and mail-order capabilities. As well as providing parts and accessories to owners and restorers, Michael routinely tests out his products on his own VW restorations while also directly supplying and receiving feedback from VW engine builders and motorsport competitors (including Formula Vee racers), so he's in a unique position to be able to vet and identify the best-quality parts available worldwide. "Those lads are buying here directly, and they'll test a part more than any road car will test it" he explains. "We're a good test-bed, and if something is a piece of junk we'll find out faster than the customer, and it won't happen again."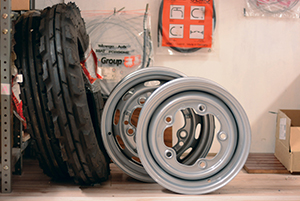 In recent years, particularly since the end of the Beetle's worldwide production in Mexico in 2003, the classic VW scene has begun to change: no longer is the trusty Beetle the centre of attention. "VW themselves would say that the Beetle is slowly declining in the world" Michael confirms. "Their view is that the Golf is the next coming thing. As the cars age they're coming into our focus, and that includes the Jetta, the Caddy, the T25 – we've just finished the website on the T4." New catalogues are being introduced and developed all the time, with the Golf and Jetta range currently being intensively expanded on an almost daily basis. Air-Cooled Technology have the distinction of being an official VW Classic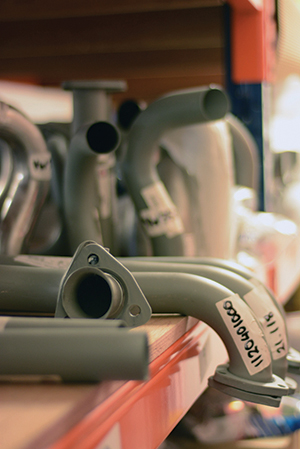 dealer, meaning that they have access to Volkswagen's own ETKA parts catalogues (just like at your main dealer) and are able to order directly from them genuine parts for older models. What's more, they can work off the vehicle's chassis number too, and at a glance can see its build date and specification. And, of course, if they find that the part is no longer serviced by VW themselves, Air-Cooled Technology can turn to their massive network of third-party suppliers to turn up a good-quality replacement in practically all cases. "If it's available, we'll go the last mile and get the part" Michael confirms, and what's more, their large warehouse in Oranmore carries such an inventory that a large proportion of parts are already in stock for quick turnaround and delivery.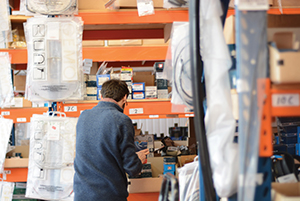 Not content with offering not only parts and spares, but workshop consumables, literature and technical data for classic air-cooled and water-cooled Volkswagens, Air-Cooled Technology have a number of other lines for other collectable German vehicles. These consist of the Porsche 356 and 911, Mercedes W123 and W124 series, and three types of classic tractor: the Porsche diesel, the early Deutz diesel and the Steyr. All of these catalogues are also available to view on Air-Cooled Technology's impressive and easy-to-navigate website at www.air-cooled-parts.com.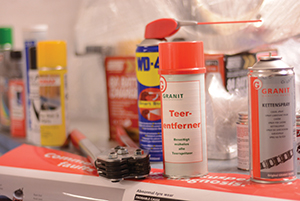 Living here in Ireland, we are lucky enough to not only be able to avail of Air-Cooled Technology's massive range of parts and accessories – they also offer a wide range of services, primarily for air-cooled VWs, and these run from ball-joint pressing for Beetle front axles (a difficult task for the DIYer) to complete engine, gearbox and chassis rebuilds. As an indication of their confidence and expertise, they offer generous warranties on their rebuilt engines, but only once their Pro-Lubis oil is used – this oil has been specially blended for Air-Cooled Technology with a specifically high zinc content, something that Michael explains is crucial for air-cooled VW engines due to their larger bearing tolerances compared to modern motors. Air-Cooled Technology even take on and manage full restorations, although only a handful of these are undertaken each year due to the amount of work and care that's put into each one, with large engines, improved suspension and upgraded braking all fully within their capabilities if required. And, it's worth pointing out that many of Air-Cooled Technology's products and services, such as electrical rewiring and loom-building, apply not just to VWs, but other marques as well, so bear them in mind if you're restoring any kind of vehicle or kitting out your garage or workshop.
For further information on Air-Cooled Technology's massive range of spares, parts, accessories, workshop equipment, literature, tools and services, call them in Oranmore, Co. Galway on 087 2552578, email aircooledtechnology@gmail.com or see their impressive and ever-expanding website at www.air-cooled-parts.com.