For the past year or more, A&T Autostyle have advertised with us here in Irish Vintage Scene. In that time I have heard a number of very positive reviews of their work, so I decided to pay them a visit at their premises in Castlecomer, Co. Kilkenny.
A&T Autostyle
Ballyhimmin Business Centre, Castlecomer, Co. Kilkenny
www.at-autostyle.com Phone 086 6641274
Open 9am to 6pm from Monday to Friday, and 10am to 3pm on Saturday.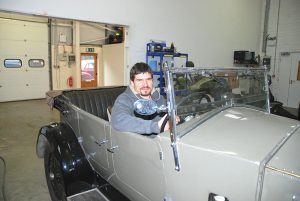 Proprietor Aivaras came to Ireland from Lithuania and formed A&T Autostyle a specialist auto-upholstery company. He already had years of experience in the business before arriving to Ireland; Aivaras is in fact an electrical engineer, but got into the upholstery business initially as a hobby; however this grew and grew until he had a thriving business. Luckily for us old vehicle fans he also loves old cars, so he treats them as if they were his own. As the old saying goes, "first impressions last." On arrival to A&T Autostyle's premises in the Ballyhimmin Business Centre in Castlecomer, Co. Kilkenny I was immediately impressed by the setup. Aivaras informed me that as well as having an extremely secure and alarmed business premises, they have also taken out special insurance to give extra cover to cars while they are in their workshop. "At all times customer vehicles are stored inside the workshop" Aivaras adds. It was also impressive to see their separate workshop and fitting area.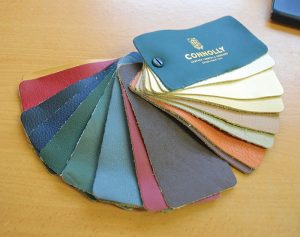 On the day of my visit there were two very interesting cars in the workshop. One was a vintage Chevrolet that was once a truck, which has now been made into a touring car and is currently having a brand new mohair roof made, as well as the full new interior. It was great to see the work in progress on this, and you could see the detail that the lads are going to. Aivaras tells us that this hood will be on and off the car hundreds of times in order to get it to fit just perfectly. The second car, a fabulous vintage Invicta, has had an amazing makeover at A&T Autostyle including new carpets made from top quality materials. Notably, the leather seats have been repaired rather than replaced, as Aivaras explains that "we never throw out old leather, as it can come in handy. This job proves it. We stripped the covering off the seats, cut pieces of some similar old leather and glued them in on strips from the back, and then recovered the seats." I was amazed at how well this looked, as it perfectly preserved the patina of this car's very original interior. Next up was the Invicta's roof, which is just a stunning job either up or down. Side-screens, while not standard on the car, were also made from scratch and look as if they've been there forever.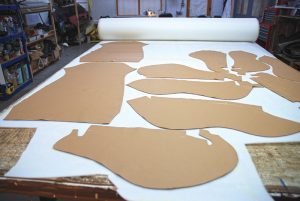 Having seen the work carried out on this car I would recommend A&T Autostyle to anyone. In fact, on the day I left with Aivaras a 1969 Morris Minor Convertible that was in need of a serious makeover; this car is up for raffle, and will be seen at various vintage shows during the summer. With top quality workmanship comes the need to source good materials, and A&T Autostyle source theirs from a wide range of locations across Europe including Germany, Spain and England, and will go future afield if needed. They can access many original manufacturer leathers and fabrics, and I was impressed to see names like Connolly Leather, who have been in the automotive interior business since the late 1800s. It was also impressive to see the number of fasteners and fittings that the lads have in stock. I asked about the cost of the materials, and Aivaras explained in great detail that the quality of the product depends on the budget of the customer. "Some customers say to please use the best material you can get; then this will be expensive, but they want it" he explains. "On the other hand they may have a tight budget, and we can source material to suit that budget." He continues by adding that "we only use automotive material. Some people use household products, but they are not the same and do not last as well." In addition to covering seats and making carpets and roofs/hoods, A&T Autostyle can also make headlinings, door cards, dashes and anything else to do with interiors for any vehicle. Cars, trucks, boats, aircraft and motorcycle seats have all been catered for in the past by A&T Autostyle.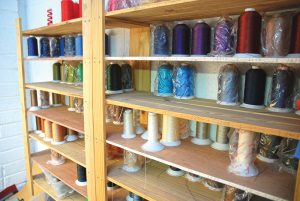 On the day of my visit there were a set of Recaro sports seats being treated to a new lease of life. With one seat stripped to make templates, the new leather was waiting on the bench, so I asked Aivaras if that job would get done in a day. His reply impressed me as he explained that "you could do it in one day if you wanted to, but the job would be poor. We do it right. This will take two days, and if it needs three then we give it three. The result will speak for itself."