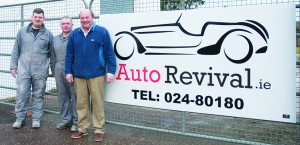 With the Irish economy showing signs of improving, or at the very least not getting any worse, the time will soon come again when more and more enthusiasts will undertake restoration projects. Although a small industry in its own right, our hobby nevertheless requires many services such as blasting, metal fabrications, painting and so on, and while we have many great services available to us in this country, specialist restoration companies are few and far between, somewhere in which all major stages of the restoration can be completed in one location. Now, a new company is bringing a breath of fresh air to this sector.
AutoRevival, a new restoration company based just outside Dungarvan in Co. Waterford, has brought restoration services in Ireland to a new level. Established in 2013 by Ciaran Geoghegan, the company provides a complete restoration service, with all of the major components available in one location. During a recent visit to AutoRevival's impressive premises, a former creamery that has been very tastefully converted into a classic workshop, we were shown three cars at different stages of restoration. A 1977 Mini 1275GT had just been completed, and looked simply amazing, while a 1964 Lotus Cortina was at the bare shell stage. A 1967 Porsche 912 had just been painted, and was almost ready for reassembly.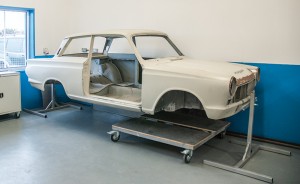 Ciaran tells us that one area he really wants to specialise in, and to help educate classic car owners in, is the area of corrosion. "There are so many blasting media out there, as well as anti-corrosion products, that it's very confusing" he explained. "People need to be better informed, and we will do that". AutoRevival has an in-house blasting facility and, with modern top-of-the-range equipment, can blast at a pressure as low as 5psi. They will also use different media on different parts of the vehicle, and also have powder-coating and zinc-plating facilities in-house for the refurbishment of small components and brackets.
With the initial blasting done, it's off to the body shop for metal fabrication. Ciaran's two employees have all the tools and equipment available to them to fabricate and repair sections of any vehicle, before it's moved to the paint room. The separate painting section is large and spacious, and it's treated as a clean-room as it is planned only to paint and finish cars in this area. AutoRevival are using a top-of-the-range Sima spray booth/oven, and plan on using established Glasurit paints sourced from Team PR Reilly, who have decades of experience in this field along with a comprehensive database of classic car colours. Incidentally, Ciaran worked for Team PR Reilly when he was fourteen years of age, so he has a long connection with the motor trade.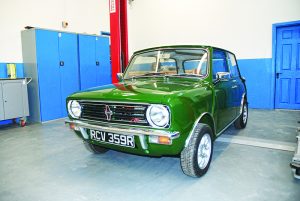 Everywhere you look around the AutoRevival premises you are struck by their professionalism. The setup, tidiness, organisation, security and sense of job commitment of Ciaran and his staff would give you great comfort when leaving your prized possession in their care. Ciaran told me that he has a Bentley and a Porsche 911 booked in for the coming weeks, and is looking forward to getting that Lotus Cortina to the next stage. Of course, as well as full-on restorations AutoRevival also welcome any work involving vintage and classic vehicles, such as minor cosmetic repairs, mechanical repairs, engine and gearbox rebuilds, brakes and suspension repairs and electrical re-wiring jobs. As it is nigh on impossible to have the expertise and machinery needed to complete every task in-house, there are a select few that Ciaran will outsource. For these, he has selected some of the best suppliers he could find for interior retrimming and starter, alternator and radiator reconditioning. AutoRevival will also be stocking a large range of products related to the classic and vintage vehicle hobby, and Ciaran will have these on the AutoRevival stand at the RIAC National Classic Car Show at the RDS on the 1st and 2nd of March next, so make sure to stop by and say hello.
To get in touch with AutoRevival Ltd, call 024 80180 or 083 1616530, email Ciaran@autorevival.ie or visit their stylish website at www.autorevival.ie.