Restorations are a tricky business at the best of times, but if you're trying to rebuild a model that has little or no parts backup then the whole thing can start to look almost impossible. Thankfully, the sunny southeast of Ireland is home to CC Restorations, who have the skills and knowhow to fabricate and repair metalwork to the highest standards.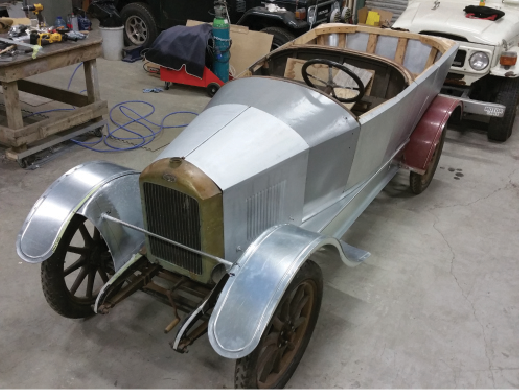 It's heartening indeed to come across people who take real pride in their work, and as I was shown around the CC Restorations premises by proprietor, Brendan Tyrell recently I certainly got that feeling from everyone working there. I've long had an interest in metalwork myself (even though sadly that interest hasn't translated into any practical skill on my part) so taking a look at the work going on was fascinating, and I soon realised just how much work and time goes into these things. The extremely rusty Jensen bonnet sitting on a large worktable was a good case in point – this isn't from any ordinary Jensen (if there is such a thing), but an ultra-rare FF, of which just over 300 were made. With no possible option of sourcing a new replacement panel, Brendan and his team have been entrusted with the delicate task of taking a template from the original panel and fabricating a new one, which as I found out on the day, is not as easy as it sounds. It's a huge bonnet for a start, and even though it looks almost flat, of course it's not, and its various subtle curves have to be exactly measured and replicated using a variety of specialist tools and good old-fashioned ingenuity. The fact that the old panel is in terrible shape doesn't help, nor does the fact that the car to which it will be affixed is several counties away, making it more difficult to calculate panel gaps and the like, but Brendan is as confident as always that the job will be completed to the highest standards and to the satisfaction of everyone involved.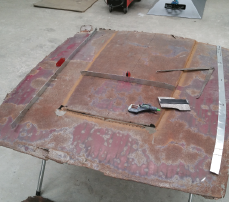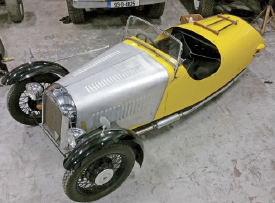 Leafing through the CC Restorations back-catalogue, you'd have no reason to doubt it. Even though they might be best known for their restorations and repair panels for the classic Toyota Land Cruiser BJ40, they regularly turn out truly magnificent results from their Co. Wexford premises on all manner of diverse vehicles, recent examples including a 1938 Morgan, 1934 Crossley and a 1920s Peugeot, the latter job incorporating the reshaping of its timber frames and the fabrication and fitting of new door skins, front wings and an entire rear body tub. They even recently fabricated a pair of in-wing fuel tanks for a vintage aeroplane as absolutely exact replicas of the originals! Brendan's knowledge of metalwork, car body systems and welding is pretty phenomenal – he's been self-employed in the field since the age of twenty, and the early years of his apprenticeship were spent repairing brand new vehicles for importers, meaning that everything had to be lead-loaded and metal finished. "I never got into filler work and that kind of thing" he explains; "I always liked the making of something." Even though he's worked on and around vehicles all his life, you might be surprised to hear that he's not strictly a "car guy", being mainly into the metalwork side of things instead of tackling his own projects – he's 100% focused on the processes involved in turning out the finest product possible, simple as that.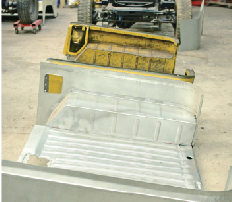 One thing in particular that struck me on the day about the creation of bespoke panels was the amount of preparatory work that goes on before any new steel sheet is even touched. Following all of the measurements and calculations mentioned above, special tooling often then has to be made up in order to create the right shapes in the new panel, or perhaps a timber buck needs to be created to shape a wing or tail section. For a recent Morgan bonnet project, two days were required just to fabricate the dies for the louvers, getting them exactly spot-on to match the originals. "You have to be part toolmaker as well" Brendan confides. "Every job is going to throw up its own particular challenge." A particularly good example of this is now standing proudly in the CC Restorations workshop. Having found their existing English wheel to be getting too small for requirements, Brendan had been shopping around for a good quality replacement for some time, but wasn't satisfied with the quality of those available. The solution? He bought in some top-quality rollers and bearings from the UK, and made his own English wheel! It's more beautiful than any piece of workshop equipment has a right to be, and with a massive throat depth of 36 inches it's going to prove extremely useful to the workshop in the future.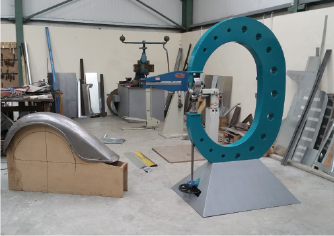 So, what exactly can CC Restorations offer the vintage or classic enthusiast? Basically, if it's made of metal and belongs on a vehicle body or chassis, they can restore or remake it. It doesn't have to be a full body for a vintage tourer either, as just before my visit Brendan had fabricated some wheelarch and floor sections for a Volvo truck for a customer in Cork, so anything down to the smallest panel can be catered for. Given his specialisation in BJ40 Land Cruisers (Brendan worked on them on his apprenticeship from 1978) he's able to either restore yours or supply ready-made panels up to and including complete body tubs, and you really have to see the quality of these to understand the effort that CC Restorations have put into getting them exactly factory-quality, or even better. Even a special welding process is used, which utilises a lower temperature in order to preserve the zinc coating on the steel used – the result is not only an extremely strong weld (tested to destruction by Brendan himself) but also amazing rust-resistance. Brendan proudly showed me a welded test section that had been left outside the workshop unpainted for six months, without a trace of rust to be seen.
As can often happen on such visits, I left CC Restorations that day almost reeling from trying to take in as much information as possible. I came away not only educated, but hugely impressed too, and I look forward to seeing more finished products from Brendan and his skilled team very soon.