IN THE PAST IT'S BEEN DIFFICULT TO FIND BUSINESSES WILLING (AND MORE IMPORTANTLY, ABLE) TO WORK ON OUR BELOVED CLASSICS IN THIS COUNTRY. ONE OF THE MOST HIGHLY RECOMMENDED AROUND IS THE CLASSIC CAR WORKSHOP IN KILLALOE, CO. CLARE, AND THIS TESTIMONY IS BORNE OUT BY THE SHEER QUALITY OF THEIR WORK.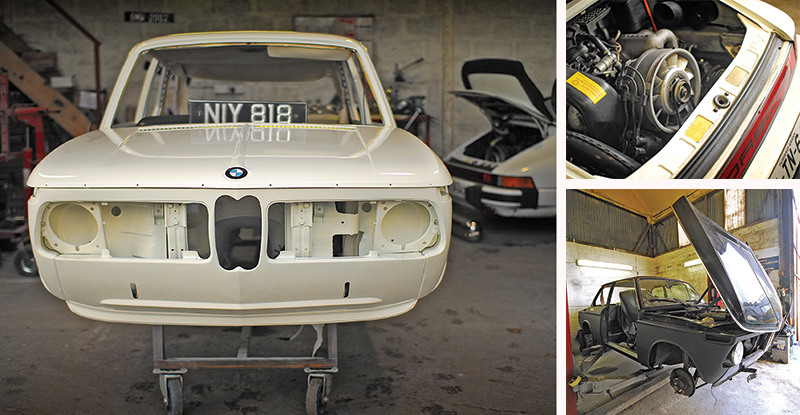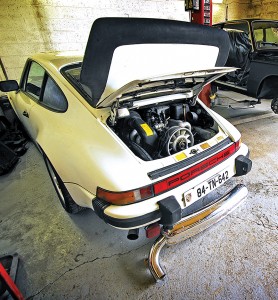 The effects of time ignore no-one, and particularly not our old cars, so there can come a time when those bubbles under the paint suddenly collapse into a rusty crater, that rumbling water pump finally expires in a cloud of steam or those shabby seats finally poke their springs into your leg. Few of us have the skills, experience or time to tackle repairs to the standard we'd like ourselves, so it's a very good thing that there are specialists like Jon Miller around to help us out. Jon runs the Classic Car Workshop, a restoration and service centre for cherished cars that operates out of the picturesque town of Killaloe in Co. Clare, and over the years he has amassed the kind of experience that most of us weekend tinkerers can only dream of. "When I left school in the late eighties I went into accident repair" he recalls over a cup of tea in his workshop; "it was a small, family business, but that was good because when you were given a job you had it from start to finish; you'd strip the car, repair it, paint it, reassemble it, valet it and call the customer to tell them it was ready. You did the whole thing, which was a lot more satisfying and you also learnt more."
After marrying a lass from Shannon, Jon moved from England to Ireland and swapped his overalls for a suit, taking up a job in IT. Even though he climbed the corporate ladder and was doing well for himself, the filler dust and metal shavings obviously hadn't left his veins, as in 2008 he decided to get out from behind a desk and back into a garage. "I'd gotten back into classics, owning them myself and tinkering with them at home" he smiles, "and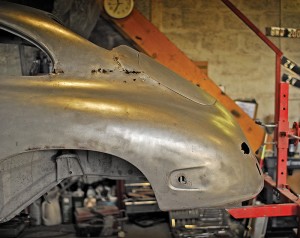 realised there was no-one really looking after them over here, so I started the Classic Car Workshop around April '08." Jon hasn't looked back since, with testimonials of his quality of work quickly spreading by word of mouth to the extent that he has never had a quiet day in the workshop since. Although his primary area of expertise is in classic German cars, specifically Porsches, Mercedes and BMWs, Jon will happily work on most kinds of classics, and in the last few years has restored everything from an eighties Mercedes SL to a 1962 Lotus 7. No aspect of old car repair or maintenance is outside the capabilities of himself or the similarly-skilled specialists he has built up a working relationship with, meaning that he can operate as a 'one-stop shop', handling everything from replacing a rusty wheelarch to a full, bare-metal rebuild; see the feature on the BMW 2002tii elsewhere in this issue for an example of what he can do for a classic!
Another secret of Jon's success is his strong customer service, as all work is clearly photographed and documented as he goes along, and every stage is discussed with the customer in an honest, knowledgeable manner. "I've a fixed hourly rate, and I do staged payments" he explains; "if it's a big job I look for the parts in advance, but I only ever look for my labour afterwards as it's more motivating and it's easier to manage." Jon will identify and confirm any prospective work with the customer in order to provide as accurate a quote as possible, but as all our readers will realise, there has to be a contingency allowed for if more rust or damage is found. "I normally err on overpricing; I did a big Mercedes coupe last year, and I was actually able to go back to the owner and tell him that it wasn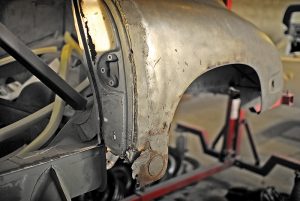 't going to cost as much" Jon smiles. "I would always rather do that. I do this because I enjoy it, and I don't want to be in a position that I have to argue about money with someone halfway through a job. I'd rather say at the start that it might not be worth doing, and most people would appreciate that kind of honesty." He must be doing something right, as on the day of my visit there were two BMW 2002s in varying stages of restoration, a Porsche 911 in for mechanical work and a pretty rotten 356A receiving the mother of all rebuilds. I can genuinely say that Jon's standard of finish is really as high as I've seen anywhere, and his knowledge of classics knows no bounds; the cars he has rebuilt are concours standard, and will last and appreciate in value for decades. At the end of the day it is said that the two best ways to select someone to work on your car are to either talk to a past customer or to check out some of their past work, and in this regard Jon has a whole lot to recommend him.
For information, testimonials and examples of the past work of the Classic Car Workshop, Killaloe, Co. Clare, check out www.classiccarworkshop.ie, call Jon Miller on 087 6794858.