AS ONE WALKS AROUND A SHOW ADMIRING ALL OF THE BEAUTIFUL VINTAGE VEHICLES, ONE THING WILL STRIKE YOU. THEY ARE ALL DIFFERENT IN ONE WAY OR ANOTHER, BUT THEY USUALLY HAVE ONE THING IN COMMON; THEY HAVE BEEN RESTORED AT ONE TIME OR ANOTHER. SOME MAY HAVE UNDERGONE A FULL CONCOURS RESTORATION, OTHERS SIMPLY A COSMETIC PAINT JOB, AND WITH THE HUGE GROWTH IN OLD VEHICLE OWNERSHIP OVER THE PAST NUMBER OF YEARS IT WAS INEVITABLE THAT A RESTORATION SPECIALIST WOULD POP UP HERE AND THERE.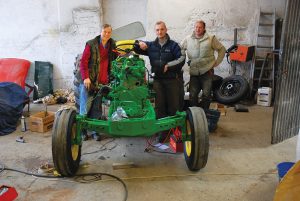 One such specialist is Bob Heaton, who is proprietor of Classic Motor Works. Classic Motor Works have advertised with Irish Vintage Scene since the early days, and it was high time I paid Bob a visit, so a few weeks ago I headed south to his premises in Bandon, Co. Cork.
On arrival at Classic Motor Works I found a hive of activity, and as Bob gave me a guided tour the first thing I noticed was an E-Type Jaguar Series II drop-head which is about halfway through restoration. It was under a cover, as the engine was currently away having some specialised work carried out. Bob pointed out that he does most engine work in-house, and in the unit next to his is Sutton Engineering Works so anything needing machine work is done there. The Jag has had a full stripdown, with many new panels being added including sills and floorpans. The car is now painted, and awaiting the engine to bring it to the next stage.
In contrast, alongside the Jag is a John Deere 920 belonging to a customer from Kerry. Bob points out that, over the past few years, the amount of tractors he is getting is increasing all the time, and now accounts for 50% of his work. The John Deere is almost complete and during my visit Dominic, one of Bob's two employees, is working on the front end of the engine replacing a leaking gasket. Meanwhile Jack, his other employee, is working on getting the wings ready for painting; they will be sprayed in the on-site heated spray booth, where a few other parts are also awaiting paint.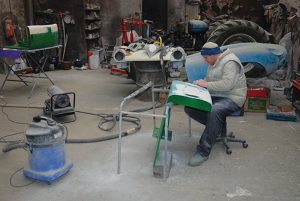 In the next room there are three ongoing restorations and two waiting to be started, one of which is a Roadless tractor which is originally from Mayo and is now bound for Galway. Bob points out some major oil leaks that will have to be sorted; he tells us that the process will be to fix the oil leaks, get the tractor running, then strip and sand blast it and prepare for paint. The sand blasting is another job Bob can do on-site, which saves on time and money, and he explains "once blasted, we apply an etch primer and bake to take out the moisture. We then put on a coat of sealer primer."
Another car that caught my eye was a Rolls Royce 20/25; this car has undergone a major restoration, with many parts of the ash frame being replaced and other parts being repaired. When the car arrived at Classic Motor Works it was grey in colour, but some original documents that were uncovered state that the car was originally two-tone green so it has been returned to its original colour. Currently the car is 90% complete, and it is just awaiting headlining, carpet and door trims which Bob will fit on-site. He will outsource the re-upholstering of the seats though, and he uses a company called SOS Upholstery in Skibbereen; the contact there is Mathew on 087 2458627. One very novel idea on this car is that the owner wishes to fit a stereo, and as this would not have been a standard item back in the 1930s, the speakers have been hidden above the headlining and the stereo has been placed under the back seat. Also in this room was another Jaguar in need of a lot of cosmetic work, along with a Spitfire in a well advanced stage of restoration.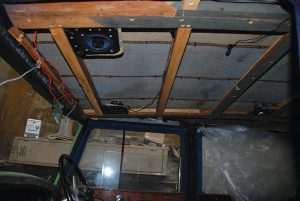 "Off to another room" says Bob, and when I express my surprise he tells me "yes, you must have a number of restorations ongoing at any one time as there is always down-time involved, whether it is waiting for parts or awaiting a payment from  a customer. I have a few out here that are currently on hold for one reason or another." In this other building there was a nice Mk2 Jaguar, a really old Renault and one or two other machines under covers.
After the tour of the workshop we grab a coffee, and one of the first things I ask Bob is how he got into this business. He points out that when he was 17 years old he bought a Mk2 Jag, restored it, and that's what he has been doing ever since. Another hobby in those days was racing lawnmowers, a sport that required two skills; driving, and having the mechanical know-how to be able to keep your machine going. He moved to Ireland from the UK a number of years ago, and when he settled in Bandon he started off Classic Motor Works, taking just one car at a time to start with and it has built up from there. "We are now very busy, with more work on the way" he explains. One question I had to ask was how does he price these jobs, as it must be impossible? "It is most certainly one of the hardest parts of the job" he tells me; "you could spend three hours trying to get a door lock off, and you just can't charge for that. One of the most important things is to keep the customer updated very regularly, and you will unearth problems as you go along so it's important that they see these problems and understand the extra cost involved before you proceed". The customer is given three choices of finish to start with; 'concours' show-winning, high show standard or working finish, which is something that can be driven everyday or regularly on runs etc. "It's mostly the middle one we work with," Bob explains, "but we often work to the other finishes too."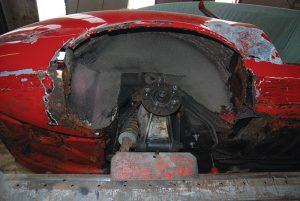 Bob offers his customers the option of making monthly payments as the job progresses, and this way there is no big bill at the end. Others make occasional payments to him, and when he gets a payment he will carry out work to that value and await the next payment; this also helps the customer to fund the work according to their own financial situation. How about sourcing parts? "Well, most of the parts had to be made for the Rolls-Royce, but with the Jags, MGs and the like, most parts are available from the UK" he tells me. "We are also stockists of MG parts, and we can get most other parts in a few days. One other thing we get done in the UK is the chroming, as it's very hard to get anyone in Ireland to do it. I insist that all chroming is done in the three-stage hot-process system; this gives the best results."
With less and less people being able to carry out this type of work themselves the future looks good for Classic Motor Works, who have many happy customers who will recommend the quality of the work carried out. So, if you have a car that requires the professional touch, be it a full-blown restoration, a bit of tin-work, painting and all in-between, then Classic Motor Works is your next stop. Give Bob a shout on 087 6774202 or 023 43848, or check him out on www.classicmotorscork.com.