THERE ARE MANY SMALL DETAILS THAT CAN EITHER MAKE OR BREAK A CLASSIC VEHICLE RESTORATION, AND THE RIGHT REGISTRATION PLATES CERTAINLY FALL INTO THAT CATEGORY.  
Anyone who has restored, or even owned, a classic or collectable vehicle will know just how difficult and demanding a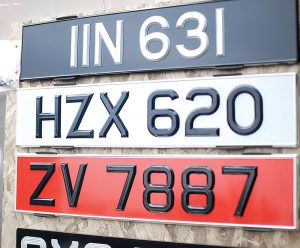 task it is to get all of the details just right. It's not just a simple case of getting the paint shiny or the chrome polished; everything from the type of wing mirrors you fit to your choice of tyres has the potential to mar the overall effect of the whole car, undoing your hard work in the process. Registration plates are a prime case in point; how many of us have groaned inwardly upon seeing a fifties or sixties classic with modern Euro plates screwed onto each end, or an otherwise tidy retro motor spoilt by faded or tatty plates? Likewise, the right set of plates are undoubtedly the finishing touch to a really good restoration or detailing job, such as a white front/red rear plate with separate plastic digits on a late seventies or early eighties car.
There was a time when we either had to make do with what was originally fitted to our cars or fit universal, modern plates in their place, but nowadays there are specialists out there who can help with that important finishing touch. In Ireland, one such specialist that has been providing a great service over the last couple of years is Eireplates, a web-based business that can be found at www.eireplates.com. Founded in 2009 by Trevor Flynn from Killarney, a long-time car enthusiast himself, Eireplates are able to supply pretty much any kind of number plate you could possibly need for any vehicle, whether it's a brand-new BMW or an eighty-year-old Ford. Their extensive range encompasses styles that were once commonplace, but are now a niche product for us classic enthusiasts, styles such as the aforementioned aluminium plates with raised plastic digits as well as pressed aluminium plates in various colours, Ace plates with polished aluminium digits, and even the black plastic 'goldline' and 'silverline' plates that were all the rage in the early eighties; remember those? Even custom sizes can be handled, as Eireplates have access to fonts from 45mm to 82mm in size. Trevor is highly receptive to customer feedback, and is quick to spot any gaps in his product range, offering a large range of fitting kits, marque-specific surrounds and other products to complement the number plates. "We advertise in a number of online forums, and have a Facebook page where customers can leave us feedback" he explains; "US replica plates are our next development, which we will be able to do in pressed aluminium in a variety of styles."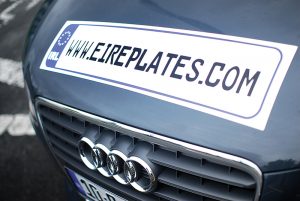 Ordering your new plates from Eirplates.com is very straightforward, as the main page contains a user-friendly plate designer on which you can select your options and text before moving onto your order confirmation. Impressively, the majority of orders submitted online before 10:30 am are delivered the next working day thanks to Eireplates' use of a number of courier companies, and most of their plates and accessories are sourced in Ireland, which is nice to know in this day and age. Some of the more unusual plates can take a bit longer to arrive as they are made to special order, but this is rare; see the website for specific details on delivery times. "There has been significant growth in the business over the past twelve months as more customers get to know about Eireplates" Trevor explains in closing; "we find that we have many repeat customers who are delighted to give us their business again, and we give a 100% guarantee that any problem will be resolved to the customers' satisfaction." With adhesive, classic rally-style plates their newest release as we go to print, which are available in a range of sizes and with black or reflective white backgrounds, it looks like Eireplates are going to continue to go from strength to strength in providing good value, quality number plates for the Irish car enthusiast.
For more on Eireplates' range of vintage, classic and modern number plates and accessories, along with information on ordering and an online plate designer, log onto their website at www.eireplates.ie.