Issue 173 IVS & Issue 39 RC
€10.99
Description
Irish Vintage Scene issue 173: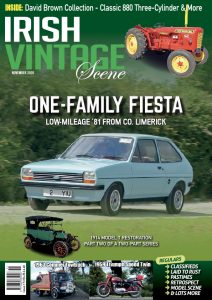 Taking the cover spot of the November 2020 issue of Irish Vintage Scene is a humble Ford Fiesta Mk1, but one with a very special history for its owners – it's been in the same family from new, driven for years by a beloved late grandmother, and has covered less than 50,000 miles in its life. It's survived teenage test-drivers and a shed collapse to become a shining example of the breed. Our second feature car is another Ford, but this time a 1914 Model T, as we conclude our two-part story started last month on its epic restoration from a derelict heap of parts. And speaking of restorations, our 'On The Spanners' monthly look at projects going on around the country this month takes in a Fiat 500 undergoing major body surgery and a guide to restoring a Zetor 5-Series tractor.
Our tractor feature this month brings us two fine David Browns from a long-time enthusiast of the marque, with this late three-cylinder 880 and a 1210 being joined in the garage by a rare 885 Vineyard project. Our motorcycle feature comes from a long-time motorcycle enthusiast from Co. Wexford, who tells us the circuitous route to how he came to own the beautiful 1959 Triumph Speed Twin in our photos, while rounding out this issue is our commercial vehicle feature on a 1963 Commer Karrier that's been transformed from fire engine to cattle truck to its new tow-truck guise during its life! All of the usual favourites are in there too, so don't miss out – get your November 2020 issue of Irish Vintage Scene at any good newsagent, or order it here.
Retro Classics issue 39: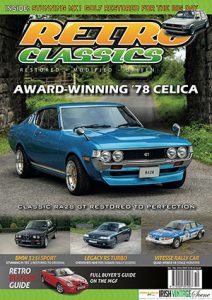 The October to December 2020 issue of Retro Classics is now on sale at good newsagents nationwide, or direct from us by ordering online. As always, we've a fantastic selection of fast classics for you to peruse, with the cover slot this time around going to a 1978 Toyota Celica RA28 GT that's been impeccably restored to show-ready condition, with a few subtle mods thrown in for good measure. A show-winning VW Golf Mk1 also features, a very special car for its owner as it was built for his wedding day, while we also check out a freshly-restored BMW E30 325i Sport, a cherished Subaru Legacy RS Turbo, a mint and original Toyota Supra A70, an unusual Peugeot 205 CTi with a unique history, and a simply monstrous Rover SD1 Vitesse V8 rally car. Our regular buyer's guide focuses this time on the underrated MGF, we show you how to get your classic ready for winter storage in our new regular detailing slot, and there's plenty more besides, so don't miss out – get your copy of Retro Classics at any good newsagent.