Issue 174 IVS & Issue 39 RC
€10.99
Description
Irish Vintage Scene issue 174: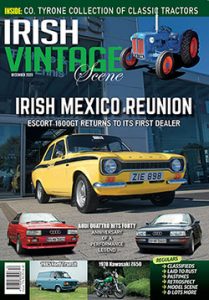 Taking the cover spot of the December 2020 issue of Irish Vintage Scene is one very special Ford Escort Mk1 – a rare Mexico 1600GT that was sold new at Sheils of Ennis Ford dealership. Following the recent completion of its top-notch restoration, we join in the occasion when it returned to its former dealership to meet some faces from its past. Our second car feature this month looks at another performance icon, but from a different era – to mark the fortieth anniversary of the Audi Quattro, we meet with the owners of both an Ur Quattro and a later Coupe quattro to see how revolutionary this model was in its time.
Our tractor feature this month visits the collection of Arnold Charters from Co. Tyrone, which is full of interesting models including a long-owned Allis-Chalmers ED40 and a very original Nuffield 4/60, while our commercial vehicle feature brings us a very original Ford Transit Mk2 from Co. Cork in this, the 55th anniversary year of this legendary van. Our featured motorcycle is a Kawasaki Z650 that's looking the part following a light restoration, while our On the Spanners project roundups drop in on our editor's Ford Fiesta and VW Beetle, as well as the now-completed Mk2 Golf GTI we first looked at a few months ago. All of the usual favourites are in there too, so don't miss out – get your December 2020 issue of Irish Vintage Scene at any good newsagent, or order it here with FREE POSTAGE!
Retro Classics issue 39: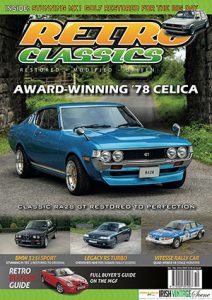 The October to December 2020 issue of Retro Classics is now on sale at good newsagents nationwide, or direct from us by ordering online. As always, we've a fantastic selection of fast classics for you to peruse, with the cover slot this time around going to a 1978 Toyota Celica RA28 GT that's been impeccably restored to show-ready condition, with a few subtle mods thrown in for good measure. A show-winning VW Golf Mk1 also features, a very special car for its owner as it was built for his wedding day, while we also check out a freshly-restored BMW E30 325i Sport, a cherished Subaru Legacy RS Turbo, a mint and original Toyota Supra A70, an unusual Peugeot 205 CTi with a unique history, and a simply monstrous Rover SD1 Vitesse V8 rally car. Our regular buyer's guide focuses this time on the underrated MGF, we show you how to get your classic ready for winter storage in our new regular detailing slot, and there's plenty more besides, so don't miss out – get your copy of Retro Classics at any good newsagent.