Issue 175 IVS & Issue 40 RC
€10.99
Description
Irish Vintage Scene issue 175: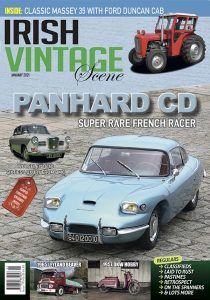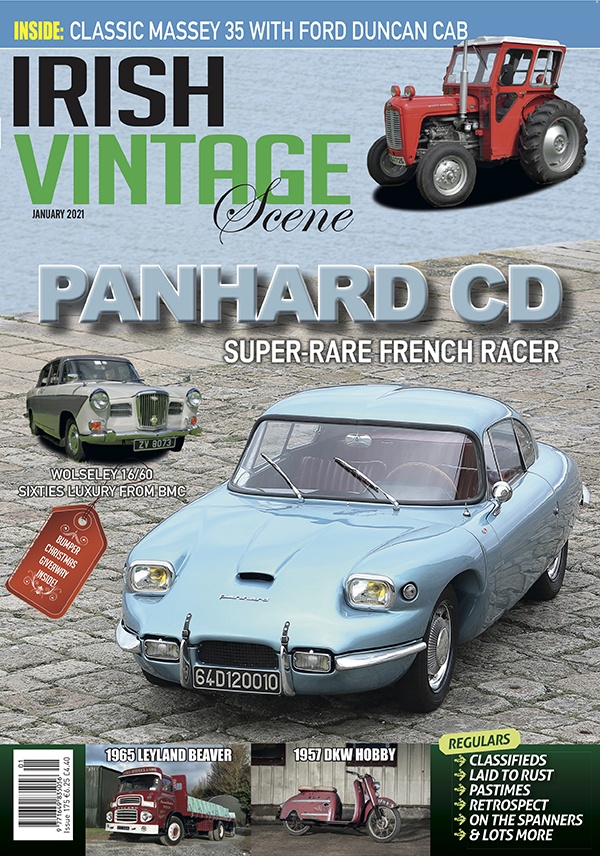 Taking the cover spot of the January 2021 issue of Irish Vintage Scene (our Christmas edition) is one of the rarest cars we've ever had the privilege of featuring – this racy Panhard CD GT is one of only 179 built in the mid-sixties, is certainly the only one in Ireland, and survives in extremely original condition. Our second car feature this month relates the tale of the owner of a stunning Wolseley 16/60 and his family history with the model, which stretches back to his father's company cars in the 1960s.
Our tractor feature this month looks at a Massey Ferguson 35 with Ford-derived Duncan cab, a tractor that's become a popular fixture in its hometown, while our commercial vehicle feature showcases a beautifully-restored Leyland Beaver with matching four-wheeled trailer, which was bought to commemorate the early days of its owners' haulage family. Our featured motorcycle is an unusual 1957 DKW Hobby scooter 'barn find', while our On the Spanners project roundups drop in on our managing editor's Ford Anglia estate and a contributor's rare Irish-assembled VW Anniversary Beetle. All of the usual favourites are in there too, including our annual Christmas crossword and bumper giveaway to mark this special time of year, so don't miss out!
Retro Classics issue 40: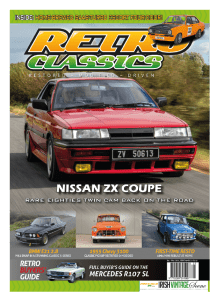 The January to March 2021 issue of Retro Classics is now on sale at good newsagents nationwide, or direct from us by ordering online with FREE POSTAGE. As always, we've a fantastic selection of fast classics for you to peruse, with the cover being graced by a rare 1989 Nissan ZX Coupe Twin Cam – when's the last time you saw one of those! This example was recently tracked down by a lifelong fan whose father had owned two brand new ones in the eighties, but it wasn't all plain sailing, as our feature outlines.
A pair of stunning Mk1 Golf GTIs also feature, one being a rare Irish-sold 1980 car and the other a real sleeper with 270 turbocharged horses under the bonnet. The Mk2 Escort we bring you in this issue is far from your run-of-the-mill Mexico or RS, a bright orange four-door track monster with a Saab turbo transplant, and speaking of transplants, the super-subtle BMW E21 323i we feature is not one to take on at the traffic lights either, thanks to its modern M52 2.8 conversion. A beautiful blue Mini restored as a young enthusiast's first-time project and a show-stopping 1955 Chevy 3100 pickup round out another hugely diverse issue, along with a buyer's guide on the timelessly elegant Mercedes R107 SL.
With a detailing guide looking forward to getting your classic show-ready, a look back at the quirky car ads of decades past and a look at some recent motoring event, there's plenty to get your teeth into in this issue of Retro Classics, so don't miss out – get your copy at any good newsagent, or click here to order your copy online, with FREE POSTAGE on the island of Ireland!