WELL ONE THING THAT GOES HAND IN HAND WITH OUR INTEREST IN OLD VEHICLES IS A FASCINATION WITH THE WORKINGS OF AN ENGINE, HOWEVER IT IS POWERED. MOST OF US ARE INTERESTED IN ANYTHING THAT MOVES, AND IN PARTICULAR WHAT MAKES IT MOVE; AT ONE END OF THE SCALE WE ARE INTERESTED IN BIG ENGINES AND THE POWER THEY CAN PROVIDE, WHILE ON THE OTHER END WE HAVE MODEL ENGINEERING.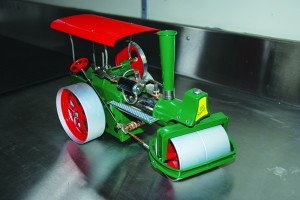 This too creates great interest, the fact that something so small can produce an output to create power or move something. Model engineers often take a standard engine and make a scale replica of it, which takes extreme precision and high engineering ability; one such person is Robert McCreery from Derry.  Robert has spent most of his life in the engineering business, having been a tool maker before progressing onto professional engineering, and then becoming a design engineer. The list of companies that Robert has worked for is impressive indeed. Over those years he developed an interest in miniature engineering, and built up a nice workshop at his home where he would spend manys a night working away.
Due to illness Robert sold his main business in 2003, also losing all interest in his miniature hobby and so he sold all his equipment for this as well. Thankfully, when Robert recovered from the illness his interest was rekindled due to boredom, so he restocked the garage with all the necessary equipment and got to work. Robert points out that it took over a year to get his skills back and to get everything running smoothly once again. Through 2008 Robert perfected his skills again, and by Christmas he had produced a number of very nice items including a very detailed replica of a Perseus steam-powered electrical generation plant. He was persuaded to show them at the 2009 Newcastle, Co. Down indoor show, which he did, and over the three days he noticed a huge interest in the plants he had produced, so he decided to set up in business. One thing that he noticed was that those people interested or involved in engineering in miniature found it very hard to source parts and tooling equipment, so Robert set out to fill this gap and has been very busy ever since.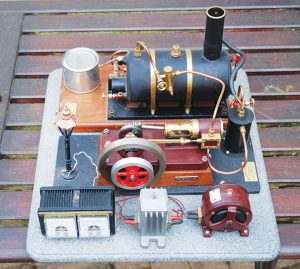 Robert points out that the interest in this area is growing, and that there are currently twelve model engineering clubs in Ireland. All of the models available from Robert come in three forms; assembled kit, assembly-ready kit (which is ready to be assembled with no machining needed), or a bar stock kit. This last kit includes all the castings for the model, and drawings of some parts that have to be engineered. Robert points out that kits are his best seller, with the model steam engines being particularly popular. Robert buys these kits in, but makes many changes to them; some come with some poor quality parts, which Robert discards and produces better metal products instead. I must say that, after seeing the before-and-after photos of the model steam roller, which is described as an 'Old Smokey Steam Engine', I found it a quite impressive model. This can be bought in kit form for £250, or assembled for £325. Another engine available is the air-cooled Gamma Stirling engine, with assembly kits starting from as little as £50 (or for the brave among us, a set of drawings for just £15). One of Robert's own engines that he produced in his workshop in either kit or assembled form is the very attractive Stirling twin-cylinder engine, the latest addition to his range.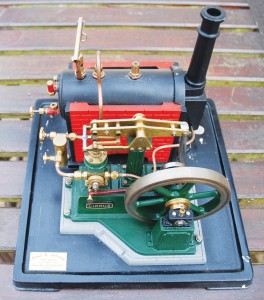 The other side of Robert's business is engineering and tooling machinery and accessories, which he has started stocking due to a demand for it here in Ireland. In fact, on the day I visited Robert's workshop a customer was collecting a new lathe, and a number of others were packaged awaiting dispatch for delivery. Robert has produced a very professional catalogue and a very good website at www.engineeringinminiature.com, where you can view all his products, and he can also be contacted by phone on 028 (048 from ROI) 71860212 . This is a very unique and interesting hobby, which is connected to our main hobby in many ways, and I for one look forward to buying a steam engine kit from Robert in the future, assembling it and seeing it working. Robert also takes his trade stand to many shows, so make sure to call to him for a look at what he provides.
Robert W. McCreery. 25 Gransha Park, Londonderry BT47 6TY.  Tel: (0044 from R.O.I)  02871860212. Mob: (0044 from R.O.I) 07724738766. 
Email: rmccreery@btinternet.com.  www.engineeringinminiature.com