WELL THERE IS AN OLD SAYING THAT STATES "NECESSITY IS THE MOTHER OF ALL INVENTION", AND SHAMROCK PANELS IN KILLARNEY, CO. KERRY IS A PRIME EXAMPLE OF THIS.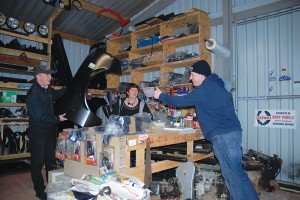 On a recent visit to Shamrock Panels I asked proprietors Marie and Dave Fleming how it all began, and the answer was simple; "about ten years ago Dave was doing up a Mk 2 Escort and he just couldn't get anything for it here," Marie explained, "so he started to source parts in the UK. As he was doing this, a few of his friends asked him to get a panel for them, and we then realised that there was an opening for a spares service for Fords". That's how it all began, and now Shamrock Panels is a very successful business which can supply panels and parts for almost any make of old car, and even I was surprised to learn that they are also supplying tractor panels. As official Irish agents for LMC Hadrian Body Panels, Shamrock can supply panels for almost all modern cars as well as vintage and classic motors. Of course, there are some panels that have gone out of production at this stage, and the only replacements available are fibreglass; not to be outdone, Shamrock Panels are also agents for Smith & Deakin, who supply quality fibreglass panels for a wide range of classics, so if you're looking for a specific panel then Shamrock are certainly worth a call.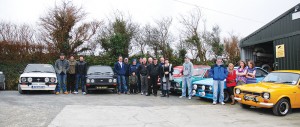 On my visit I was surprised to see the level of stock they hold. As they started off with Ford Escort parts they have became specialists in this area, and hold a large stock for Mk1s and Mk2s; Dave tells us "as Fords are so common we have no fear in holding stock for them, as there will always be a demand for them. We can supply panels and parts for most other cars by order." Marie points out that they have a delivery from the UK once a week, so if an order is received early in the week they will have it there on Thursday; "we get it dispatched by courier again that day, so as to have it to the customer by Friday" she explains. Walking around the store, one could easily see that the array of parts is enormous, from wheelarch repair kits to full wings, both in fibreglass and metal, standard or bubble-arched. Many sets of wheels can also be found, some new and some in need of refurbishment.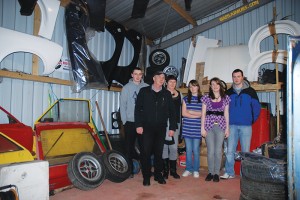 During my visit I picked up a boot floor for my Mk1 Escort (another job for Garage Scene). Dave points out that they have stayed away from the mechanical side of things and concentrated on panels, suspension, wiring and lights, as it would be hard to cover all areas. Shamrock Panels are also agents for East Kent Trim Supplies, who supply rubber seals for all makes and models; this is an invaluable service for the Irish enthusiast. Another area in which Shamrock Panels have became very specialised is flocking. What is flocking, I here you say? Well, its a coating of a substrate with nylon fibres using high-voltage, electrostatic equipment, and is normally applied to dashes for rally cars but can also be used in a lot of other applications. Dave showed me a Subaru dash he had just finished that day, and it's a very professional job. All in all, Shamrock Panels have a built up a great business aimed at helping the enthusiast complete their restoration, or just to keep their old motor going. I think it's great that we have this service in Ireland, and I urge you all to contact Shamrock Panels first before trying a company across the water, as Marie and Dave will do their best to get the piece you need.
On the day I visited Shamrock Panels, a number of their customers had gathered for the photo shoot; each one of them had the highest of praise for Dave and Marie's service, and said that, only for them, there would have been many parts they may never have been able to source. As all these people had gone to so much trouble to turn out on the day I will devote a page to them in the next issue, and hope to be back to some of them for features in the future as there were some real beauties present. I want to finish by thanking Marie, Dave and their family for the great hospitality and spread of food laid on for the evening I called, along with all the lads and lassies that turned up in their cars.
Shamrock Panels can be contacted on 064 6633097, 086 3439984 or 087 6230284, or by email on shamrockspares@eircom.net.