OF ALL THE SKILLS REQUIRED TO FINISH OFF THAT CLASSIC RESTORATION, THE INTERIOR UPHOLSTERY IS ONE OF THE MOST DIFFICULT BUT ONE OF THE MOST IMPORTANT. ENTER SOUTH EAST SEATING FROM ENNISCORTHY, WHO CAN TACKLE ANY RETRIMMING TASK.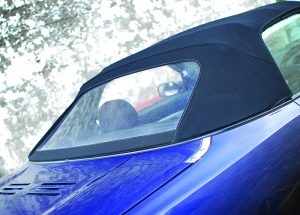 Most of us old vehicle restorers will try our hand at any task that arises during a project, chancing our arm at a bit of metalwork, perhaps some basic welding, and maybe even some paint spraying on the non-essential sections such as chassis and engine bays. However, opening the door to reveal tatty, worn or torn seats, plus a discoloured headlining and a threadbare carpet for good measure, and most of us won't know where to start. There's a reason, after all, why upholsterers are both well trained and highly skilled in their field. Pat O'Connor of South East Seating in Enniscorthy knows the area better than most, having been in the business since 1985. Having gone down the Manpower route after leaving school, Pat then moved to working with Crown Upholstery; when the proprietor of that business passed away a few years later he left his upholstery equipment to Pat, giving him the opportunity of striking out on his own, and thanks to his skill and passion he has been operating ever since. So what's the appeal? "Every job is different" Pat explains; "and you're doing something that a craftsman has done years ago, the old-fashioned way, and you're gauging yourself off him."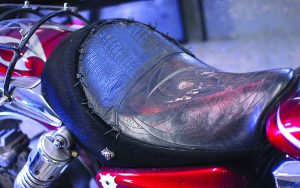 Although the work carried out at South East Seating by Pat and his highly-experienced colleague Richard focuses primarily on creating upholstery for interior designers and commercial businesses, Pat does enjoy working on automotive interiors as he's a proper gear-head himself; nestled in the corner of his workshop, surrounded by stacks of material, sits a very rare Ford 500cwt van project, alongside another Popular saloon and a Mini that's getting an interesting engine transplant in the near future. Pat is also a big motorcycle fan, and indeed the first example of his work that I came across at his workshop was the saddle of a custom-painted Kawasaki VN1500, which isn't exactly your run-of-the-mill leather-covered example… "The outer part is real cowhide" Pat smiles, "and the piping is leather made to look like barbed wire. The centre is carved leather, and the upper part is alligator leather!" While the 'grim reaper' insignia in the centre and the barbed-wire-effect piping might not be everyone's cup of tea you have to be astounded at the workmanship and ingenuity that goes into a piece like this, and a car interior must be a doddle in comparison.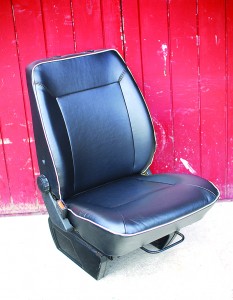 During my visit Pat ran me through recent classic work he has done, encompassing everything from a Model T to an Aston Martin, and it soon became apparent that nothing at all phases the guy; whether you need a full headlining created from scratch or some tired leather seats rejuvenated, he has a high-quality solution in mind. Interestingly, he tells me that thanks to his connections in the leather industry he is able to re-colour worn or damaged seats very effectively indeed, with a perfect match providing tired seats with a new lease of life without losing their patina. Of course, he can also source a mind-boggling array of fabrics if a retrim is required, in everything from cloth to vinyl to various grades of leather, and all in every colour under the sun. What's more, anything upholstery-related is catered for, meaning convertible hoods can be repaired or created from scratch, and new plastic rear windows can be quickly replaced for about €100. Pat's even retrimmed a helicopter cabin in leather in the last few years, so we doubt that any upholstery request is beyond him!
To get in touch with South East Seating, Enniscorthy, Co. Wexford to see what they can do for your vintage or classic vehicle, call Pat O'Connor on 087 2501745, email seating053@yahoo.com or look them up on Facebook under 'SouthEast Seating'.