FROM THE PIONEERING DAYS OF THE MOTORCAR UP TO THE ADVENT OF MONOCOQUE CONSTRUCTION IN THE FIFTIES, THE PROCESS OF BUYING AN EXOTIC OR LUXURY CAR WASN'T THE 'ONE STOP SHOP' IT IS NOWADAYS. HAVING CHOSEN YOUR MANUFACTURER, BE IT ROLLS-ROYCE, DUESENBERG OR DELAHAYE, YOUR ROLLING CHASSIS, DRIVETRAIN AND THE ALL-IMPORTANT GRILLE WERE THEN SHIPPED TO THE COACHBUILDER OF YOUR CHOICE IN ORDER TO HAVE A BESPOKE BODY TAILOR-MADE TO YOUR REQUIREMENTS. 

Like fashion houses, many of these coachbuilders had their own signature styles, some famous for creating outrageous, sweeping two-seat sports-tourers, others noted for their dignified, imposing saloon and limousines. This was boutique car couture at its finest, created with hammers, dollies, English wheels and wooden bucks by the most skilled metalworkers and craftsmen imaginable, forming flowing curves from flat sheets of aluminium.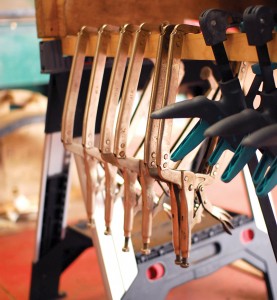 For those involved in the present day ownership or restoration of vintage cars and coachbuilts, as well as in the construction of specials or vintage racing cars, craftsmen with the aforementioned skills, plus the creativity, flair and artistic eye required, can be hard to come by. Thankfully in Ireland a specialist in just such matters has opened his doors in the last eighteen months. Based in Enniscorthy, Co. Wexford, Neil McKenzie of Vintage Works has experience in car restoration and bespoke metalwork stretching back twenty years; having begun his career with an apprenticeship in vehicle accident repair, for many years Neil worked on some of the most valuable and delectable cars imaginable at Le Riche Auto Restorers on the Channel Island of Jersey, who are well known for their work on top-level vintage and classic cars to Pebble Beach standards. Following a move to Ireland seven years ago, Neil then took up tools in the area of traditional forge work and architectural conservation, repairing and recreating parts and features for historic buildings and houses, further honing his skills.
Having branched out into the opening of his own workshop in Enniscorthy in summer 2009 Neil has certainly enjoyed a varied and fascinating order-book, and is currently working on an order of large body sections and boat-tails for Austin Seven racing cars for a UK customer. Aside from the odd art piece or sculpture to keep his creative side keen, Neil's focus is primarily on the provision of body parts and repair services for vintage and classic cars, predominantly those for which parts are not available off the shelf. There is the odd assignment that manages to blend the two however, such as the remarkable DeLorean recreation that was commissioned by an artist for an exhibition celebrating the Northern-Irish sports car (see News & Events section of our April 2010 issue for more); although not destined for an actual car, the body panels created for that piece were formed by Neil's hand using a real DeLorean as a starting point, and during my visit to his premises in September I was blown away by the craftsmanship involved, the wooden buck alone practically being a work of art in itself.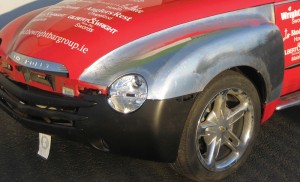 Neil's skills leave no stone unturned, and run the entire gamut required by any vintage car owner or builder. On the day, he ran me through the processes involved in English wheeling, wire edging, louvre-punching, rolled edges, riveting, wood framing and all manner of other techniques used in old car bodies, and it has to be said that his level of finish and attention to detail is nothing short of stunning. A long-standing car fan, his Mk8 Jaguar lurks at the back of the workshop alongside the basis for his long-term project; a special of his own design and construction, with inspiration from the past work of James Young coachbuilders. Based on an Irish-registered Bentley S1 chassis and powered by a Rolls-Royce straight-eight engine, this promises to be an incredible car when finished, and will act as the perfect rolling advertisement for Vintage Works; let's just hope he finds enough of a gap in his order book over the winter to get the project up and running!
While he will tackle any restoration work on any era of classic car, Neil does stress that the traditional techniques he uses and the time involved means that it won't be a simple case of slapping on a repro panel; all pieces of work are completed to the very highest of standards, so the cost involved might not suit the cosmetic makeover of a late-model classic, for instance. Yet, for those in the market for a complete hand-built aluminium body, section, panel or component, from the most basic to the most ornate, as well as any form of repair for a vintage car where only the best will do, Neil is your man.
With interest in his work now coming in from overseas as well as from Ireland his order book is getting heavier by the day, so why not call Neil for a chat sooner rather than later; Vintage Works can be reached by phone on 053 9237634 or 087 4169929, by email at info@vintageworks.ie, or through their website at www.vintageworks.ie.