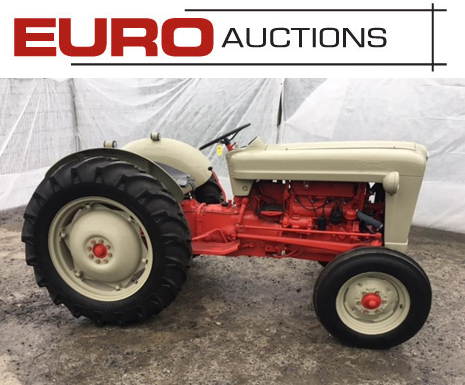 A vast private collection of over 100+ classic and historic tractors, plus associated equipment, has just been put up for auction. Amassed and lovingly maintained by John Flynn over the past four decades, the cherished collection, which is currently held in Northern Ireland, is reputed to be one of the best in private hands and includes many historically important models from the '50s and '60s, with several pre-1940s examples. The sale, which is expected to have a total hammer price of around €1m, is being arranged by Euro Auctions, and will take place on Saturday the 15th of April from 10am at their Dromore auction and corporate headquarters site in Co. Tyrone.
The lots include a rare 1938 Ferguson Brown Type A with original logbook, a Ferguson prototype tractor believed to have been built in the US in the early 1940s, a 1943 Ford-Ferguson 'Funk' conversion, a number of Porsche tractors, David Browns, Deutzs and many more, and the sale will be keenly anticipated by tractor collectors all over the country and beyond.
Full details and a catalogue for this forthcoming classic tractors event are available at www.euroauctions.com, and bidders are required to pre-register if they intend to visit the sale in person or bid via Euro Auctions' free internet bidding service. For any other enquiries, please contact Euro Auctions on 0044 (0) 2882 898262.