---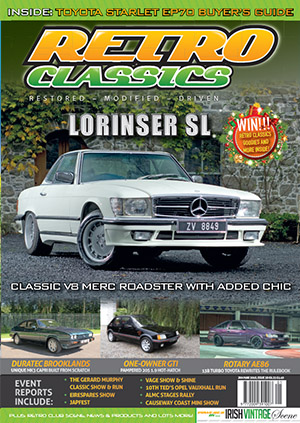 The January to March 2018 issue of Retro Classics is now on sale, and once again is packed to the rafters with top-notch Irish feature cars. This time the issue is fronted by a fantastic Lorinser-spec Mercedes 350SL that's come in for far more restoration work than the owner ever intended – where have we heard that before! Also in the mix is a stunning Alfa Romeo GTA homage built at home, a unique Mazda rotary-powered Corolla AE86, a Duratec-powered Ford Capri Brooklands replica, a mint, one-owner Peugeot 205 GTi, a low-riding Chevy Bel Air and not one, but two very rare RWD Mazda 323s. There are our usual club pages, a buyer's guide on the EP70 Toyota Starlet, and event reports including Japfest, the Causeway Coast Mini Show, VAGE Show & Shine and lots more. There's even a competition with great prizes to be won from Retro Classics, Autoglym, the Number Plate Man and Frost Restorer's Equipment, so don't miss out; get your copy today!
Pick up your January to March issue of Retro Classics at any good newsagent, or order online at www.retroclassics.ie.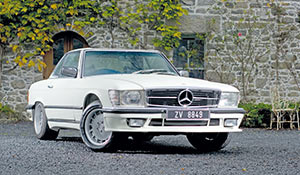 Great White
With its dazzling white bodywork, period Lorinser accessories and a beautifully-detailed 3.5-litre V8 under the bonnet, Martin Creaven's 1978 Mercedes 350SL is a serious slice of retro cool following its recent epic restoration.
---
Purple Rain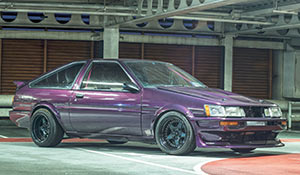 A true cult classic no matter what part of the world you're in, the Toyota Corolla AE86 needs little introduction. Its popularity in the modified and drifting scene means that practically every possible chop and change has been carried out to the 'Cam over the years, but this Mazda rotarypowered stunner really stopped us in our tracks.
---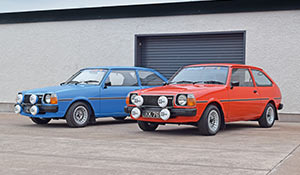 Along Come Two
You know how it is – you wait on a bus for ages, then out of nowhere along come two! Well, so it is with Conor Kelly's RWD Mazda 323s. Just ask yourself how long has it been since you saw one of these beauties, never mind a pair of them…
---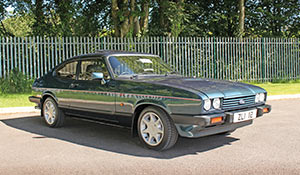 The Ford that Jack Built
Ford famously stated that the Capri was the car you'd always promised yourself. Well, for Jack Downey the exact Capri he desired didn't actually exist, so he went ahead and built his own Brooklands '200'.
---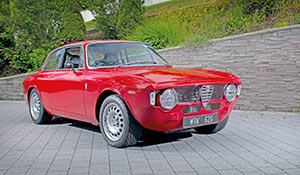 Red-Blooded
Since the dawn of time itself, motoring journalists have been banging on about how Alfa Romeos are some of the best-driving cars ever, and that everyone should own an Alfa Romeo at least once in their lifetime. When you check out this home-built 1966 GTA homage, you'll probably be in full agreement.
---
One-Owner Wonder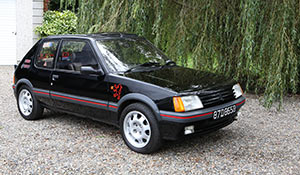 The Peugeot 205 GTI is one of those unusual cars that's always been a performance legend. When new it was revered for its giant-slaying performance and cheeky handling, and as it aged into cheap secondhand territory it became a real hooligan toy. Today it's a bona fi de classic. Alan Johnston's seen all of these stages, as he bought his brand new.
---
Low Flyer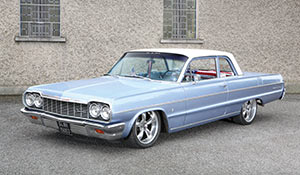 1964: the year in which the Garda College in Templemore was opened, as was the US embassy in Dublin, attended by Eamon de Valera. Che Guevara even travelled through Dublin Airport that year. Meanwhile, on the other side of the Atlantic, Chevrolet were busy putting together Jim Smyth's Bel Air.
---

News & Products
What's new in the retro classic scene in Ireland and beyond.
Show Reports
Classic & Old Skool Toyota Gathering
The 10th Ted's Opel Vauxhall Run
MicksGarage.com Future Classics Championship
The 7th Annual Gerard Murphy Memorial Classic Show & Run
Causeway Coast Mini Show
Retro Rally Legends
VAGE Show & Shine
ALMC Stages Rally
The Mourne Run
Eirespares
Rallyday
Japfest
Retro Club Scene
Our monthly look at clubs catering for retro classic cars.
Retro Buyer's Guide
How to buy yourself a classic FWD Toyota Starlet.