---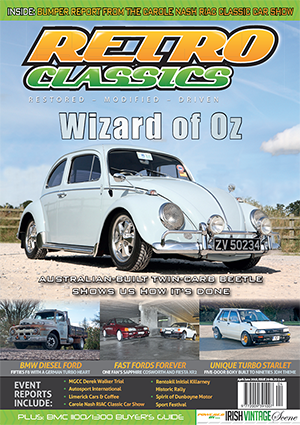 The April to June 2018 issue of Retro Classics is now on sale, and as always is full of fascinating feature cars from across the island. First in line this time is a simple but stunning Australian-built Beetle featuring just the right number of subtle mods, and it's the usual varied collection from there on in, ranging from a seventies De Tomaso Pantera supercar to a loving-built Opel Ascona 400 replica to a rumbling Pontiac Trans Am. Coming straight in from left field in this issue are a turbocharged five-door Toyota Starlet and a BMW turbodiesel-powered hot-rod fifties Ford pickup, while bringing things back to relative sanity are a pair of fast Fords, namely a tastefully-tweaked Sapphire Cosworth and a track-ready Fiesta XR2. Our regular buyer's guide focuses this time on the ADO16 Morris 1100/1300, and event reports include the recent Carole Nash RIAC Classic Car Show, the Autosport International Show and a look back at the Historic and Modified action at the Killarney Historic Rally, so don't miss out – get the new issue of Retro Classics at any good newsagent, or click below to order your copy online!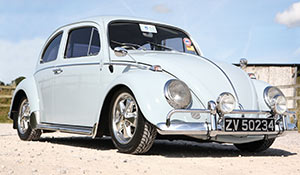 Wizard of Oz
The Volkswagen Beetle is a car that enjoys a special relationship with this country, as the first ones ever assembled outside of their native Wolfsburg were put together in Dublin in 1950. However, this blue stunner has a more cosmopolitan story than usual, as it's an Australian assembled model that's been imported into Ireland by a South-African enthusiast with a history of hot VWs.
---
Yellow Fever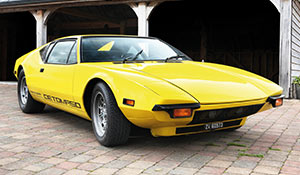 It's not every day you are tossed the keys to a De Tomaso Pantera, one of the most underrated but most interesting of all classic Italian supercars. So, when we got the chance to drive this '72 in bright yellow, we jumped at it.
---
Silver Dream Racer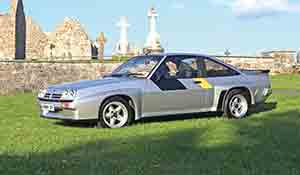 With real-deal Opel Manta 400s being hugely expensive, that is when you can find one for sale, most fans pay the ultimate compliment by creating their own homage instead. And, thanks to the 400's legendary rallying career, there are many fans, including Co. Offaly's Pat Dillon.
---
Ford to the Fore
Owning a single iconic fast Ford clearly wasn't enough for one Dublin enthusiast, so this stunning Sierra RS Cosworth 4×4 is happily sharing garage space with an equally subtle but charming Mk2 Fiesta XR2.
---
The Hooch Hauler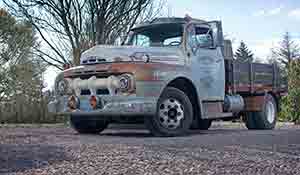 Although the prohibition of alcohol in the United States ended in 1933, this whisky-themed 1951 Ford F8 pickup would certainly have been up to the task of running illegal booze across state lines if required, particularly with its chipped BMW turbodiesel under the bonnet. Wait – what?
---
Shooting Starlet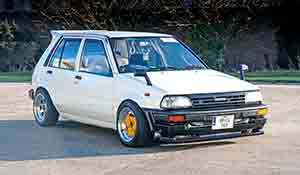 What makes us gravitate towards builds like this? Is it the fact they are the attainable dream? Something we can all relate to? This little Toyota Starlet packs a serious punch, after owner Evan O'Connor went against the norm and built his perfect EP70.
---
Border Runner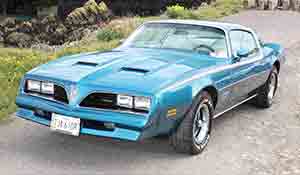 Most people's fi rst experience of the Pontiac Firebird was in the Smokey and the Bandit movies, with Burt Reynolds' black Firebird (a '77 Trans Am special edition, to be exact) giving law-enforcement the runaround across numerous state lines. And so it is was that I found myself up on our own border in Co. Louth to meet with Mick Levins and his '77 Firebird.
---

News & Products
What's new in the retro classic scene in Ireland and beyond.
Show Reports
– ALMC Spring Lanes Endurance Trial
– MGCC Derek Walker Trial
– Spirit of Dunboyne Motorsport Festival
– Rentokil Initial Killarney Historic Rally
– Cars & Coff ee Limerick
– Carole Nash RIAC Classic Car Show
– Lancaster Insurance NEC Classic Motor Show
– Autosport International
– Retro Stock
Retro Club Scene
Our monthly look at clubs catering for retro classic cars.
Retro Buyer's Guide
How to buy yourself a BMC 1100/1300.