---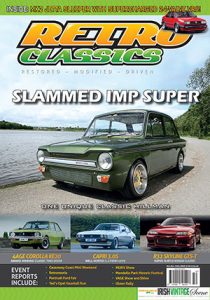 The October to December 2019 issue of Retro Classics is now on sale, with another varied selection of some of the most exciting modified classics on the Irish scene. On the cover is the lowest Hillman Imp we've ever seen, while we also showcase a prize-winning 4AGE twin-cam-powered Toyota Corolla KE20, a freshly-restored Nissan Skyline R32 GTS-T, a wild, ST170-powered wide-arch Mk1 Escort and a supercharged 24-valve VW Jetta that's one heck of a sleeper! Also featured are machines as diverse as a subtly-upgraded Ford Capri 3.0S and a crazy V12-powered 1959 Plymouth, and we mark the fiftieth birthday of the Datsun and Nissan Z-Cars with a blowout feature on seven Irish beauties.
Events-wise we've got reports from all over the island, from the Portrush Ford Fair in Co. Antrim to Ted's Opel Vauxhall Run in West Cork, also including a visit to the Mondello Park Historic Festival, the Cannonball Retro Road Trip, Causeway Coast Mini Weekend, the MLVW Show, Retromania 2019, the Ulster Rally, the VAGE Show & Shine and the 28th Irish Classic & Vintage Motor Show in Terenure, so there's a whole lot to see in the new issue of Retro Classics. Don't miss out – get your copy of the October to December 2019 issue of Retro Classics at any good newsagent, or click here to order your copy online, or subscribe for the year for just €25!


First Impressions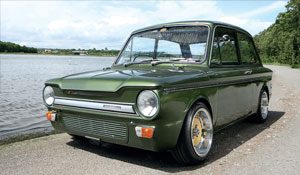 Learning to drive around fields in a Series 3 Land Rover as a child is certainly one way to spark an interest in classic cars. Fast forward through the years and Mark Phelan from Dublin was on the lookout for something old and unusual. While he originally considered a car from the VW stable, his past experience with boxy seventies British vehicles finally directed him towards a Hillman Imp, one that he's firmly put his own stamp on.
Citrus Punch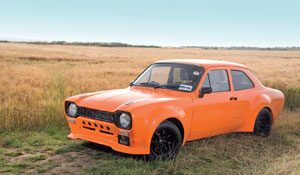 A house party wouldn't usually be the best place to pick up a new project car, especially after a few scoops, but this is exactly what Robert Mageean did twelve years ago. The unique Escort you see here is the result, but it took a lot of time and eff ort to reach this point.
Code Red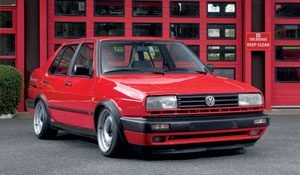 One of the best-known Mk2 Jettas on the Irish VW scene, TJ Carroll's supercharged 24-valve beauty has the looks and the performance bases well covered. Even so, he continues to evolve what has been a long-term project.
The Green Mile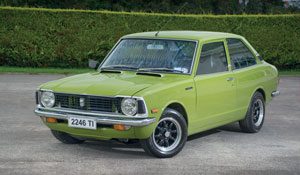 In the three years since PJ Costello bought his '78 Corolla KE20 it's seen a fi re, two resprays and more head-scratching and modifi cations than you'd believe, but it's resulted in a subtle little cracker of a classic that he wouldn't change for the world.
The Only Way is Essex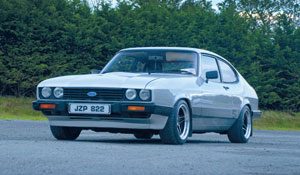 When the 2.8 Injection replaced the 3.0S as the top Capri in the Mk2 range in 1982, the older Essex-powered car instantly seemed dated, with its chequered seats and bright colour schemes clashing with the cool sophistication of the fuel-injected car. Today, however, the 3.0S is much rarer, and its seventies character is firmly back in style. This one's benefited from a few subtle tweaks, but retains its core values.
Blazin' Asian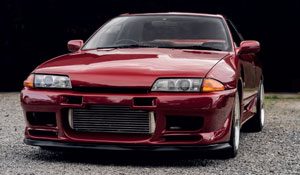 If it ain't broke… Danny McGeeney's Nissan Skyline R32 might have the looks of a highly-modifi ed powerhouse, but in fact it's pretty standard, evidence of just how good the R32 is as it left the factory. What changes he has made only serve to improve upon the original.
Back from the Dead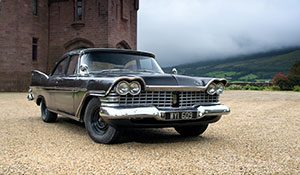 In a Dr Frankenstien-like feat of creativity and grit, Pat Conroy has taken the rotten and butchered remains of a Plymouth hearse and a terminally rusty Jaguar XJS and brought to life a unique cruiser that you wouldn't want to meet down a dark side-street on your own…
Plan Z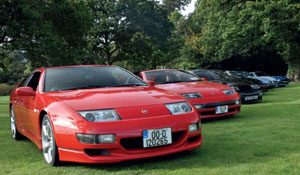 It may be fifty years old this year, but the Nissan Z car has managed to stay true to its winning formula of style, performance, speed and affordability that began with the 240Z, as proven by these classic examples that span four generations.
---

News & Products
What's new in the retro classic scene in Ireland and beyond.
Show Reports
- Causeway Coast Mini Weekend
- Retromania
- Portrush Ford Fair
- Ted's Opel Vauxhall Run
- MLVW Show
- Mondello Park Historic Festival
- Cannonball Retro Road Trip
- The 28th Irish Classic & Vintage Motor Show
- Ulster Rally
- VAGE Show
Retro Club Scene
Our monthly look at clubs catering for retro classic cars.
Retro Buyer's Guide
How to buy yourself a VW Golf Mk1