---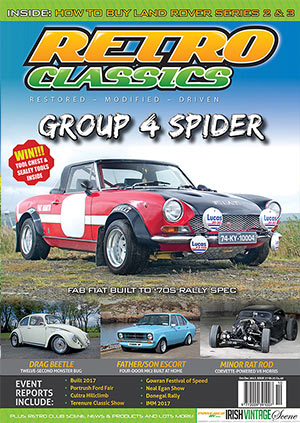 The October to December 2017 issue of Retro Classics is now on sale, and is full of top-notch Irish feature vehicles for you as always. This month our cover slot is devoted to a stunning Fiat 124 Spyder Abarth that was lovingly built as one fan's tribute to the Group 4 rally cars of the mid-seventies, while we also bring you an award-winning red-top-powered Opel Kadett C, a very quick drag-racing VW Beetle, an original Irish Mk2 Mini Cooper S, a father & son-restored Mk2 Escort, a Toyota-powered Triumph Spitfire and the craziest Morris Minor you'll ever see,. There are our usual club pages, a buyer's guide on the Series Land Rover, and event reports including the Neal Egan Show, Gowran Festival of Speed and Built 2017, and you can also enter our competition to be in with a chance to win a range of great prizes including a tool chest, so don't miss out; get your copy today!
Pick up your October to December 2017 issue of Retro Classics at any good newsagent, or order online at www.retroclassics.ie.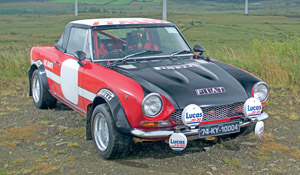 Spider Man
Every model of car has an ultimate iteration, and for Fiat 124 fan, Mike Sheehy from Kerry, that dream car was the Group 4 124 Spider. Over a four-year period, and after trawling Europe for the correct information and parts, this stunning rally machine finally hit the road late last year.
---
City Living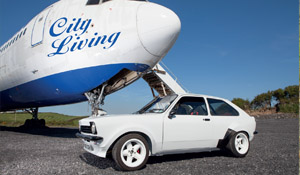 Although hugely popular on the classic and tuning scene in its native Germany and surrounding countries, the Opel Kadett C has been comprehensively overshadowed by its Ford Escort arch rival here in Ireland. When you look at David Kearns' stunning three-door City, you have to wonder why.
---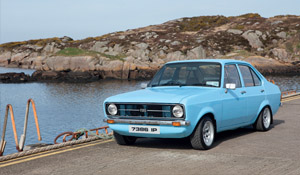 Bermuda Beauty
Aside from being a much-loved family car throughout its various incarnations, the two-door variant of both the Mk1 and Mk2 Escort became one of the most successful and ubiquitous cars on the rally circuit. Today the four-doors are making their own comeback as a cost effective retro classic with loads of room for performance mods, as this'77 example amply demonstrates.
---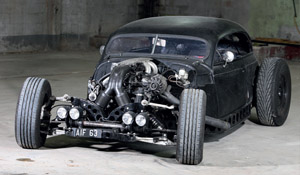 Minor Mayhem
What do you get when you cross a 1956 Morris Minor and a 1985 Corvette? The answer is simple: a rat-rod of the likes we've never seen before. This long, low and very black V8-powered machine has been causing a stir whenever it has appeared this year, not least because it exhibits some clever engineering and lots of custom tricks.
---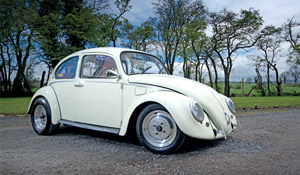 Strip Club
Neil Wilkinson confesses that he wasn't even looking for a Beetle when this one fell in his lap as a very sad-looking project twenty years ago. However, it's evolved over the years into its current drag-racing spec, capable of giving most fast cars a thorough thrashing on the quarter mile.
---
Engineering Triumph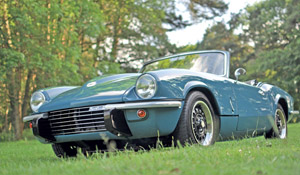 For his first-ever restoration, Peter Heary jumped into the deep end with a wreck of a Triumph Spitfire, but he has emerged not just with a cracking car, but one that's been very tastefully modified – both cosmetically and mechanically – and all on a very tight budget.
---
Cooper-Fastened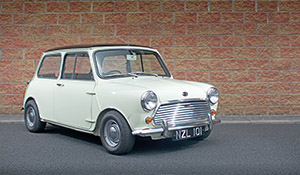 In the realm of classic performance cars, the Mini Cooper S occupies a unique level of its own – a tiny family saloon with a literally giant-killing turn of speed. Genuine ones are highly prized today, and original Irish ones are rare, making this 1969 Mk2 the stuff of dreams for most of us.
---

News & Products
What's new in the retro classic scene in Ireland and beyond.
Show Reports
Cultra Hillclimb
MicksGarage.com Future Classics
Gowran Park Festival of Speed
International Mini Meeting
Barack Obama Plaza Vintage Rally
North East Vintage & Classic Car Show
Neal Egan Classic Motor Show
Nenagh Classic Car Club Show
Causeway Coast Ford Fair
Built 2017
The 26th Irish Classic & Vintage Motor Show
Donegal Rally
Down Royal Park Cars & Coffee
Armagh Toyota Show
Retro Club Scene
Our monthly look at clubs catering for retro classic cars.
Retro Buyer's Guide
How To Buy Yourself Land Rover Series 2 & 3