---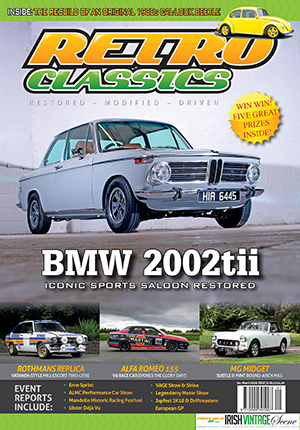 The January to March 2019 issue of Retro Classics is now on sale, and as usual we've a fantastic selection of fast classics for you to peruse. On the cover is a just-finished BMW 2002tii in the unique factory colour of Bristol Grey, that's got a style all of its own thanks to some subtle mods made during its extensive restoration. Also featured are machines as varied as an eighties-style Cal Look VW Beetle, a Rothmans-liveried Mk2 Escort two-litre, an Alfa Romeo 155 V6 race car, a treasured round-arch MG Midget and a very fine collection of three Triumph roadsters that have each come in for modification by their owner. Our regular buyer's guide focuses this time on the handsome VW Corrado, and event reports include Titanic Deja Vu Belfast, the VAGE Show & Shine, Banna Irish Ford Fair, Japfest and more, so don't miss out – get the new issue of Retro Classics at any good newsagent, or click here to order your copy online!


Grey Area
"The ultimate driving machine" is a phrase long associated with BMW, who are now recognised as one of the leading premium car manufacturers in the world. But it wasn't always the case for the brand from Bavaria, who, following World War II, were struggling for their lives. The 2002 of 1968 was one of their lifesavers, and this just restored 2002tii exemplifies what made the model great.
Yellow Fever
For anyone that remembers the heady days of the VW scene of the late 1980s, this bright yellow vision is a real dose of nostalgia. However it's no recreation, but a true survivor of the Cal-look craze of the day, one that's come in for a whole lot of TLC to look this good.
Smoke Screen
Of all the thousands of liveries that have been applied to rally and racing cars, the Rothmans colours are some of the most evocative, with their connection to everything from Ascona 400s to Porsche 956s. When it came to building his fast-road Escort, MJ Farrell knew there was only one colour scheme for him.
Born to Triumph
Having spent ten minutes chatting to Niall Callery at the last NCBI Des Cullen Car Show we were left with no doubt that he had a fondness for Triumph cars. We followed up recently with a visit to his man cave, within a stone's throw of the M50 in Dublin, and We're in absolutely no doubt that the word "obsession" probably doesn't go far enough to describe his devotion to the once iconic British marque.
Touring Package
Looking every inch the touring car racer of the mid-nineties with its Martini livery and howling V6 engine, this Alfa Romeo 155 has proven a distinctive and capable competitor in the Future Classics race series, but more importantly has provided the thrill of race driving for its owner.
Part of the Family
As well known in his locality as in his own household, John Lehart's Mk2 Escort 1600 Ghia has been part of his life since it was only five years old. Thanks to some subtle and sympathetic upgrades over the years, it's still able to keep up at the traffic-light grand prix.
Punching Above its Weight
The dictionary definition of Midget is "a very small person or thing"and, when it comes to the MG Midget, it really can be said that good things come in small packages. Alan Johnston certainly thinks so, as he's pumped lots of time and money into his Mk3 model since buying it seven years ago.
---

News & Products
What's new in the retro classic scene in Ireland and beyond.
Show Reports
– Erne Sprint 2018
– ALMC Performance Car Show
– Mondello Historic Racing Festival 2018
– MicksGarage.com Future Classics Series
– HRCA Impact Metals Ireland Scratch Championship 2018
– Ulster Déjà Vu 2018
– Ostkuste VW Show
– Legenderry Motor Show
– VAGE Show & Shine 2018
– Japfest 2K18 & Driftmasters European GP
– Swords Classic Car Show, Sale & Autojumble
– Irish Ford Fair 2018
Retro Club Scene
Our monthly look at clubs catering for retro classic cars.
Retro Buyer's Guide
How to buy yourself a a VW Corrado