RETRO CLASSICS ISSUE 43 October – December 2021 available now!


---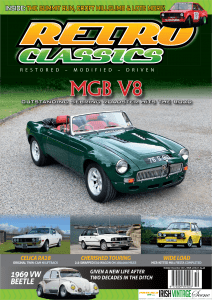 The October to December 2021 issue of Retro Classics hits the shop shelves on Friday the 1st of October, but you can PRE-ORDER it right now and receive it to your door with FREE POSTAGE! As always, we've a diverse selection of fast classics for you to peruse, with this issue's cover going to a stunning MGB that's just been transformed from a mild-mannered roadster into a wide-arched, V8-powered beast. We also feature a very eye-catching wide-arch Mk1 Fiesta in Signal Yellow, as well as a low-riding VW Beetle that was literally rescued from the briars, a much-storied Celica RA28 GT and a 2.5-swapped BMW E30 Touring that's been the long-serving daily driver for its owner since 1995.
With a detailing guide to help you prepare and protect your precious classic in advance of winter, a look back at the quirky car ads of decades past and a return to event reports at last (this time including the Seaside Revival Vintage Festival in Bangor, The IEC Summit Run, Ted's Opel Vauxhall Run, National Classic Spin 2021, Croft Hillclimb, NI Ford Sierra Club's Donegal Run and a roundup of ICCR racing at Mondello), there's plenty to get your teeth into in this issue of Retro Classics, so don't miss out – click here to buy your copy online, with FREE POSTAGE on the island of Ireland!
---

RETRO CLASSICS DIGITAL EDITION