---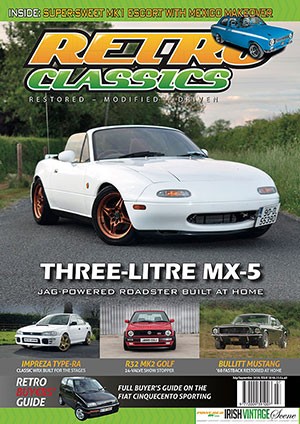 The July to September 2020 issue of Retro Classics is now on sale, and as always we've a fantastic selection of fast classics for you to peruse. Taking the cover slot this time around is a Mk1 Mazda MX-5 with a whole lot more grunt than standard thanks to a three-litre Jag V6 conversion undertaken at home, while another potent Japanese classic in this issue is a mint Subaru Impreza WRX RA, a real rally contender for the road. We have a smattering of classic Fords for you, including a stunning Mk1 Escort that's been given a unique Pinto-powered Mexico twist, one fan's Mk2 Capri/Mk3 Cortina pairing and the incredible story of an accurate replica of the Bullitt Mustang restored completely by a first-timer with nothing but some instruction books and a shedload of enthusiasm. It's not all Fords though – a show-winning, R32-powered Mk2 VW Golf GTI also features, as does the story of 'Tiny Magic', an Opel Kadett C Coupe that was rallied to great effect in the late seventies and early eighties, and is still owned by its driver today. Our regular buyer's guide focuses this time on the fun little Fiat Cinqecento Sporting, we show you how to restore your plastic headlamps in our new regular detailing slot, and there's more besides, so don't miss out – get the new issue of Retro Classics at any good newsagent, or click here to order your copy online!


Rocket Man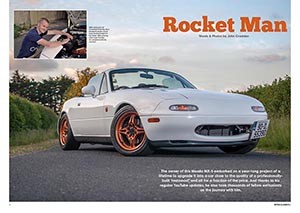 The owner of this Mazda MX-5 embarked on a year-long project of a lifetime to upgrade it into a car close to the quality of a professionally built 'restomod', and all for a fraction of the price. And thanks to his regular YouTube updates, he also took thousands of fellow enthusiasts on the journey with him.
Mexican Overdrive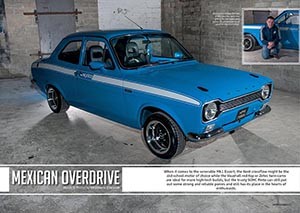 When it comes to the venerable Mk1 Escort, the Kent crossflow might be the old-school motor of choice while the Vauxhall red-top or Zetec twin-cams are ideal for more high-tech builds, but the trusty SOHC Pinto can still put out some strong and reliable ponies and still has its place in the hearts of enthusiasts.
The Hottest Hatch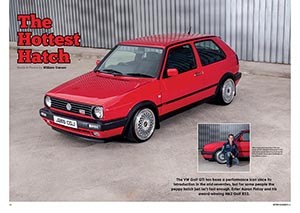 The VW Golf GTI has been a performance icon since its introduction in the mid-seventies, but for some people the peppy hatch just isn't fast enough. Enter Aaron Finlay and his award-winning Mk2 Golf R32.
Bullitt With My Name On It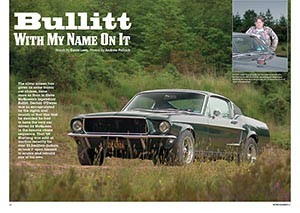 The silver screen has given us some iconic car chases, none more so than in Steve McQueen's legendary Bullitt. Declan O'Dwyer was so encapsulated by the sights and sounds of that fi lm that he decided he had to have the very car driven by McQueen in the famous chase sequence. That '68 Mustang was sold at auction recently for over $3.5million dollars, so took it upon himself to source and rebuild one of his own.
Tiny Magic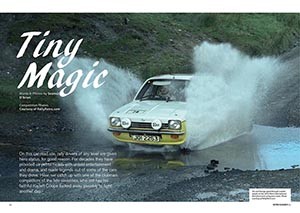 On this car-mad isle, rally drivers of any level are given hero status, for good reason. For decades they have provided us petrol-heads with untold entertainment and drama, and made legends out of some of the cars they drove. Here, we catch up with one of the clubman competitors of the late seventies, who still has his faithful Kadett Coupe tucked away, possibly to fight another day.
Stage Ready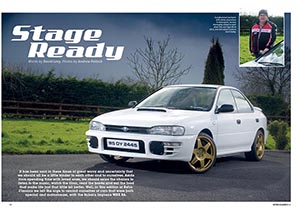 It has been said in these times of great worry and uncertainty that we should all be a little kinder to each other and to ourselves. Aside from spending time with loved ones, we should seize the chance to listen to the music, watch the fi lms, read the books and eat the food that make life just that little bit better. Well, in this edition of Retro Classics we felt the urge to remind ourselves of cars that were both special and mainstream, with the Subaru Impreza WRX RA.
Two's Company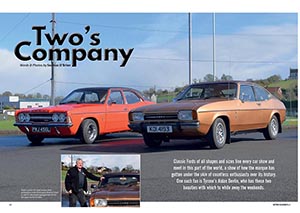 Classic Fords of all shapes and sizes line every car show and meet in this part of the world, a show of how the marque has gotten under the skin of countless enthusiasts over its history. One such fan is Tyrone's Aidan Devlin, who has these two beauties with which to while away the weekends.
---

News & Products
What's new in the retro classic scene in Ireland and beyond.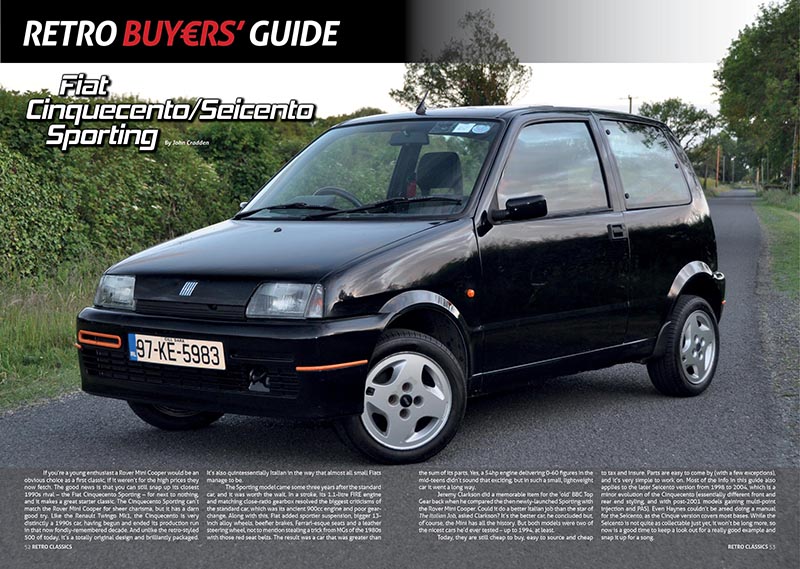 Retro Buyer's Guide
How to buy yourself a Fiat Cinquecento/Seicento Sporting