Sixty years to the month after the launch of the E-Type at the Geneva Motor Show in March 1961, Irish classic car dealer David Golding has unearthed the very first Irish-registered E-Type FHC, which last saw the road in 1967. One of 138 RHD cars built in 1961, this car was initially owned by the well-known champion trainer of that era, Paddy Prendergast, reputedly gifted to him by a wealthy US racehorse owner after her Prendergast-trained horse had a string of successes. She had purchased the Cotswold Blue E-Type Fixed Head Coupe from the Irish Jaguar dealer Cavey Motors of Camden Street, Dublin prior to Christmas 1961.
The story goes that Prendergast was unable to get insurance on the car, so sold it on in 1962. The car went on to have several owners in quick succession, before ending up in a prominent North Dublin garage, Heeley Motors in 1967. Even at that early stage the car was in need of some attention, so well-known Ford race/rally driver of the era, Ritchie Heeley took the car over from his father and stripped it, ready for restoration. As is often the case, Richie says life got in the way and the project was never completed.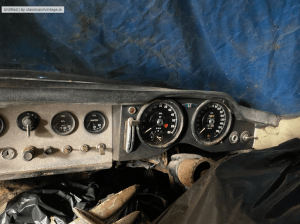 Now, some fifty years later, a new custodian is sought to return this historic Irish car back to its former glory. In need of major restoration, the car is Kildare-registered ZW-8360, bears the chassis number 860122, and comes with its original engine. The speedometer records only 35,000 miles, and the original brown logbook is present. And although the car is still in its disassembled state from 1967, Ritchie says that all the parts are still there, with the exception of the bonnet, which had rusted beyond repair.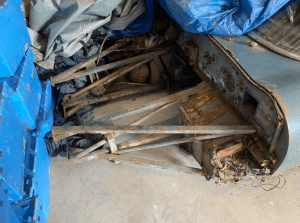 Handling the sale is well-known Dublin classic car dealer David Golding. David says: "I always get a buzz when finding an original Irish car that has been tucked away for many years. To find the first Irish-registered example of arguably one of the most iconic cars of all time exactly sixty years after its launch is exceptionally exciting."
Further information on the car can be found at www.davidgoldingcars.ie or by calling 087 7853264.