Last weekend saw many Irish flock to the Lancaster Insurance Classic Motor Show at the NEC, Birmingham. This show just gets better each year, and we will bring our readers a report on it in the magazine shortly. One of the highlights each year is the auction, which is always packed with amazing vehicles looking for new owners. This year Iconic Auctions (formally Silverstone Auctions) held three separate sales – one for cars, one for automobilla and one for motorbikes, the latter with over 200 bikes on offer and resulting in the sale of a 1938 Brough Superior SS100 for £241,500.
Once again the Fords led the way in the 160-lot car auction, and set some records along the way for some very special examples. My all-time dream car, the RS200 was the highlight of the auction – I remember seeing one of these for sale at Essen about ten years ago for €100,000 and thinking, "Okay, I love these cars, but they are out of control at this price." Well, last weekend a very special RS200 came to auction – an Evolution model, one of only four in right hand drive and possibly the only one of these built by Ford and not a later conversion. If that didn't make it special enough, the odometer reads that only twelve miles have been covered in its life. This has to be the ultimate Ford, and the price reflected that as the hammer dropped at £486,000stg. Not a record for one of these I believe, but definitely a UK and European record. All I can say is best of luck to the new owner, and before you ask, it's not me!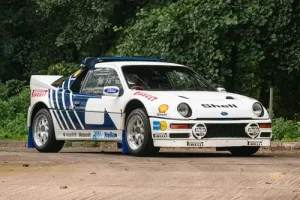 Next up, however, was a definite record-breaker. I don't think I've ever seen a Mk1 Escort RS2000 as good as this 1974 example before; it was the result of a five-year restoration by a self-confessed perfectionist, and the result is just magical. This one had bidders falling over each other to buy it, and the hammer finally dropped at £108,000stg, a new record for a Mk1 Escort. A big brother of the Mk1, also up for auction was a Mk2 RS2000 Custom, which sold for £45,000.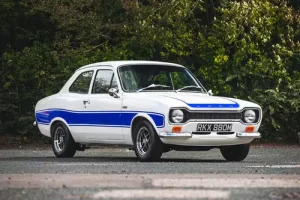 Another car with some special provenance was the very last Sapphire RS Cosworth 4×4 ever made. Coming from a private collection with only 22,000 miles on the clock, the hammer dropped for £84,375stg, a top price for a Sapphire. In contrast, I think there was a bargain had in another Sapphire Cosworth, one of 78 Rouse Sport 304R models fitted with the Andy Rouse sports package; this 1990 car sold for £29,250 and was a hidden gem, in my opinion.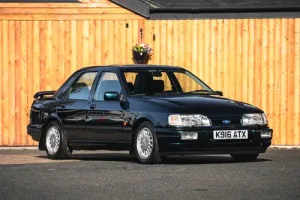 Finally comes the 1984 Mk2 Transit Custom. If you were at the NEC you would have seen that, although recently refreshed, this amazing specimen was unrestored. It's impossible to understand how this van survived in this condition, but with only 18,885 miles on the clock it certainly hadn't worked too hard. Well, it sold for £46,125stg, an impressive figure for a Transit for sure.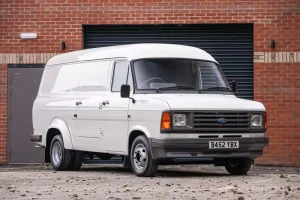 There were lots more vehicles that made great prices at this Iconic Auctions sale, not just Fords, and it proves one thing – good vehicles are still a great investment.
Report by Tom Heavey, Managing Editor