The Time Machine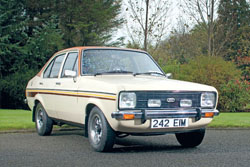 Despite the inevitable excitement that comes with purchasing a brand-new car, the attraction usually fades with time and the onceshining auto is traded in for a more recent model. However, Galway's Frank Fahy not only still owns the Escort he bought new almost forty years ago, but he's maintained it in highly original condition too.
Seasoned Hauler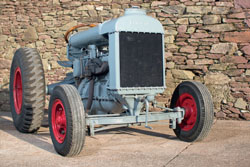 Although most famous as one of the farm tractors that revolutionised agriculture in the first quarter of the twentieth century, the Fordson F was also an accomplished industrial tractor. This survivor from 1923 can count both Guinness and Fossett's circus in its list of previous employers, both of which it provided unstinting service.
Top of the Class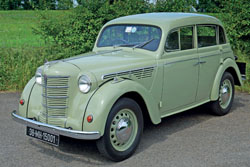 Even though the Astra name plate is still alive and well, the Kadett model that preceded it is now a fi rm fi xture of the history books. It lives on in our memories though, and collections like Oliver O'Neill's remind us of these once-everyday cars.
The Woolf Collection – Part 2

As we saw in part one of this feature last month, having begun o keep his existing tractors from 1973 onwards, and going on to collect rarities and unusual machines thereafter, Co. Antrim's Rory Woolf now owns what must be one of the most impressive collections of tractors on this island. This month, Sean Finegan takes us through the second half of what he saw on his recent visit.
The Mapmaker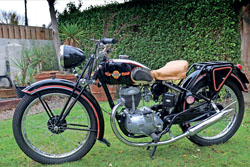 The marque New Map is not one that regularly comes up in conversation about motorcycles. In fact, few in this country might have heard of such a machine before last October's IVVMC motorcycle show in Leopardstown, when this 1947 New Map, belonging to Brian Thomas, took home the 'Bike of the Show' award after a very involved restoration.
Lucky Number Eight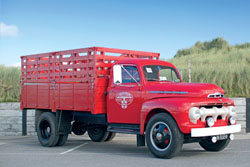 Built in Cork in 1951, this Ford F5 V8 truck worked in the Castleisland area of Co. Kerry all its life, but lay derelict for forty years. After more than ten years in the making it's back on the road, with the son of its second owner at the helm.
Straight-Eight Stunner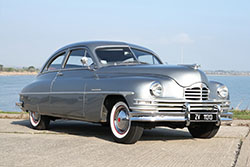 One of the most admired cars at some recent classic events in the Dublin area has been Declan Connolly's 1949 Packard Deluxe Eight, a fi ne example of post-war American car styling. This month, Ian Shipley takes a closer look at what is likely the only one of these cars on the island.

SHOW REPORTS….COUNTRYWIDE
The 34th Connacht V&V Run
The 26th Inistioge Vintage Rally
Nenagh Classic Car Show
Irish Ford Fair
Mount Druid Vintage Rally
Knockbridge Vintage Road Run
Vintage VWs & Classic Scooters
Working Day at The Farm, Grenagh
Regulars
News & Events The latest developments from all over Ireland and abroad.
Diary Dates The most comprehensive list of upcoming events in Ireland.
Club Scene A dedicated section open to every club in Ireland to promote itself and its events.
Your Letters Have your say and get it off your chest; this is your place to say what you really think.
Q&A Each month we pitch a motoring question at Irish Vintage Scene's regular contributors.
Laid to Rust A monthly pictorial of vehicles that are rusting away in the peace of our countryside.
Past Times Ireland's best-known motoring historian, Bob Montgomery looks back at motoring and motoring events in the early days.
Model Scene News from the ever-growning world of model collecting.
Gerry's Gems Motoring historian Gerry Barrett's monthly look at some of his vintage and classic favourites.
Tales from Over the Water Clare-man PJ Francis shares with us his old vehicle adventures in the United States.
Retrospect A page of old and nostalgic motoring photos sent in by our readers.
Classifieds Looking for a classic? Well this is Ireland's only dedicated marketplace.
Behind the Wheel Dick Byrne looks back at his memories of motoring in the last century.