Rover-Enthusiastic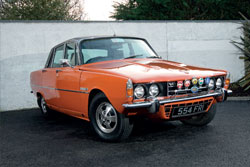 Of all versions of the Rover P6, the 3500S's manual gearbox and V8 engine have always put it at the top of the list for enthusiastic drivers. Richard Cullen's Paprika Orange beauty is a fi rm fixture in his garage, having been previously owned by a late family member, and it's been recently restored to a high standard.
Shock Therapy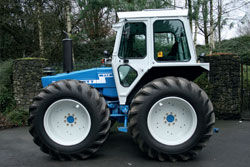 Having lay idle for years, the rough condition of this ex-ESB County 774 came as something of a shock to Jim Fitzpatrick once he got it back to his own yard. However he persevered with this ambitious project, and has turned out a restoration to be very proud of.
Two of a Kind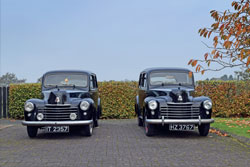 It's not often that you come across two brothers with two old vintage cars of the same model, but that is exactly what we have here – the McElroy brothers, Eamon and Paddy with their two lovely examples of the Vauxhall Wyvern.
Crystal Clear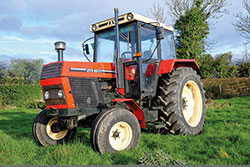 The Zetor Crystal needs little introduction to fans of classic tractors in Ireland, having been the mainstay of many a farm and popular for being a powerful tractor at an affordable price. Yet it would appear that some were less equal than others, including the ZTS variants, which never commanded the demand or value that the "proper" Zetors did. This ZTS Crystal is one of the few we've seen restored, and its owner has done the marque proud.
Fifty Shades of Honda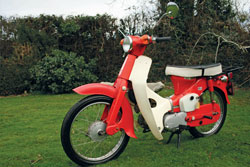 The iconic motorcycle that paved the way for transporting the masses all over the world, the slight but nippy Honda 50 has made an impact everywhere from hippy San Francisco to tropical Singapore, and also right here in Ireland, where it's now a popular choice for preservation and restoration. Paul Murphy's is one such example.
Simply Delightful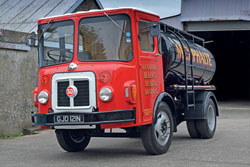 For me, and I'm sure for very many others, there is something very special about an old lorry. To me, they are evocative of a time gone by, when the world and its industries moved at a more leisurely pace. This rare Shelvoke & Drewry TN is most definitely a relic of those bygone days.
Race Ace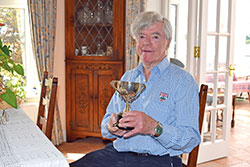 Tommy Reid is a man who has lived his life in a hurry, packing more into his eight and a half decades than most of us could hope to fit into two lifetimes. As devoted petrol-heads we'll concentrate here on inhaling and exhaling the heady mix of air, oil and racing fuel that propels our imaginations back to Tommy's past motorsport glories, and allow ourselves to revel and gaze in awe in the greatness that he has achieved in his racing career. Reid on…

SHOW REPORTS….COUNTRYWIDE
Silage Extravaganza 2018
Ballinakill VCOC Indoor Show
IVVCC Classic Run
Cultra Fergusons Working Day
IVVMCC Leopardstown Motorcycle Show
Gerard Murphy Memorial Show & Run
Regulars
News & Events The latest developments from all over Ireland and abroad.
Diary Dates The most comprehensive list of upcoming events in Ireland.
Club Scene A dedicated section open to every club in Ireland to promote itself and its events.
Your Letters Have your say and get it off your chest; this is your place to say what you really think.
Q&A Each month we pitch a motoring question at Irish Vintage Scene's regular contributors.
Laid to Rust A monthly pictorial of vehicles that are rusting away in the peace of our countryside.
Past Times Ireland's best-known motoring historian, Bob Montgomery looks back at motoring and motoring events in the early days.
Model Scene News from the ever-growning world of model collecting.
Gerry's Gems Motoring historian Gerry Barrett's monthly look at some of his vintage and classic favourites.
Tales from Over the Water Clare-man PJ Francis shares with us his old vehicle adventures in the United States.
Retrospect A page of old and nostalgic motoring photos sent in by our readers.
Classifieds Looking for a classic? Well this is Ireland's only dedicated marketplace.
Behind the Wheel Dick Byrne looks back at his memories of motoring in the last century.