Rallying Round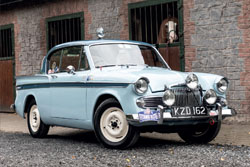 An original Irish-assembled Sunbeam Rapier is a rare enough thing these days, but this month we bring you the story of one that's got Irish rallying pedigree too. It's recently been restored to stunning condition and is a true survivor of a long-gone motorsport era.
Straight and Narrow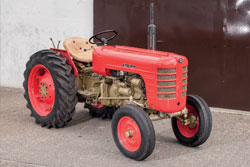 Inspired by the dramatic changes in farming during his youth in Co. Sligo, Peter Lynott has found the true definition of the word "unique" in his beautifully-rebuilt Zetor 3013 Vineyard, the only one of its kind in the country.
A Second Life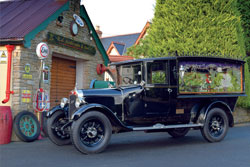 This very historic Austin 20 is lucky to be still with us, having spent half a century sitting unused and half-buried in leaves. However it found the perfect owner in Raymond Anderson, who had the skills and determination to return it to the land of the living.
Your Carriage Awaits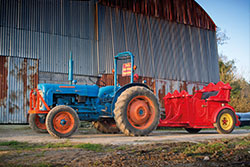 We all know that an interesting or unusual implement or trailer makes the perfect addition to a vintage tractor. Well, Denis Stephens from Co. Clare has something on the back of his ex-Áras an Úachtaráin Fordson Dexta that fulfi ls both of those descriptions, and is possibly unique in the country.
Latter-Day Triumph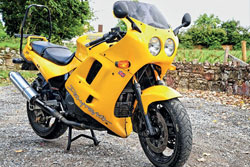 As fans of the marque will know, there's more to Triumph motorcycles than twenties fl at-tanks, fifties bathtubs and seventies cruisers – the Hinckley-manufactured examples from 1990 onwards represented a rebirth of the Triumph name on motorcycles. With the oldest of the Hinckley Triumphs now almost thirty years old, this month regular contributor Justin Roberts tells us about his own Daytona.
King of the Highway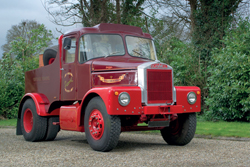 From the tiny three-wheeled Scarab to the monstrous six-wheel drive Super Constructor, Scammell have gone down in history as one of the trucking greats of the twentieth century despite going under in the late eighties. They're gone but not forgotten, as Paddy Brennan's recently restored Highwayman attests.

SHOW REPORTS….COUNTRYWIDE
Classic Car Sale, Show & Autojumble
Millstreet Vintage Club Model Show
Tullamore Diecast Toy & Model Show
Honda Goldwing Treffen
Knockbridge Vintage Club Annual Rally
Carrickmacross Vintage Club 6th Annual Field Day
Regulars
News & Events The latest developments from all over Ireland and abroad.
Diary Dates The most comprehensive list of upcoming events in Ireland.
Club Scene A dedicated section open to every club in Ireland to promote itself and its events.
Your Letters Have your say and get it off your chest; this is your place to say what you really think.
Q&A Each month we pitch a motoring question at Irish Vintage Scene's regular contributors.
Laid to Rust A monthly pictorial of vehicles that are rusting away in the peace of our countryside.
Past Times Ireland's best-known motoring historian, Bob Montgomery looks back at motoring and motoring events in the early days.
Model Scene News from the ever-growning world of model collecting.
Gerry's Gems Motoring historian Gerry Barrett's monthly look at some of his vintage and classic favourites.
Tales from Over the Water Clare-man PJ Francis shares with us his old vehicle adventures in the United States.
Retrospect A page of old and nostalgic motoring photos sent in by our readers.
Classifieds Looking for a classic? Well this is Ireland's only dedicated marketplace.
Behind the Wheel Dick Byrne looks back at his memories of motoring in the last century.