Stretch Survivor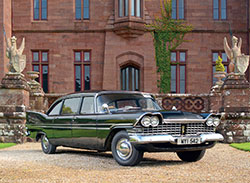 Regular readers of Irish Vintage Scene might remember our feature back in late 2015 on the unique story of a surviving Irish-assembled 1959 Plymouth Coronado limousine, which had been owned from new by the Earl of Rosse at Birr Castle. Well one of its few siblings has now surfaced after decades spent in storage, and what's more is in amazingly original condition. Well, for the most part…
The Prodigal Tractor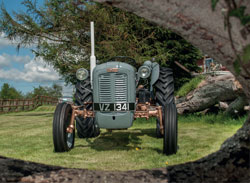 A few years ago Ronnie Nesbitt embarked on a quest to find a special tractor that had been bought new by his father in 1957: a 'Copper Belly' Ferguson FE 35. Would he find it? What state would it be in? Would it still exist? Well, read on…
Concours Coupe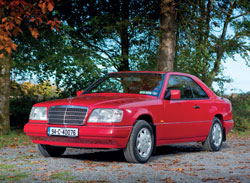 When Philip Wheatley picked up this Mercedes E220 coupe cheap at a UK auction all he wanted was a four-seater classic runaround with room for his granddaughters' baby seats in the back, something his SL320 roadster couldn't manage. However, things got slightly out of hand some-where along the line…
Forward Vision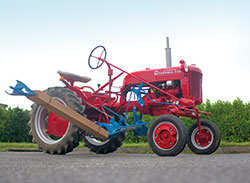 Famously small and light, yet for many forties and fifties farmers the sole tractor to rely upon, the Farmall Cub was a revolution when it was launched in 1947, and carved out a unique niche for itself in the years that followed. It's a sought-after model on the classic scene today, including this cherished example from Co. Cork.
Living the Dream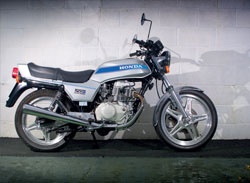 Limerick's Eddie Madigan has owned dozens of motorbikes over his 35-plus years on two wheels, from his first Honda 50 up to Goldwings, Blackbirds and CBRs. However, by his own admission the humble Honda 250N Super Dream holds a very special place in his affections, and he pulled out all the stops in this, his most recent restoration project.
The Life of Bryan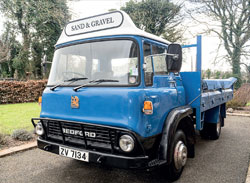 Even if you don't know Bryan Oliver you'll probably know his cars, as his previously-featured 'Shortina' and his Starsky & Hutch Ford Grand Torino are two of the most distinctive classics on the show circuit. Well, his stable also houses a lovely example of one of the most fondly-remembered lorries of all time, and Adrian Crawley paid him a visit to fi nd out more.
SHOW REPORTS….COUNTRYWIDE
Carole Nash Irish Motorbike & Scooter Show
Lancaster Insurance NEC Classic Motor Show
South East Ireland Ford Six-Cylinder Club Meet
West Cork Vintage Day
Tullyallen Tractor Run
Newcastle Indoor Classic Show
Regulars
News & Events The latest developments from all over Ireland and abroad.
Diary Dates The most comprehensive list of upcoming events in Ireland.
Club Scene A dedicated section open to every club in Ireland to promote itself and its events.
Your Letters Have your say and get it off your chest; this is your place to say what you really think.
Q&A Each month we pitch a motoring question at Irish Vintage Scene's regular contributors.
Laid to Rust A monthly pictorial of vehicles that are rusting away in the peace of our countryside.
Past Times Ireland's best-known motoring historian, Bob Montgomery looks back at motoring and motoring events in the early days.
Model Scene News from the ever-growning world of model collecting.
Gerry's Gems Motoring historian Gerry Barrett's monthly look at some of his vintage and classic favourites.
Tales from Over the Water Clare-man PJ Francis shares with us his old vehicle adventures in the United States.
Retrospect A page of old and nostalgic motoring photos sent in by our readers.
Classifieds Looking for a classic? Well this is Ireland's only dedicated marketplace.
Behind the Wheel Dick Byrne looks back at his memories of motoring in the last century.