Happy Birthday Paddy Hopkirk
Happy birthday wishes to Paddy Hopkirk, who is today celebrating his 88th birthday. Paddy, who hails from Northern Ireland and attended Trinity College, had his first job with VW in Ballsbridge Motors but shot to world fame when he won the Monte Carlo Rally in 1964 in a Mini against all odds.The win is still much talked about today. Back in 2009, as part of the celebrations of the Mini reaching its 50th anniversary, I had the pleasure meeting and interviewing Paddy at his Buckinghamshire home, and below is the article we published at the time. On a personal note and on behalf of all our readers, I would like to wish Paddy a happy birthday, and may he enjoy many more. Enjoy the read.
Thomas Heavey, Managing Editor
---
MEETING A LEGEND
Given suitable development the Mini became a very strong competition car, and has competed at all levels of motorsport. But there is one win that will always be remembered by both Mini fans and Irish motorsport fans, and that is the 1964 Monte Carlo Rally which was won by Irishman Paddy Hopkirk. Our celebration of the Mini would not be complete without a few words from Paddy, who took time out of his busy schedule to meet with me.
Paddy agreed to pick me up in a village near his home, not far from London, and what a surprise I got when a new John Cooper Works MINI convertible pulled up with Paddy at the wheel. So off we went, and as we travelled through the countryside Paddy pushed the car on. It was great to sit beside a rallying legend that is still fond of putting on the power. Arriving at the Hopkirk residence Paddy showed me 6 EMO, a Mini used by himself and Alec Poole on the Classic Marathon Rally back in 1990. I asked Paddy how did the combination of himself and Alec work out, and Paddy replied with a smile "he was great. I've done many events with him, and in fact we won that Pirelli Classic Marathon in 1990. Not only is he a good co-driver, he is a great driver and an excellent mechanic. Of course he had Irish connections, and his father Billy Poole used to assemble the Mini in Dublin (Booth-Poole). They also built the Morris Minor and MGs. Back in 1968 we did the London to Sydney Rally in an Austin 1800, and when you can sit in a car with someone during tough going for six weeks without falling out, it's a good testament of a man. I tell you; if you're on a sinking ship with Alec, then stick with Alec! I saw him only last weekend at Goodwood, and we are still great friends. He raced at Goodwood, and he still has the touch."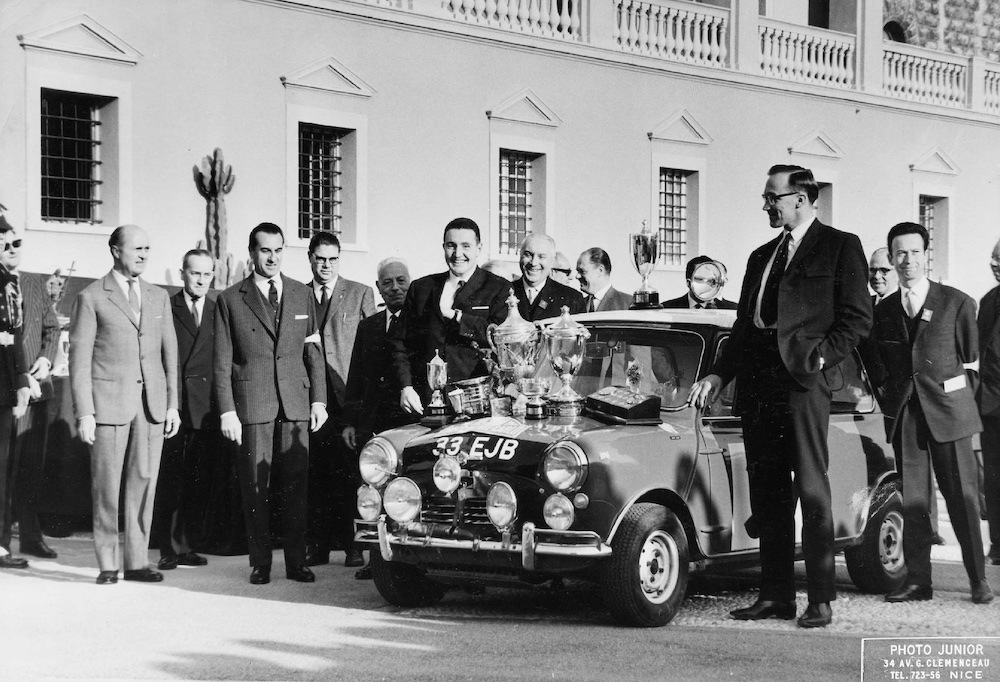 Paddy Hopkirk and Henry Liddon pose for one final photo before leaving the palace in Monte Carlo.
Being born in Northern Ireland and having gone to Trinity College in Dublin, Paddy completed in a lot of events in Ireland. He tells us "while in Trinity I competed all over Ireland in a lot of trials and hillclimbs. I loved going to Lisdoonvarna, which I won in 1957 in an Anglia, and another event I enjoyed that I have seen in your magazine was Dunboyne; I went back there a few years ago for a re-union. It was a great circuit. I later had a VW Beetle my dad bought me, and a few Triumphs including a TR3 and a TR2 with the registration number PRI 222; it was racing in this car in the Phoenix Park in 1955 that got me noticed. A Trinity friend of mine, Matt McQuaid, was telling Ken Richardson, who was in charge of the TR competition team, about this young Irish man that was winning all around him in a TR2. Ken Richardson eventually gave me a drive in the 1956 RAC. The event started in Blackpool back then, and began with a number of test trials; I was handy at those, and I won the first few. Ken Richardson was sitting in a bar having a drink when it came on the BBC that an unknown Irishman was leading the RAC; he nearly fell off the stool, and stated that he had found a star!"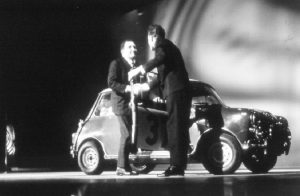 27 million people watched as Bruce Forsyth gave Paddy a great welcome home in 1964.
I asked Paddy how, even though he was competing in events all over the world during the late fifties and early sixties, he competed in Ireland at every opportunity that came up. "Yes I loved to get a chance to throw the car around in Ireland," he explained. "There are many great events around the world, but the Circuit of Ireland is a unique event on very challenging stages. Even though gravel events are my favourite there is something tricky about the surface of Irish boreens". Having competed in many disciplines, from rallying to hillclimbs to trials. what was his favourite? Paddy replies immediately; "rallying of course. There is no comparison; it's the best." "Is a gravel surface the best?" I asked. "Yes indeed" he replied; "anyone who can go fast on gravel is a great driver, and the ultimate test is whoever can drive fast downhill on the loose".
In those days it was tough to get a break. "It sure was" remembers Paddy. "I was lucky to get in with Rootes that time. We didn't get paid a wage; all we got was expenses of about €40 a day, and we made money out of that by sleeping rough to cut down our expenses. Sure we were getting to see the world and getting paid for it too. It was 1966 before I got a paid works drive, but sure it was fun then. They say that there was no publicity then, but there certainly was. I remember when we came back after winning the Monte in 1964 we were on 'Sunday Night at the Palladium', which was hosted by Bruce Forsyth. We brought on the car, and there were 27 million people watching us; now that's publicity. Even today only 1.9 million watch the WRC. I remember doing the 1963 Tour de France, which was the first real success of the Mini. It was a great event where we went from race circuit to race circuit. We did Le Mans, the Nurburgring and many others on that event. It was the first time that motorsport was shown on television in France; it got twenty minutes of coverage a day. The big American Fords were there with big eight-litre engines, and they would just fly past us on the straights but we would pass them on the back of the circuit on the tricky stuff; it was like David and Goliath. At the end of the year at the London Motor Show there were French dealers over looking to buy Mini Coopers, and the BMC sales team didn't know what was happening. "How did these lads know?" they asked. We told them that it was from the publicity we gave at the race."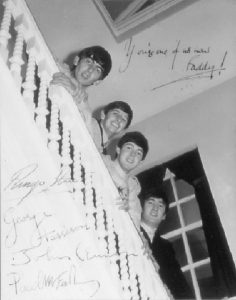 The autographed picture that Paddy received with a telegram from the Beatles after his great win on he 1964 Monte; it says "you're one of us now Paddy," meaning that he was a number one. This is just one of the many great pictures that are on the wall in Paddy's office.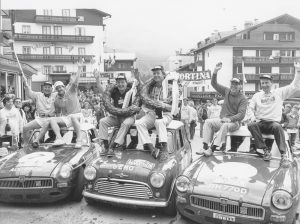 A line up of legends at the finish of the 1990 Pirelli Classic; at the centre are winners Paddy Hopkirk and Alec Poole, on the left are Stirling Moss and Chuck Shields and on the right are Ron Gammons and Paul Easter. (Picture: Paddy Hopkirk)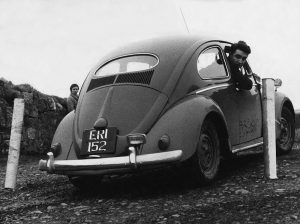 Here we have Paddy in action in Sligo in 1955 in a VW Beetle. Paddy was friends with Michael O'Flaherty, son of Stephen O'Flaherty who owned the Dublin VW importer Motor Distributors, who had a CKD plant in Ballsbridge. He often loaned Paddy a car to compete in. (Picture: Paddy Hopkirk)
"So you were out in the Mini this weekend" I asked; "do you still enjoy bringing it out for a spin?" "Well I don't drive competitively any more," Paddy replied. "I opened a local hillclimb. Bill Price drove the old one, and I drove the BMW. I am a sort of ambassador for the new model for BMW now, and I went to America to launch it a few years ago. It's a great car. Did you know that they are building 54 of them an hour now? They built 240,000 of them here last year. There is talk of a 4WD one coming along, and if so I wouldn't be surprised if they entered rallying with them. It will soon be fifty years since the Mini won the Monte, so maybe they can do it again. That would be great publicity."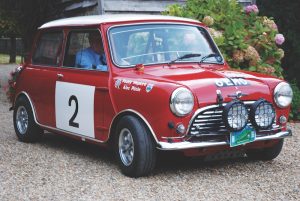 Paddy drives out the 1990 winning car, which he now owns, for a few photos.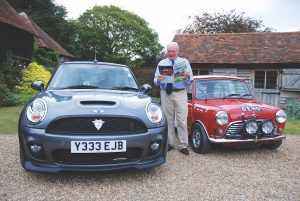 Paddy enjoyed having a look through Irish Vintage Scene, and the article on Dunboyne brought back many fond memories of competing there. Just look at the registration on the new John Cooper Works MINI; this will bring back memories for rallying fans.
So what's Paddy's take on modern day rallying? "Well it's quite different now" he explains. "These WRC cars are like Formula One cars with bodies. Thinking back on it, we used to have far more fun than the professional rally drivers of today; on international events you were promoting your country by winning abroad. These wins made front page news; it was much more than just a sport. I see the WRC as a great advancement, and I was glad to be involved in trying to bring it to Ireland. It took three years, but it was great to see it in Ireland." Paddy continues "we have to admire the current drivers, as the driving is harder than it seems. I got to sit in with Colin McRae a few years ago; these lads do work hard, and they have to be fit for the current WRC. The cars we drove were very close to the road versions, but nowadays there is no comparison. That said, we had to have great stamina back then as events were started in different places and would run for maybe four days and nights. Another great thing about the old rallying was that you would finish an event and have to wait a few hours for the results; there was no radio contact or mobile phones, so there was always anticipation and excitement. Events were much longer then, and I remember doing stages that took thirteen hours. The hardest thing I found was the dust; it was worse than snow or anything else, and it just got in everywhere. Then if you caught up with another competitor you would have a terrible time."
"One of the biggest changes has to be the tyres. Back then they were dreadful. A few years ago I drove a car on a stage in Goodwood on modern tyres, and they are great. Our BMC team manager, Stuart Turner, was the cause of a lot of changes over the years; he was a genius and planned everything out to a tee. If he only had a certain number of tyres for an event, then he would spread them out and have a number of service points on the rally. He also had a lot to do with the invention of pace notes and recces. I am still great friends with him, and he is one man that you should interview; he does a lot for charity now, and is a great speaker. In the early days we had no helmets or roll cages, and I remember turning over a car in Donegal one time with nether of those things. When I set up in business in Northern Ireland we were selling and fitting seatbelts from aeroplanes for competition cars, and this is what led to belts been put into ordinary road cars. Overalls were also introduced around then, so it was a fast-changing time for rallying. Modern day drivers work a lot harder, and I'm delighted for Chris Meeke; he is doing so well at present. I remember picking him from a panel of drivers in Silverstone a few years ago, before Colin McRae took an interest in him."
So I put it to Paddy if winning the Monte in 1964 was his greatest achievement. "Well," he thought, "you know I'm not so sure. It most certainly was a great honour to win it and to be awarded the prizes by Prince Rainier; BMC got great publicity out of it, and even Alec Issigonis was there for the celebrations. I did the Monte again in 1994 as it was the 30th anniversary of our win. We did well there, and were happy to finish. At the prizegiving we were up on the podium with all of the modern day heroes like McRae. Prince Rainer doesn't get up anymore to give out the prizes, but when we went up he got up, came over and gave us a couple of gold watches. I think that meant he didn't want to see me again!" Paddy laughs. "33EJB will go down in history; we didn't get to use it after, and in fact I only ever did two events in that one. It's in the Gaydon Motor Museum now."
"But to answer your question," Paddy continues, "I think the greatest achievement for both the Mini and I was winning our class and finishing 3rd overall in the Acropolis rally in 1966, and winning in 1967; this event is just so hard on man and car that it has to be one's best achievement to win it." "What makes it so hard?" I ask Paddy. "Well, it's a number of things; it's the heat, the dust and those roads, which are so hard and rocky. The Mini was quite a heavy car, and it showed great reliability to be able finish these types of rally, the toughest I ever came across."
Myself and Paddy could have stayed talking for hours, and I really enjoyed his company. When it came time to leave he signed my copy of his book, plus another copy for one of you lucky readers which I will put with a signed copy of both of our Mini special issues; see the competition elsewhere. I want to firstly thank the people who helped me make contact with Paddy, and most importantly to thank Paddy himself for taking time out to meet me. If you enjoyed this short interview then I highly recommend you get your hands on a copy of Paddy's book 'A Dash of the Irish – The Paddy Hopkirk Story.' It's a brilliant read, and one memory that it will leave with you is the fact that Paddy seems to be smiling in all of the pictures.
Featured image: For me it was an honour to meet and chat with a world famous rallying legend, and I hope you enjoyed this article as much as I enjoyed putting it together.