ON THE WAY BACK FOR MY RECENT TRIP TO THE UK I GOT TO CALL INTO RICHARD HILL, PROPRIETOR OF PEMBROKESHIRE CLASSIC INVESTMENTS. RICHARD HAS ADVERTISED WITH IRISH VINTAGE SCENE FOR FOUR YEARS NOW, YET WE HAD NEVER HAD THE PLEASURE OF MEETING. BASED ONLY THIRTY MINUTES FROM FISHGUARD FERRY-PORT, RICHARD IS IDEALLY LOCATED FOR IRISH CUSTOMERS, AND INDEED WILL PICK UP ANY POTENTIAL CUSTOMERS FROM EITHER FISHGUARD OR PEMBROKE PORTS.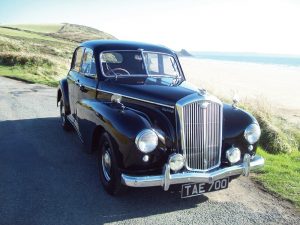 Richard has been in the car trade for many years, starting out with a main dealer before going out on his own (like many good car salesmen), and can remember selling a half dozen or more modern cars a week. He really enjoys the car business, and from talking to him you can see his passion for his business; but, like me, it's more of a hobby to him. A number of years ago Richard observed the growing interest in vintage and classic cars, and being a car lover himself he started selling the occasional classic along with the modern ones; "it grew from there" he tells us, and as family came along and grew up Richard made the big decision to give up the very competitive modern car business that took up so much of his time, and he began to focus on the classic car business. "I decided from day one not to ever stock a car that I wouldn't add to my own collection" Richard points out; "they must be the best that is available." After seeing his stock first-hand, I can assure you that they are the best around.
I asked Richard if is it hard to get good stock, and he explained that "there is so much stuff out there that is just not up to my high standards, so I have to spend a lot of time searching and travelling to view this stuff that maybe cheaper to buy and sell, but I just don't want it." He continues by saying "in recent years there has been more demand for concours vehicles with history, so I know that if I buy something that ticks all the boxes, even if it is above market price, I can sell it as there is always a customer for quality." I asked Richard how advertising with Irish Vintage Scene has worked out, and he explained "It has been great; the Irish have great taste in cars, and know a good one when they see one. I have a lot of good customers in Ireland, and indeed it hasn't slowed down there as much as one would have expected in recent times."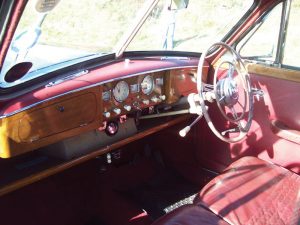 The day I called to Pembrokeshire Classic Investments the weather was absolutely terrible and driving conditions were very bad, so I didn't take up Richard's offer to drive any car I wanted as I knew that they were just too good to bring out in the rain. Two cars that caught my eye were the 1954 Wolseley 6/80 and Austin A40 Mk1 that we featured in Dealers' Wheels last month; the condition and originality of these cars is fantastic. A Jaguar XJS 3.6 coupe with only 29,000 miles also stood out, as well as a Rover P5B saloon and a 1965 Vanden Plas Princess 4-Litre. I really liked the 1971 Mini Cooper S and the Porsche 928 S4, both since sold, along with a 1971 MGB Roadster that has also been sold. It's quite simple; quality sells, and if you want quality then Pembrokeshire Classic Investments have it. There is an important word in Richard's business name, and that is "Investments"; if you buy a car from Richard it really is an investment, as if you maintain his standards it will appreciate in any economy. ED
Testimonials from Irish customers
"I found Richard 100% to deal with and very efficient, especially when it came to meeting me off the boat. He also shipped home the cars for me, so all I had to do was pick up the car in Rosslare. You can be assured that Richard's cars are in top-quality condition." Harry Cole, Co. Kildare.

"I found Richard a lovely man, and would describe him as a decent and straight man to deal with. In the condition he has them in, his cars always represent value for money. I bought a 1962 Wolseley 1500 from him that was advertised in Irish Vintage Scene, and you would not find one in better condition for sale anywhere at the time. You may find cheaper, but not better. At the end of the day, it's an investment."James Coll, Co. Galway.