Issue 177 IVS & Issue 40 RC
€10.99
Description
Irish Vintage Scene issue 176: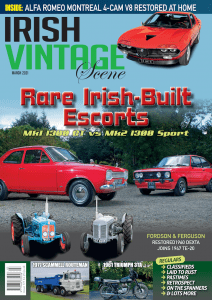 Gracing the cover of the March 2021 issue of Irish Vintage Scene is a pair of classic Escorts that are sure to be of great interest to the many Ford fans out there. Both are rare, Irish-built examples, one being an extremely early Mk1 1300 GT from the end of 1967 and the other a very original Mk2 1300 Sport from 1979. Both are highly cherished by their Co. Wicklow-based owners. Our second car feature is another rare red beauty, this time a 1974 Alfa Romeo Montreal that has been restored at home by its owner, and we also drop in on one West Cork owner to check out his collection, comprising of an Irish-assembled Morris Minor, LHD VW Beetle, 1937 Ford Model Y Fordor and Massey Ferguson 135.
Speaking of tractors, our monthly tractor feature tells us about one Ballymena farmer's restoration of both a 1960 Fordson Dextra and the early, 1947 Ferguson TE-20 that his father bought in the 1960s. Our motorcycle slot is on a 1961 Triumph 3TA that's been rebuilt in memory of Bob Dylan's famous T-100, and our commercial feature looks at an unusual 1979 Scammell Routeman eight-wheel tipper that's been rebuilt to perfection.
All of the usual favourites are in there too, so don't miss out – pre-order your March 2021 issue of Irish Vintage Scene right here, and receive it before it's in the shops, with FREE POSTAGE on the island of Ireland!
Retro Classics issue 40: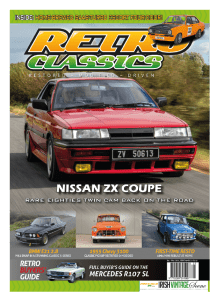 The January to March 2021 issue of Retro Classics is now on sale at good newsagents nationwide, or direct from us by ordering online with FREE POSTAGE. As always, we've a fantastic selection of fast classics for you to peruse, with the cover being graced by a rare 1989 Nissan ZX Coupe Twin Cam – when's the last time you saw one of those! This example was recently tracked down by a lifelong fan whose father had owned two brand new ones in the eighties, but it wasn't all plain sailing, as our feature outlines.
A pair of stunning Mk1 Golf GTIs also feature, one being a rare Irish-sold 1980 car and the other a real sleeper with 270 turbocharged horses under the bonnet. The Mk2 Escort we bring you in this issue is far from your run-of-the-mill Mexico or RS, a bright orange four-door track monster with a Saab turbo transplant, and speaking of transplants, the super-subtle BMW E21 323i we feature is not one to take on at the traffic lights either, thanks to its modern M52 2.8 conversion. A beautiful blue Mini restored as a young enthusiast's first-time project and a show-stopping 1955 Chevy 3100 pickup round out another hugely diverse issue, along with a buyer's guide on the timelessly elegant Mercedes R107 SL.
With a detailing guide looking forward to getting your classic show-ready, a look back at the quirky car ads of decades past and a look at some recent motoring event, there's plenty to get your teeth into in this issue of Retro Classics, so don't miss out – get your copy at any good newsagent, or click here to order your copy online, with FREE POSTAGE on the island of Ireland!