Issue 178 IVS & Issue 41 RC
€10.99
Description
Irish Vintage Scene issue 176: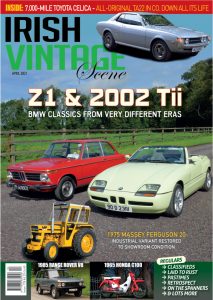 The cover of the April 2021 issue of Irish Vintage Scene carries two of the finest classic BMWs in the country, but coming from very different eras – the light and powerful 2002 Tii was one of the finest sports saloons of the 1970s, marrying a well-engineered chassis to a fuel-injected two-litre M20 engine, while the radical Z1 roadster was an eighties glimpse of a possible automotive future, featuring an unorthodox plastic body, retractable electric doors and innovative aerodynamics. Our second car feature is probably unique, a 1976 Toyota Celica that is in completely original, unrestored condition and with only 7,000 miles on the clock, as it's been in storage almost all of its life. It still even has the plastic on the door panels!
Our monthly tractor feature shows us that not all classis Masseys are red, as this mid-seventies MF20 industrial is now a vision in bright yellow following an intensive restoration that was completed during last year's travel restrictions. Our motorcycle slot fills us in on the recent restoration of an original Irish 1965 Honda C100, and our commercial feature outlines one enthusiast's passion for his 1985 Range Rover V8.
All of the usual favourites are in there too, so don't miss out – pre-order your April 2021 issue of Irish Vintage Scene right here, and receive it before it's in the shops, with FREE POSTAGE on the island of Ireland!
Retro Classics issue 41: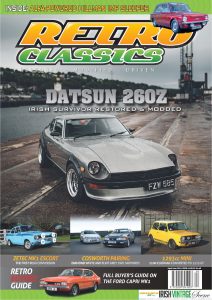 The April to June 2021 issue of Retro Classics hits the shop shelves on Thursday the 1st of April, but you can PRE-ORDER it right now and receive it to your door with FREE POSTAGE! As always, we've a diverse selection of fast classics for you to peruse, with the cover slot going to a rare Irish survivor in the form of a 1979 Kildare-registered Datsun 260Z. This example sat rusting in a barn in the midlands for many, many years before its new Cork owner embarked on its ambitious restoration, which as you can see included some choice modifications along the way.
A pair of cherished Ford Sierra Cosworths also feature, both being two-wheel-drive Sapphire saloons from the late eighties and early nineties. The beautiful Hillman Imp we bring you might look like a sweet and innocent little classic but it's harbouring a sting in its tail in the shape of a potent Alfa Romeo boxer engine, while the featured Mk1 Escort is thought to have been the first such Zetec conversion ever undertaken in the country, being completed almost 25 years ago now! A long-owned Mini Clubman also features, as does one Northern Ireland family's amazing collection of classic and performance cars.
With a detailing guide to help you look after your car's leather interior, a look back at the quirky car ads of decades past and a buyer's guide on the legendary Ford Capri Mk1, there's plenty to get your teeth into in this issue of Retro Classics, so don't miss out – click here to pre-order your copy online, with FREE POSTAGE on the island of Ireland!