Issue 183 IVS & Issue 42 RC
€10.99
Description
IRISH VINTAGE SCENE ISSUE 183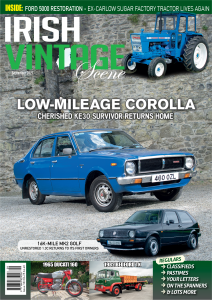 Taking the cover spot on the September 2021 issue of Irish Vintage Scene is an original Irish Toyota Corolla KE30 from 1981 that not only has covered a very low mileage in its lifetime, but was bought twice by its current owner after he regretted his decision first time around! Our second car feature is another amazing tale of reunion against the odds, this time a mint, 16,000-mile 1986 VW Golf that has recently gone full circle and back to its first owner from new, across the Irish Sea.
Our tractor feature this month tells the story of a recently-restored 1968 Ford 5000 that used to work at the Carlow sugar beet plant in Carlow, which is long gone but certainly not forgotten. Our motorcycle story drops in on a long-time Villiers enthusiast to check out his latest restoration, which isn't a Villiers at all for a change, but a rare and unusual 1965 Ducati 160 Monza Junior, while our commercial feature tells the tale of a 1982 Bedford TK that's been owned for three decades, and which has recently emerged for a stunning restoration.
All of the usual favourites are in there too, so don't miss out – pre-order your September 2021 issue of Irish Vintage Scene right here and receive it before it's in the shops, with FREE POSTAGE on the island of Ireland!
RETRO CLASSICS ISSUE 42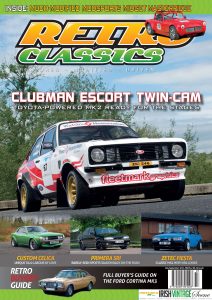 The July to September 2021 issue of Retro Classics hits the shop shelves on Thursday the 1st of July, but you can PRE-ORDER it right now and receive it to your door with FREE POSTAGE! As always, we've a diverse selection of fast classics for you to peruse, with this issue's cover going to a Ford Escort Mk2 rally car that's been the ten-year dream project for its two owners. After putting a con-rod out of the original crossflow back in 2009, they've rebuilt their precious competition car with a twin-cam Toyota 4AGE on Jenvey throttle bodies, six-linked rear end and a host of other upgrades, and are itching to get it back out on the stages.
An absolutely stunning 1975 Toyota Celica also features in this issue, the result of a whole lot of metal fabrication work by its skilful owner. The MG Midget we bring you isn't the cute roadster you're familiar with, as it's much modified beneath with space-frame construction, radically altered engine position and 125bhp A-series power. The Zetec-powered Mk2 Fiesta 'XRZ' is a beautifully-built example that's now the first retro classic of an enthusiastic young owner, while a funky sixties Plymouth Belvedere police cruiser and a now-rare Nissan Primera P10 SRi round out another very varied issue.
With a detailing guide to help you rejuvenate your car's plastic trim, a look back at the quirky car ads of decades past and a buyer's guide on the iconic Ford Cortina Mk3, there's plenty to get your teeth into in this issue of Retro Classics, so don't miss out – click here to pre-order your copy online, with FREE POSTAGE on the island of Ireland!