Issue 187 IVS & Issue 43 RC
€10.99
Description
IRISH VINTAGE SCENE ISSUE 187 (pre-order)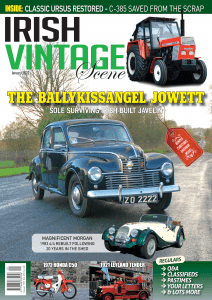 It's December, so that means it's time for the Christmas issue of Irish Vintage Scene! On the cover of our January 2022 edition is an extremely rare Irish survivor that's enjoyed the limelight in its time – this 1952 Jowett Javelin is thought to be the only remaining example of 26 Irish-assembled cars, and became famous in more recent years when it regularly appeared on the TV series 'Ballykissangel'. In this issue we follow it on its first return to Avoca in Co. Wicklow, where filming took place. Our second featured car is a Morgan 4/4 that's recently been beautifully revamped after many years in storage, but sadly not before its owner passed away unexpectedly.
Our tractor feature this month outlines the ambitious restoration of an Ursus C-385 from very poor condition, essentially being saved from the scrapheap! Our featured motorcycle is a 1972 Honda C50 that's been rebuilt to stunning order, while our commercial feature tells the story of one of the most historic vehicles in the country – the 1921 Leyland FE fire tender of Dublin Fire Brigade, which celebrates its centenary this year. And, as an extra bonus this month, we bring you a history on the Corrie Foundry in Cavan, which was a famous piece of Ireland's engineering heritage for generations.
RETRO CLASSICS ISSUE 43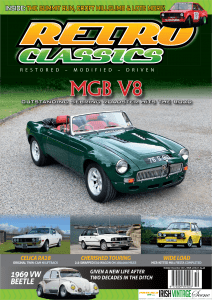 The October to December 2021 issue of Retro Classics hits the shop shelves on Friday the 1st of October, but you can PRE-ORDER it right now and receive it to your door with FREE POSTAGE! As always, we've a diverse selection of fast classics for you to peruse, with this issue's cover going to a stunning MGB that's just been transformed from a mild-mannered roadster into a wide-arched, V8-powered beast. We also feature a very eye-catching wide-arch Mk1 Fiesta in Signal Yellow, as well as a low-riding VW Beetle that was literally rescued from the briars, a much-storied Celica RA28 GT and a 2.5-swapped BMW E30 Touring that's been the long-serving daily driver for its owner since 1995.
With a detailing guide to help you prepare and protect your precious classic in advance of winter, a look back at the quirky car ads of decades past and a return to event reports at last (this time including the Seaside Revival Vintage Festival in Bangor, The IEC Summit Run, Ted's Opel Vauxhall Run, National Classic Spin 2021, Croft Hillclimb, NI Ford Sierra Club's Donegal Run and a roundup of ICCR racing at Mondello), there's plenty to get your teeth into in this issue of Retro Classics, so don't miss out.