Issue 189 IVS & Issue 44 RC
€10.99
Description
IRISH VINTAGE SCENE ISSUE 189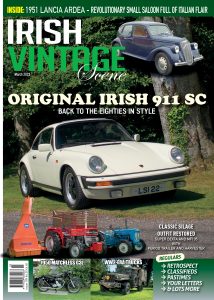 The main cover slot of our March 2022 issue goes to a glorious piece of eighties excess in the form of a Porsche 911 SC that was sold new in Dublin in 1983 to one of the developers that shaped the city as we now know it. In distinctive Chiffon White with a brown Pasha interior, it's been used and cherished by a small number of owners over its life, and recently came in for a light and sympathetic restoration in the hands of a renowned Irish specialist. Our second featured car is another European jewel, this time a 1951 Lancia Ardea that was bought as a souvenir on the owner's holiday to Malta! Thankfully, he has a very understanding partner…
Our tractor feature this month tells us about a very busy father-and-son team who have spent the last number of years restoring a nostalgic classic silage outfit, consisting of a Fordson Super Dexta, a Massey Ferguson 135, a 1960s Ugerlose single-chop silage harvester and a 10×6 silage trailer. Unsurprisingly, these two rigs draw a crowd wherever they go. Our two-wheeled feature outlines one enthusiast's love-affair with his 1950 Matchless G3L, while our commercial feature showcases a fascinating Tipperary-based collection of WW2-era trucks and jeeps.
RETRO CLASSICS ISSUE 44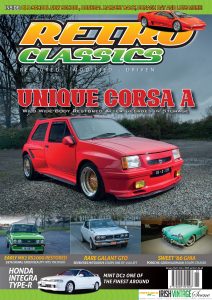 The January to March 2022 issue of Retro Classics is now on sale at good newsagents nationwide, or direct from us by ordering online with FREE POSTAGE. As always, we've a diverse selection of fast classics for you to peruse, with this issue's cover going to probably the wildest-looking Opel Corsa A in the country, thanks to its unique wide-arch bodykit. We also feature an extremely Colt Galant GTO from the seventies, a sweet and subtle VW Karmann Ghia, a just-completed concours-level Mk2 Escort RS2000 and a mint example of the modern classic that is the DC2 Honda Integra Type-R.
With a detailing guide to help you wash and clean your classic without doing more damage than good, a look back at the quirky car ads of decades past and a return to event reports at last (this time including the Old School New School Meet, MacMillan Car Show, Classic Wheels Ireland Show, Tollymore MG Rover Day, the Rally Déjà Vu Donagh Day and a roundup of ICCR racing at Mondello), there's plenty to get your teeth into in this issue of Retro Classics, so don't miss out – get your copy at any good newsagent, order a digital edition or click here to order a copy online, with FREE POSTAGE on the island of Ireland!