Issue 190 IVS & Issue 44 RC
€10.99
Description
IRISH VINTAGE SCENE ISSUE 190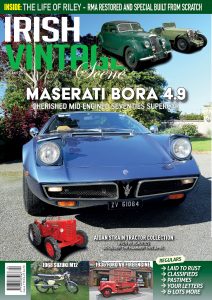 We've an exotic treat for our readers on the cover of our April 2022 issue. The Maserati Bora was one of the most advanced supercars of the early 1970s, boasting not only a glorious 4.9-litre quad-cam V8 engine mounted in the middle, but all manner of sophisticated Citroen technology as the French giant had bought a controlling interest in the Italian sports-car maker in 1968. This early example is owned by a Dublin enthusiast, who has been gradually fettling its condition in his ownership. Our second car feature continues with the sporting theme but in a very different way, as one Riley fan outlines how he built his own special sports car from the burnt-out remains of a 1930s Riley.
Our tractor feature this month is a change from the norm, as it runs us through just some of the amazing collection of Aidan Strain from Co. Down, which is to be auctioned off by Cheffins on the 2nd of April. The massive collection runs from commonplace Masseys and Fords to true rarities from County and Roadless, plus probably the best line-ups of classic Internationals we've ever seen. Our two-wheeled feature tells the story behind the restoration of a beautiful little 1960s Suzuki Supersport 50cc, while our commercial feature looks at a true local treasure in the shape of a 1936 Ford V8 fire engine that's been part of Carlow's history since new.
RETRO CLASSICS ISSUE 44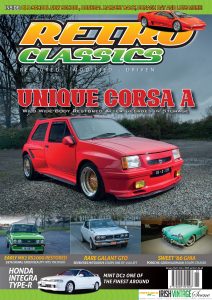 The January to March 2022 issue of Retro Classics is now on sale at good newsagents nationwide, or direct from us by ordering online with FREE POSTAGE. As always, we've a diverse selection of fast classics for you to peruse, with this issue's cover going to probably the wildest-looking Opel Corsa A in the country, thanks to its unique wide-arch bodykit. We also feature an extremely Colt Galant GTO from the seventies, a sweet and subtle VW Karmann Ghia, a just-completed concours-level Mk2 Escort RS2000 and a mint example of the modern classic that is the DC2 Honda Integra Type-R.
With a detailing guide to help you wash and clean your classic without doing more damage than good, a look back at the quirky car ads of decades past and a return to event reports at last (this time including the Old School New School Meet, MacMillan Car Show, Classic Wheels Ireland Show, Tollymore MG Rover Day, the Rally Déjà Vu Donagh Day and a roundup of ICCR racing at Mondello), there's plenty to get your teeth into in this issue of Retro Classics, so don't miss out – get your copy at any good newsagent, order a digital edition or click here to order a copy online, with FREE POSTAGE on the island of Ireland!