Issue 191 IVS & Issue 45 RC
€10.99
Description
IRISH VINTAGE SCENE ISSUE 191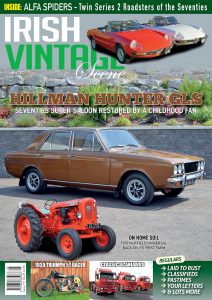 The cover of our May 2022 issue showcases a now-rare, top-of-the-line Hillman Hunter GLS, a luxurious and potent saloon in its day thanks to its twin-carbed 1,725cc Holbay-tuned engine. This one's recently been restored by a life-long fan of the model, as his father bought an identical car brand new in 1973. Our second car feature brings us another sporty pairing, this time two very original Series 2 Alfa Romeo Spiders owned by a former rally driver.
Our tractor feature this month looks at a Nuffield DM4 from 1957 that has spent almost all of its life on one farm, while our two-wheeled feature tells the story behind a very racy 1939 Triumph with a competition background and a multitude of performance modifications. Rounding off the features in this issue, our commercial feature goes to a stunning trio of classic Scania V8 trucks – a 141, 142 and 143 – that are shown with pride by a Dublin-based haulage company.
RETRO CLASSICS ISSUE 45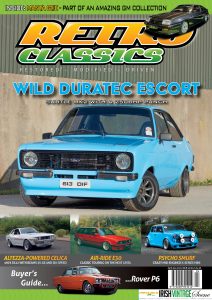 The April to June 2022 issue of Retro Classics goes on sale shortly at good newsagents nationwide, or direct from us by ordering online with FREE POSTAGE. As always, we've a diverse selection of fast classics for you to peruse, headed up by a subtle Mk2 Escort packing a 250bhp Duratec punch. Further into the mag, we also feature a BEAMS 20-valve-powered Toyota Celica TA22 that's been a labour of love for its owner, a BMW E30 Touring on split-rims and air suspension, an absolutely insane mid-engined Mini and one of the most enviable classic Opel collections you'll ever see.
With a detailing guide on the ins and outs of rotary polishers, a look back at the quirky car ads of decades past, a buyer's guide on the Rover P6 and a return to event reports at last, there's plenty to get your teeth into in this issue of Retro Classics, so don't miss out – – pre-order a digital edition, click here to pre-order a copy online, with FREE POSTAGE on the island of Ireland, or watch out for it at all good newsagents from the 1st of April.