Issue 192 IVS & Issue 45 RC
€10.99
Description
IRISH VINTAGE SCENE ISSUE 192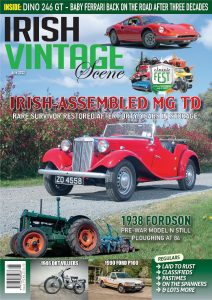 The cover spot of our June 2022 issue goes to a beautiful rarity in the form of a Dublin-assembled 1952 TD, which had lain as an unfinished project for many decades following the tragic passing of its owner. It's recently been restored, and is now back on the road in the summer sunshine. Our second car story outlines the efforts that one enthusiast went to in order to recommission a Ferrari Dino 246 GT after several decades in dry storage.
Our tractor feature this month looks at a 1938 Fordson Model N that, despite its great age, is still a regular entrant in ploughing competitions and is a source of great enjoyment for its owner and his young daughter. Our motorcycle feature outlines the restoration of a rare 1940s rigid-frame Dot Villiers trials bike that was sourced as a project from the Dot factory itself, and our commercial feature showcases the stunning result of a full restoration on a Ford Sierra P100 pickup that's been with one family since new.
RETRO CLASSICS ISSUE 45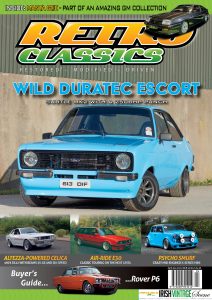 The April to June 2022 issue of Retro Classics goes on sale shortly at good newsagents nationwide, or direct from us by ordering online with FREE POSTAGE. As always, we've a diverse selection of fast classics for you to peruse, headed up by a subtle Mk2 Escort packing a 250bhp Duratec punch. Further into the mag, we also feature a BEAMS 20-valve-powered Toyota Celica TA22 that's been a labour of love for its owner, a BMW E30 Touring on split-rims and air suspension, an absolutely insane mid-engined Mini and one of the most enviable classic Opel collections you'll ever see.
With a detailing guide on the ins and outs of rotary polishers, a look back at the quirky car ads of decades past, a buyer's guide on the Rover P6 and a return to event reports at last, there's plenty to get your teeth into in this issue of Retro Classics, so don't miss out – – pre-order a digital edition, click here to pre-order a copy online, with FREE POSTAGE on the island of Ireland, or watch out for it at all good newsagents from the 1st of April.