Issue 196 IVS & Issue 46 RC
€10.99
Description
IRISH VINTAGE SCENE ISSUE 196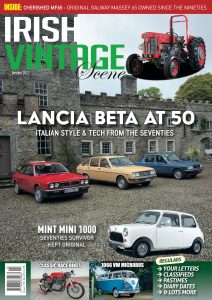 Claiming the cover spot of our October 2022 issue is one of the most infamous Italian cars of all, but sadly for the wrong reasons – the stylish, practical and lively Lancia Beta was on course to turn around its maker's fortunes when it was launched in 1972, but some well-publicised corrosion issues unfortunately took over the narrative and ruined its reputation. Fifty years after its launch, we look at what should have been an Italian success story. Our second featured car is a simply stunning 1978 Mini 1000 that was purchased in order to lower with a big set of wheels, but when its owner realised how amazingly original it was, he changed his plans from modification to preservation.
Our tractor feature this month tells the story of a recently restored Massey Ferguson 65 that's been part of the same Galway family for three decades, our motorcycle feature introduces us to two members of the Irish Classic Racing Association and three of their racing machines from Honda, Suzuki and Yamaha, and our commercial vehicle feature showcases a beautiful 1966 VW Microbus that was rebuilt by its owner after he imported it from the US, where it had been sitting in a field since the nineties!
RETRO CLASSICS ISSUE 46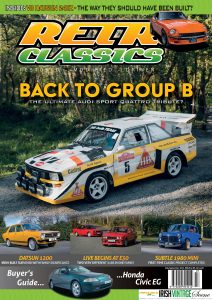 The July to September 2022 issue of Retro Classics goes on sale shortly at good newsagents nationwide, or direct from us by ordering online with FREE POSTAGE. As always, we've a fascinating line-up of machines between our covers, most noticeably the rallying monster on our front cover – it would do this Audi Sport Quattro S1 Evo 2 no justice to call it a recreation, as it's been built with top components throughout including a Kevlar roof, sequential gearbox and S8 brakes, and has put down well over 600bhp from its 20-valve turbo engine. Further into the mag, we also feature a wild V8-powered Datsun 240Z, a surprisingly different pair of red BMW E30 1.8s, a subtle Mini first-time project and a lovingly restored, Irish-built Datsun 1200 that's a firm part of its Carlow family.
With a detailing guide on how to safely clean alloy wheels, a look back at the quirky car ads of decades past, a buyer's guide on the Honda EG and reports from Dubshed, MLVW Show, the Rally of the Lakes, Loughgall Classic Show, MAAC Kilbeggan American Show and Déjà Vu Tralee, there's plenty to get your teeth into in this issue of Retro Classics, so don't miss out – pre-order a digital edition, click here to pre-order a copy online, with FREE POSTAGE on the island of Ireland, or watch out for it at all good newsagents from the 1st of July.