Issue 203 IVS & Issue 49 RC
€12.50
Description
IRISH VINTAGE SCENE ISSUE 203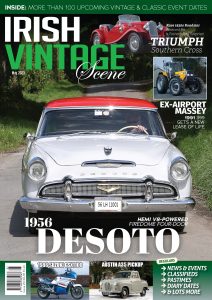 Heading up the May 2023 issue of Irish Vintage Scene is a fascinating American classic that's hardly remembered today – the DeSoto brand was popular across the Atlantic throughout the thirties, forties and fifties, but lost ground in the late fifties against stiff competition and was axed by parent company Chrysler in 1961, making the 1956 Firedome V8 featured this month a rare sight. Our second featured car is another very uncommon machine, a 1937 Triumph Gloria Southern Cross sports car that's been in the same ownership since 1990, and has recently been restored as a very special Father's Day present!
Moving to tractors, this month's featured beauty is a very distinctive yellow 1991 Massey Ferguson 399 that's actually been that colour from new, as it worked at an airport in Scotland in its early life. It's now been completely restored to a simply stunning level, ready for the classic shows. Our featured motorbike is a 1986 Suzuki GSX1000 EF that was seriously cutting-edge in the mid-eighties, while our commercial feature tells the long-running restoration tale of an extremely rare Austin A35 pickup, one of less than 500 ever built.
RETRO CLASSICS ISSUE 49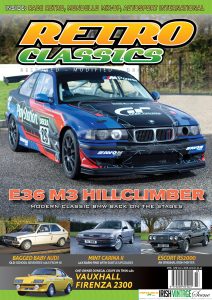 The April to June 2023 issue of Retro Classics is now on sale at good newsagents nationwide, or direct from us by ordering online quickly and conveniently. Once again we've a diverse selection of feature cars in this edition, headed by our cover car, an E36 BMW M3 that's gone from one of the most potent nineties coupes on Irish roads to a full-on sprint and hillclimb competitor. Since 2015 it's tackled stages and courses from Donegal to France, and has proven extremely reliable despite its relatively high mileage and occasional excursion into the scenery!
Further into the mag, we also feature an immaculate and extremely original Mk2 Escort RS2000, a seriously eye-catching Vauxhall Firenza 2300 droop-snoot that was bought new by its Donegal owner in 1974, a rare little Audi 50 on air-ride and BBS wheels and a lightly-modified Toyota Carina that was unearthed after seventeen years off the road, in excellent condition and with very small mileage on the clock. With a detailing guide that debunks some of the most notorious internet hacks, a look back at the often-quirky car ads of decades past and reports from Autosport International, Mondello Mix-Up, Cars & Coffee North East, Race Retro, Edgewood Automotive Cars & Caffeine, the Brekkie Roll VW Meet and a roundup of the last Precision Graphics Future Classics Championship, there's plenty to get your teeth into in this issue of Retro Classics, so don't miss out.