Issue 206 IVS & Issue 50 RC
€12.50
Description
IRISH VINTAGE SCENE ISSUE 206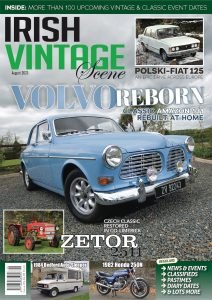 Up front on the August 2023 issue of Irish Vintage Scene is a famous classic model that laid the reputational foundations of its manufacturer – the Volvo Amazon 131 is an icon of solidity and safety but also has a fun side, with a successful motorsport history born out of its sheer toughness. This example was bought as a light restoration project that spiralled out of control, as these things often do, but the owner's fourteen months of work and financial outlay have been rewarded with a truly beautiful example of the breed. Our second feature car is another saloon car from the European continent, but one that had very different objectives when it was launched in 1967 – the Polski Fiat 125 was conceived jointly by Fiat and the Polish government of the time to offer their country a more modern car, and it went on to become a true automotive legend in that part of Europe for decades. This 1978 125PZ brushed off an epic road trip with ease, when it was driven from Slovenia to Mayo last year by its very enthusiastic new owner!
This month's featured tractor is a Zetor 2511 owned and restored by a Co. Limerick farmer that's built up a huge respect for this brand over the last fifty years, as those he's owned have put in unstinting service with the bare minimum of problems. Our commercial vehicle feature is something a little different to the norm, a 1984 Bedford CF2 camper that's been restored to really impressive condition, and our motorcycle feature tells the story of one biker's nostalgia for the Honda 250N Super Dream and the reasons he's recently bought another.
RETRO CLASSICS ISSUE 50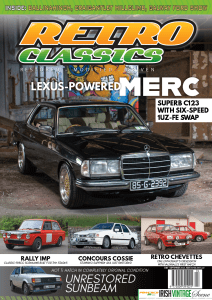 The July to September 2023 issue of Retro Classics is now on sale at good newsagents nationwide, or direct from us by ordering online quickly and conveniently. Once again we've a diverse selection of feature cars in this edition, not least our cover car, a Mercedes C123 Coupe that's not only gone through a full-on, bare-shell restoration at the hands of its enthusiastic owner, but also has had a four-litre quad-cam Lexus 1UZ-FE V8 grafted into the engine bay! Not a straightforward conversion, it required a steering rack conversion and some clever wiring, but the result is a very potent but still refined classic Merc that sounds amazing.
Further into the mag, we also feature a period-perfect rallying Hillman Imp that's decades in the making, a just-restored Ford Sierra Sapphire Cosworth that's probably the very best we've ever seen, a pair of very retro Vauxhall Chevettes from Northern Ireland and a Talbot Sunbeam Ti that has the most unique backstory we've ever heard! With a detailing guide to keep your pride and joy shining at the summer shows, a look back at the often-quirky car ads of decades past, and reports from Galway Ford Show, Craigantlet Hillclimb, Ballynahinch Classic Car Display, the MAAC All-American Car Show, London Classic Car Show, Wexford Spring Challenge, Limerick Cars at the Cathedral and the Causeway Coast Ford Fair at Portrush, there's a whole lot packed between the covers of this issue of Retro Classics, so don't miss out – get your copy at any good newsagent, order a digital edition or click here to order a copy online!