Issue 210 IVS & Issue 51 RC
€12.50
Description
IRISH VINTAGE SCENE ISSUE 210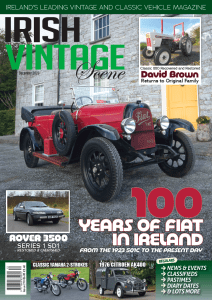 The cover of the December 2023 issue of Irish Vintage Scene marks a very special centenary from the year – Fiat's 100 years in Ireland. To celebrate, we look at a selection of the Italian's most famous models, showcased at the Classic Fiat Ireland anniversary bash earlier this year, as well as checking out a 100-year-old Fiat 501C that was shipped to Australia when new, but ended up being fully restored in Co. Cork in recent times. Our second featured car is, in our opinion, one of the most handsome British cars ever built – this Rover 3500 SD1 is a now-rare Series 1 from 1978, and its restoration came about thanks to its owner's memories of the four SD1s owned by her father back in the day.
This month's tractor feature is a tale of reunion, as this David Brown 880 was bought new by its owner's father in 1971, but disappeared from the family's radar up until it was spotted in a hedge in 2019! Our commercial vehicle feature looks at a Citroen AK400 van that was one of a small number of RHD versions built for the Belgian postal service, and rounding off our features for this month is a pair of classic small Yamahas, an RS125 and RXS100, which are real pieces of nostalgia for any biker that started their riding days on a two-stroke.
Lots of the usual favourites are in there too, including event reports from earlier in the year from the Ballyfin Vintage Rally, Malahide Lions Club Classic Car Show, the Chrome Classic Car & Bike Show and the Monaghan V&V Rally, so don't miss out!
RETRO CLASSICS ISSUE 51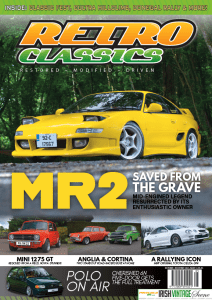 The October to December 2023 issue of Retro Classics is now on sale at good newsagents nationwide, or direct from us by ordering online quickly and conveniently. As always, we've combed the island for some of the most interesting classic and retro machines, starting with our very eye-catching cover car. It's hard to believe now, but about a year ago this Toyota MR2 was sitting in a scrap pile as a parts car, with no engine or gearbox, missing components, faded paint and a rotted sill! Only after a change of heart by its owner did its fortunes turn around, resulting in one more of these mid-engined legends being returned to the road.
Further into the mag, we also feature a Mini 1275 GT that's decades in the making, a beloved VW Polo that's gone from learner car to show stopper, an unrestored Toyota Celica GT4 and a lairy pair of hot Fords – a 1700 crossflow Anglia and ST170-powered Cortina – both built at home. Reports in this issue come from Classic Fest 2023, the Donegal International Rally, Cultra Hillclimb, Here Comes the Sun, Carlow Vintage & Classic Motor Club's Oak Park Show, the Clonmel VCC Car Show and the Celica Ireland Birthday Meet at Slane Castle, along with our regular detailing guide and a look back at the often-quirky car ads of decades past, so don't miss out!