American Psycho
It might be a stealthy matt black, but there's little hope of this amazing Pro-Street '69 Camaro moving around unnoticed! You don't see many full-on, drag-style cars on the road in Europe, and in fact this Camaro is the only one we know of in Ireland. Andrew Pollock finds out more.
Dark Matter
The VW Golf Mk1 has long been praised as being a nifty little handler, but add a supercharged 2.8-litre VR6 to the recipe and you're into an entirely different league of performance. Darren Deasy's DubShed-winning manages to pack performance and looks into one package, as Andrew Pollock tells us.
A-Grade
The Opel Manta has long been a cult car with a strong following. This month Carl Czanik takes a look at Gerry Doyle's distinctive Manta A, which has had a few tasty modifications since it first saw the light of day in 1974, including a scorching throttle-bodied red-top from a late model Calibra.
On Side
At the Friday evening preparations for this year's Killarney Rally of the Lakes, Retro Classics tagged along with the folks from Slowly Sideways Ireland, who have been delighting fans for the last few years by bringing the sights and sounds of the Group B, 2 and 4 cars of the past to life on the stages once more.
Express Delivery
Few cars have a wider range of modifications available than the humble Volkswagen Beetle. This California-inspired GP buggy now lives in Co. Antrim, fifty years after the donor car was built, and over 25 years since the buggy was built in England. Stephen McEvoy visited the owner, Paddy Convery, to find out more.
Go With the 'Flow
High-tech, modern engine transplants are all well and good, but there's an undeniable period charm to good old crossflow power. Andrew Healy's subtle '67 Cortina is rolling proof that sometimes it's best to keep things as simple as possible.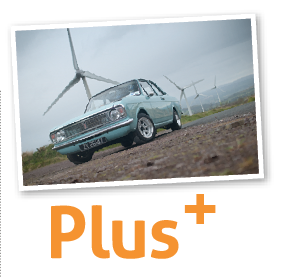 News & Products
What's new in the retro classic scene in Ireland and beyond.
Show Reports
Carrickmacross Road Run

Anne Casey Joy Run 2013

Ballymena Carfest

Causeway Coast Ford Fair, Portrush

Cultra Hillclimb 2013

Dubshed 2013

GAScc Rock & Rumble 2013

IEC Inishowen Run

Kilrea RS Show

Limerick VW Show

FIA Historics at Killarney Lakes

Retro Stock I 2013

MAAC American Show
In The Works
What's being built in the small garages and workshops of the island of Ireland.
Retro Club Scene
Our monthly look at clubs catering for retro classic cars.
Retro Buyer's Guide
How to buy yourself a good example of "the car that saved BMW"; the 2002.