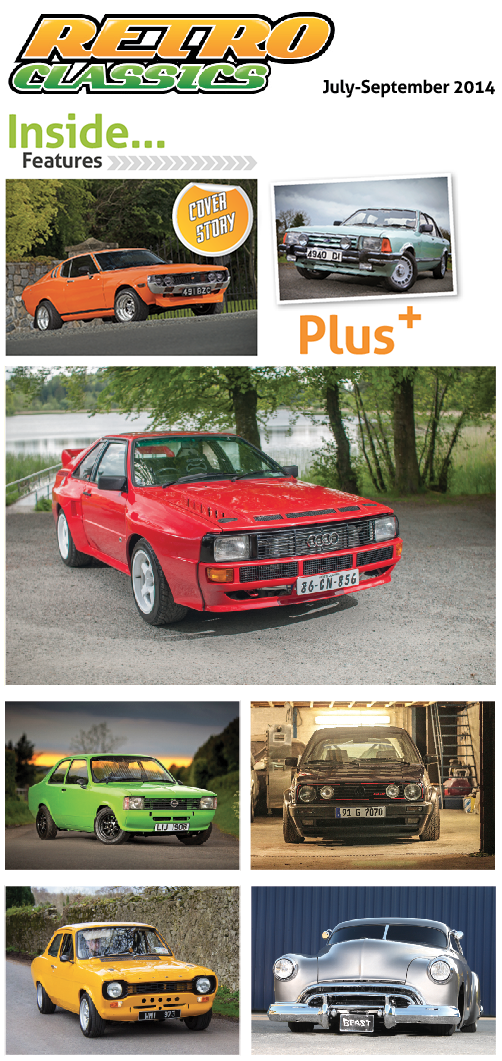 Tangerine Toy
With its polished split-rim wheels, shiny chrome and eye-popping RAL orange paintwork, you'd better be wearing your sunglasses when Brendan McCormack's Celica RA28 rolls by on a fine day.
King of the Lakes 
From the 1000 Lakes Rally in Finland to the Rally of the Lakes in Killarney, the legendary Audi Sport Quattro stamped its authority on eighties rallying. Adrian Nesbitt from Cavan has created his own homage to the short-wheelbase monster.
Green Light
While the Opel Kadett C has long been overshadowed on the modified scene by its arch rival when new, the Mk2 Escort, there's a hardcore fanbase out there that's intent on redressing the balance. Enter Phil Marks' XE-powered two-door.
The Granada Affair
Davey O'Connor from Lisryan in Co. Roscommon is no stranger to the classic Ford Granada range, but when he learned of this particular car's history nothing was going to stop him saving it from the crusher.
Smoke on the Water
Smoke; music; pyrotechnics; action! Love it or hate it, you have to admit that John McCarthy's unique and completely mad 1949 Oldsmobile custom is one heck of a show-stopper.
Blow By
Golf Mk2 G60 + Oettinger Tuning = One very special VW; this issue, Sean Hassett gets to spend a long night in a cold, damp field in Sligo with David Hunt's immaculate Mk2 Oettinger.
On the Mark
Paddy Gorman and his dad really had their work cut out when they dragged this Mk1 Escort out of the ditch, but after plenty of toil they've been left with a fast classic to be proud of.
News & Products
What's new in the retro classic scene in Ireland and beyond.
Show Reports
IEC Anne Casey Joy Run

GAScc Rock 'n Rumble

Causeway Coast Ford Fair

Croft Hillclimb

Dubshed

Kadettfest

MAAC American Show @ Kilbeggan

Limerick VW Show

Loughgall Festival of Motorsport

NEVCC Mosney Car Show

Barrow-2-Blackstairs Challenge

Irish Escort Owners Club Inishowen Run

Tipperary Vintage & Custom Rally Killarney Rally of the Lakes

 
In The Works
What's being built in the small garages and workshops of the island of Ireland.
Retro Club Scene
Our monthly look at clubs catering for retro classic cars.
Retro Buyer's Guide 
How to buy yourself a Mk2 or Mk3 Capri.