Classic vehicle ownership attracts all kinds of folk; some owners like to simply store their classic, polishing it every now and then, only taking it to the very occasional show, but happy in the knowledge that they own the very finest example of their favourite model. Others like the hands-on approach, spending every free minute fiddling under the bonnet, welding under the wheelarches or spannering under the chassis, not happy unless there is something to fix on their beloved classic. And of course, there are those of us who can't seem to stop buying new projects, no matter how little space or time we have…

All of the above really need one thing if they are to make any progress with their hobby, and that is a good garage or shed to store their beloved machines in. Speaking from experience, there's nothing more awkward or demoralising than trying to complete a classic project out in the elements on an open driveway, contending with darkness, cold and rain for most of the year. By the same token, the correct storage of a classic machine is crucial in protecting all of the investment, in terms of time and money, that you have sunk into it. Thanks to modern technology and economies of scale, spacious and maintenance-free garages are now available for very reasonable cost, making such an item a 'must-have' for the keen classic enthusiast.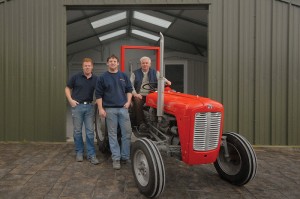 At the head of the market in Ireland is Shanette Shed Centre, based in Kilbeggan, Co. Westmeath. The longest-established manufacturer of PVC-coated sheds in the country, Shanette was founded in 1983 by husband-and-wife team Sean and Etna Keoghan (which gave rise to the company name). Starting out in the supply of small garden sheds, the business quickly grew; today, Shanette employs 28 people and is based in a purpose-built complex complete with their own production line, offices and, most importantly, a full customer show area. It is still truly a family enterprise, with Sean's sons Darren and Thomas on board for many years now. The permanent display area is full of the company's buildings and is a great showcase for the different sizes, colours and finishes that are available; it is certainly worth a visit if you are thinking of building such a shed, as you can work out exactly what type will best suit your needs and tastes.
With a range of sheds from 9'x 9' to 100'x 40', and with custom sizes also available, it's no surprise that Shanette have supplied buildings for all kinds of purposes, including helicopter hangers, gyms and even as a flamingo house in Dublin Zoo! All buildings start out with a pre-prepared concrete base, which is the only part of the procedure not handled by Shanette (although they can assist with the organisation of this). Every building supplied features a fully-galvanised framework, PVC-coated panels and 25mm roof insulation for maximum durability, and options include stone or wood-effect cladding, slate-style roofs, Kingspan fully-insulated wall panels and a huge variation of windows and doors.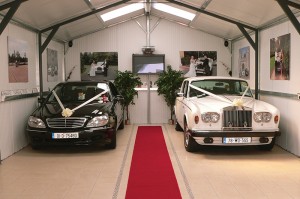 Roller and electric doors can be specified for added convenience, and all Shanette buildings carry a 10 year guarantee. With three assembly crews permanently on the road, fully equipped and complete with remote control cranes, it takes a matter of hours to erect a shed, leaving you with a fully usable garage or workshop by the end of the day with minimum fuss and disruption.
For full pricing and more information on Shanette Sheds, see their website  
www.shanettesheds.ie, call 05793 32294 or see their advertisement elsewhere in this magazine. As mentioned, their purpose-built display area at their headquarters in Kilbeggan, Co. Westmeath is also well-worth a visit, so why not call in for a look around; who knows, with the dark, wet winter closing in as we speak, you just might find a new home for your precious classic motor.