At the request of a long-term client, Singer has looked to a golden era of Porsche rallying in the 1980s, and to automotive heroes including the 911 SC/RS and 959, to re-imagine his air-cooled 911s as World Rally Championship-inspired, all-terrain competition machines. Founded in California in 2009, Singer has become globally known and respected for its celebration of the Porsche 911. The company undertakes bespoke restorations for owners of the air-cooled cars.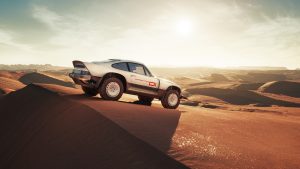 The 911 ACS (All-terrain Competition Study) has been undertaken by Singer in partnership with renowned UK-based 911 rally specialist Richard Tuthill, in response to the request from their client for modifications to his air-cooled Porsche 911 that would enable the car to compete in off-road racing and to demonstrate extensive all-terrain exploration capabilities. To highlight the broad repertoire of the ACS, the client has commissioned two machines, one – in Singer's iconic Parallax White – focused on high-speed desert rallying and a second – in Corsica Red – configured for high-speed, high-grip tarmac events and disciplines. The commissioning owner has agreed that the results of the All-terrain Competition Study will be available to others who wish to equip their cars with this off-road capability.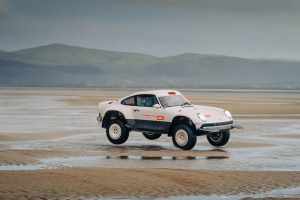 As with all Singer's restoration services for owners of the Porsche 911, the car takes the Type 964 generation of air-cooled cars as its starting point. At the heart of the machine is an evolution of the "Mezger" air-cooled flat-six, here in 3.6L form, with twin symmetrical turbochargers and fly-by-wire individual throttle bodies. A bespoke carbon-fibre body is optimised to allow easy access to mechanical components at service stops and to enable effective breathing and cooling for the power-train. The bespoke suspension and damping, together with AWD configuration, is designed to enable effective deployment of the car's power off-road, while the interior reflects the demands of off-road racing, with FIA-specification seats and harnesses, a full roll cage, a race GPS navigation system and in-seat rehydration systems for both driver and navigator.