One of the steepest challenges facing any restorer is the permanent eradication of rust; there's nothing more soul-destroying than spending ages sanding down, repairing and painting a panel or component only to find blisters and bubbles breaking out after months or even weeks. This kind of surface preparation is actually pretty specialised, and serious care and attention has to be given to ensure that all moisture and rust is locked away from the metal involved.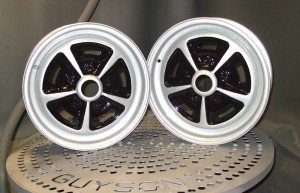 One of the most attractive ways of doing this is powder-coating; instead of simply painting the item, a special dry powder is sprayed on, attracted by electrical charge, in a special booth, then baked in an oven which 'cures' the powder, fixing it to the surface and providing a smooth, paint-like finish that is extremely tough. It is this durability that has made the process very popular in motorsport over the years, as well as in a huge range of industrial applications.
Dublin-based specialists Tallaght Powder-Coating know more about the industry than most, having started out way back in 1985. A real family affair, co-founders Andy and Margaret Dowdall started out the business from home with the assistance of their kids and other close relations, and in 1993 were able to progress from their workshop in Bohernabreena in the Dublin Mountains to their present unit in Ballymount in 1993. They haven't looked back since, and really built up their name in the architectural industry where they prepared components for high-profile developments such as Spencer Dock. However, over the years they realised that the drips and drabs of requests for small automotive jobs were turning into a steady flow thanks to word of mouth; however, unlike most other industrial powder-coaters, the decision was made to specifically offer a service to these enthusiasts, who were finding it difficult to find a large operation that could carefully handle these small, often unique, powder-coating requests.
It was a good move, as today TPC are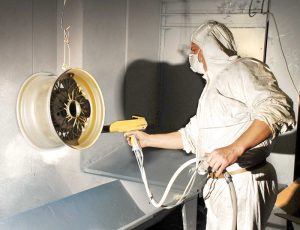 inundated with such work, and have built up an enviable reputation for quality and efficiency. Over the last year or so, we have come across many enthusiasts who have used and recommended TPC, and their work has appeared on these pages a few times on feature vehicles. Their colourful trade stand has certainly stood out at many of the vintage rallies and car shows this year, thanks to its large rack of brightly-coloured alloy wheels, bike frames and other components, and Managing Director Andy Dowdall tells us that there has been a great response. "We've enjoyed the shows immensely, despite the weather," he explains; "we hope to hit a dozen more vintage shows throughout the country next year."
On the day of my visit there was certainly a huge variety of automotive parts being prepared, with a Porsche 911 having just had its wheels refurbished (a company speciality), a vintage car grille and stack of motorbike tanks waiting for blasting, a Vespa scooter frame sitting on the bench in bare-metal, a cabinet full of multi-coloured alloys, bike frames, rocker covers, suspension parts, the list goes on and on. Andy's son-in-law Jeff ran me through the impressive process as he prepared a set of wire wheels for a '55 Chevy; it's not just a case of casually firing some powder at an item and hoping it will stick! Depending on the job the piece is dipped and stripped, blasted, etch-primed, receives a base colour coat and a top colour coat, banishing the evil rust for the foreseeable future and looking great to boot. Having personally spent countless hours in the past getting nowhere with wire brushes and overrated rust paints I found the whole thing very impressive; the process really is a no-headache way to speed up any restoration, and with such competitive rates and a no-compromise attitude to quality, Tallaght Powder Coating are certainly worth a call for anyone in the throes of a project, big or small.

Tallaght Powder-Coating are centrally located just off the M50, just 500m from the Walkinstown Roundabout, at Unit 14, Old Sawmills Estate, Lower Ballymount, Dublin 12. For all enquiries, call Jeff on 01-4564020, 087-6683289, or see www.tallaghtpowdercoating.ie