SPECIALIST RESTORATION COMPANIES ARE FEW AND FAR BETWEEN IN THIS COUNTRY, AND OFTEN THE REASON FOR THIS IS THAT MANY ARE SET UP, BUT OVER TIME FAIL TO SUCCEED. THOSE THAT STAND THE TEST OF TIME DO SO FOR ONE SIMPLE REASON; THE QUALITY, PROFESSIONAL WORK THEY CARRY OUT, AND ONE SUCH COMPANY ARE T&D HEANEY MOTOR COMPANY, BASED IN SWATRAGH, CO. DERRY. IRISH VINTAGE SCENE RECENTLY DROPPED INTO THEIR IMPRESSIVE WORKSHOP FOR A VISIT.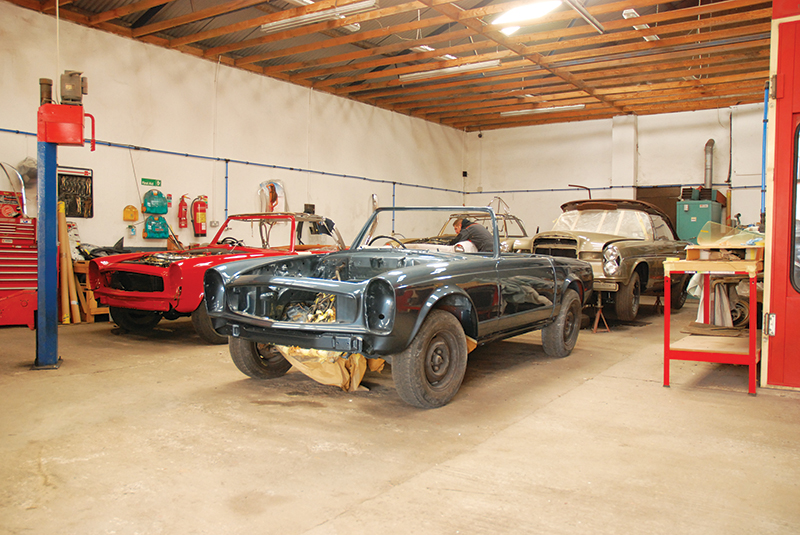 The business is run by Heaney father and son combination Tommy Snr and Tommy Jnr, along with five staff, and was formed back in 1975 as a general motor company carrying out everyday car maintenance and repair. In or around 1990 Tommy Snr bought an MG Midget that needed restoration, and as the old saying goes, the rest is history. Tommy Snr realised that there was possibly a lot of work available in the restoration business, and as it was something he enjoyed doing it just grew from there. At present T&D Heaney are known far and wide as specialists in Mercedes restoration; Tommy Jnr points out that this happened almost by accident, as they had been restoring anything that came their way. "One day we got a call from the Mercedes-Benz Club in England, asking us to do some work for them" he explains, "and from there the club recommended T&D Heaney to club members as a recognised Mercedes restoration company." While most of the work is now carried out on Mercedes cars, Heaneys will take on all other models, and indeed while in one of the workshops we saw a fantastic Jaguar E-Type V12 that they have just completed.
A tour around the workshops indicates that that these lads are really serious about what they do. In the first workshop I found three 280 SL Pagodas at different stages of full restoration. Close inspection shows that these are being done to an extremely high standard, and are finished exactly as one would have been direct from the factory. I asked if the huge investment by the owners of these cars would be worth it, and Tommy Snr points out that "these Pagodas are appreciating in value, and it is indeed money well spent, but it is getting harder to justify it. While sixteen years ago we could completely restore a Pagoda for £20-£25K it's now costing £80K to do one, as the cost of Mercedes parts has risen up to 200% in some cases in recent years." Other Mercedes cars that Tommy Snr thinks will be worth spending money on are the smaller 190 SLs, with W111 and W112 convertibles also worth investing in.
In the second workshop area there were a number of cars in different stages of restoration, awaiting the next stage to be carried out. Among these is a very unusual Mercedes 130H, a rare rear-engined car that has had a huge amount of restoration work done so far, and has another bit to go. The car belongs to an Irish Vintage Scene reader from Co. Kildare who, believe it or not, also has a second 130H. We will of course talk to him about these two rare cars when the current project is complete. Also in that room was a 220S Ponton belonging to another reader. The final room I was shown was the bodyshop, where yet another four Mercedes were in various states of restoration, cars from Scotland, England and Ireland.
Tommy Jnr tells me that all work is carried out in-house, with the exception of upholstery and chroming. "We have all of the servicing and diagnostics equipment here ourselves, which is a great help," he explains, continuing "we can also work on modern-day cars, as we keep our equipment fully updated at all times". As well as restoration work, T&D Heaney handle all types of maintenance from a general service to a mechanical overhaul. Tommy Jnr points out that they also call to customers in places like Dublin, as this saves a lot of hassle transporting the car to and from the workshop, which in turn, cuts down the cost. On leaving T&D Heaney Motor Company I was left in no doubt that, if I ever have a Mercedes needing work, it will be heading straight to their workshop as one could be assured of great workmanship, no matter what you needed carried out.