Upcoming events listed in Irish Vintage Scene magazine:
20th August: RIAC classic and sportscar run; for details, call Holly on 01 6775141.
20th August: 'The Crank-Up' & Classic Car Static Show at Drumachose Primary School, Alexander Road, Limavady, BT49 0BS. Gates open at 10am, pre-1990 cars and motorcycles welcome. £10 per car; for details, call Willy on 028 777 23951.
20th August: Cork Motorcycle Racing & Vintage Club's 10th Annual Allen Wilson Memorial Classic & Vintage Motorcycle Run from the Kilumney Inn, Co. Cork, P31 K376, with sign-on starting at 10.30am; for more details, call 086 3359171.
21st August: Irish Veteran & Vintage Car Club's 44th Powerscourt Picnic, for cars up to 1992; for further details, see www. ivvcc.ie.
21st August: Donegal Vintage & Classic Car Club show in Killybegs, in support of the RNLI; for details, call Pat Hannigan on 086 2526787 or Donal McGettigan on 087 9370679.
21st August: Yesteryear Motor Club meet at Scanlon's Yard car park, Dungarvan, Co. Waterford, X35 NT68 at noon. All cars welcome; for details, call Noel on 087 9700720.
21st August: Roscommon Sports & Classic Car Club's 3rd Day of Automotive History at Strokestown Park House, Co. Roscommon, F42 H282. All classic cars, sports cars and bikes welcome; for more info, call 087 2304960.
21st August: Crossbarry Vintage Run hosted by Crossbarry Community Action Group, with registration at the Crossbarry Inn, Co. Cork at 10am. Entry fee €15, with starters' draw and refreshments at starts and middle of run; for details, call Peter Burke on 087 7902528.
Click here if you want to list your own event.
---
Full list of this year's events is available in the Irish Vintage Scene magazine. Buy the new issue in print or digital using the links below.

---
IRISH VINTAGE SCENE ISSUE 195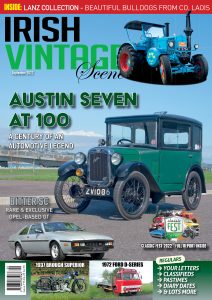 Gracing the cover of our September 2022 issue is one of the most special and important car models of all time – this year marks the 100th birthday of the one and only Austin Seven, and to celebrate we bring you a bumper seven-page feature on Herbert Austin's baby. Our second featured car couldn't be more different, a rare, fast and exclusive Bitter CD coupe from the mid-1980s, the brainchild of German former motor racer Erich Bitter.
Our tractor feature this month delves into a collection of Lanz Bulldog tractors based in Co. Laois, and owned by a life-long fan of the marque. We are delighted to feature a Brough Superior motorcycle in the magazine for the first time, a JAP V-twin-powered 1937 11.50 to be exact, while our commercial vehicle feature showcases a 1972 Ford D-Series that was rescued from the briars and restored as a lockdown project by a father and son team from Co. Westmeath.