Upcoming events listed in Irish Vintage Scene magazine:
6th August: Vintage display at Gort Agricultural Show, Gort Community Centre, Co. Galway. No autojumblers please; for details, call Padraic on 086 6003351.
7th August: Thurles Lions Club Vintage & Classic Car Show at MIC St Patrick's Campus, Cathedral St, Thurles, Co. Tipperary; for more info, call Eamonn on 087 6620576.
7th August: West Wicklow Classic & Vintage Vehicle Club's annual Baltinglass Classic Show & Run at Germaine's Hotel, Main St, Baltinglass, Co. Wicklow, with registration from 11am and road run starting at 2pm. Entry fee €20 in aid of local causes; for details, call Ned Kinsella on 089 2160673 or Ciara Kinsella on 087 3595469 or email [email protected] gmail.com.
7th August: The Dylan O'Driscoll Memorial Classic Car, Truck & Tractor Show 7 Run at Ballinacarriga GAA grounds, West Cork, P47 CK70, in aid of the Air Ambulance. Show starts at 11am, run follows at 2.30pm; for more info, call 087 4382980.
Click here if you want to list your own event.
---
Full list of this year's events is available in the Irish Vintage Scene magazine. Buy the new issue in print or digital using the links below.


---
IRISH VINTAGE SCENE ISSUE 194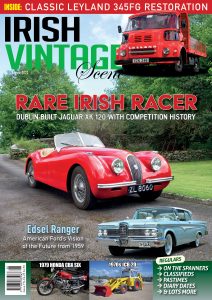 The cover of our August 2022 issue goes to one of the most beautiful cars we've featured in a long time – this 1951 Jaguar XK120 is not only an extremely rare Irish-built example, it has a unique back-story and a racing history on both sides of the Irish Sea. Our second featured car is another rarity, an Edsel Ranger two-door, of which less than 6,000 were built in 1959 by this ill-fated brand.
Our tractor feature this month is a little left of field as it tells the story behind the restoration of an early seventies JCB 2D Mk2 digger, in order to gift it to a beloved father who had bought one new in 1976 to start his own business ventures. Our motorcycle feature revisits the story behind the outrageous six-cylinder Honda CBX Super Sport, while our commercial feature showcases a Leyland FG that's been restored to absolutely stunning condition by a Dublin-based enthusiast.