Upcoming events listed in Irish Vintage Scene magazine: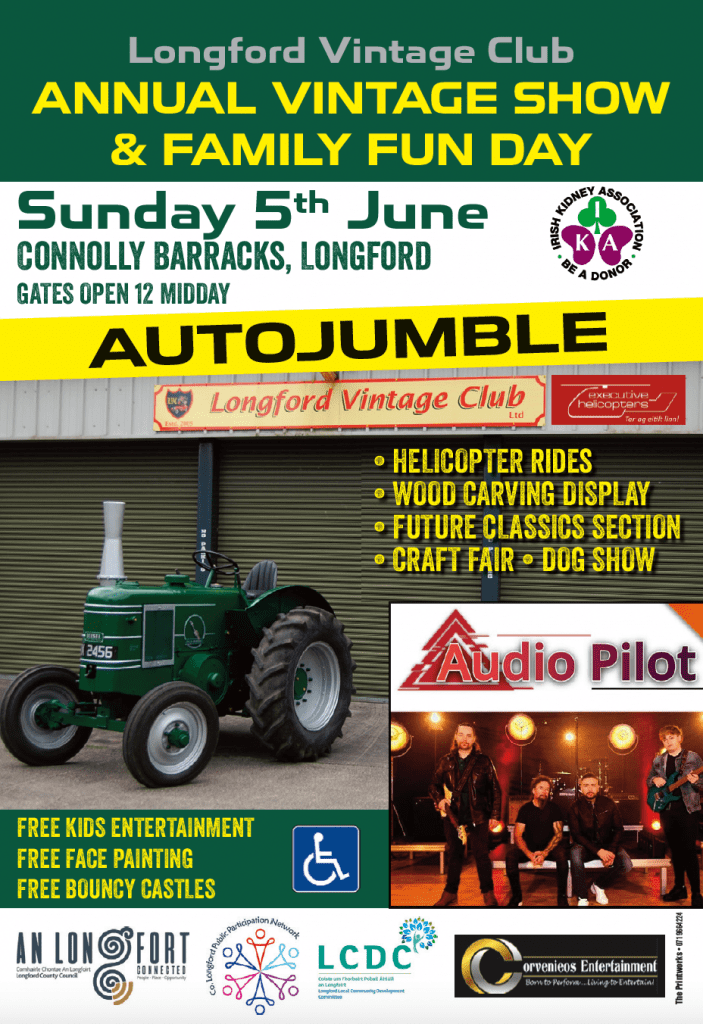 5th June: Longford Vintage Club's annual show & field day at Connolly Barracks, Longford, N39 EA43; for details, call Miceal on 086 0573965.
5th June: Benbulben Motor Show at Gilroy Business Park, Grange, Sligo from noon to 3pm. Stalls/sellers required to book in advance; for details, call 087 7110151.
5th June: Roughty Valley Vintage Club fair day and static show in Kilgarvan Village, Co. Kerry; for details, call Trevor on 086 8928769, James on 087 9853091 or Gavin on 087 2428831.
5th June: EVC Autoclub static classic car show at McDevitt's Yard, Annagry, Co. Donegal from noon to 3pm, in aid of Arranmore RNLI lifeboat; for details, call 087 2487289.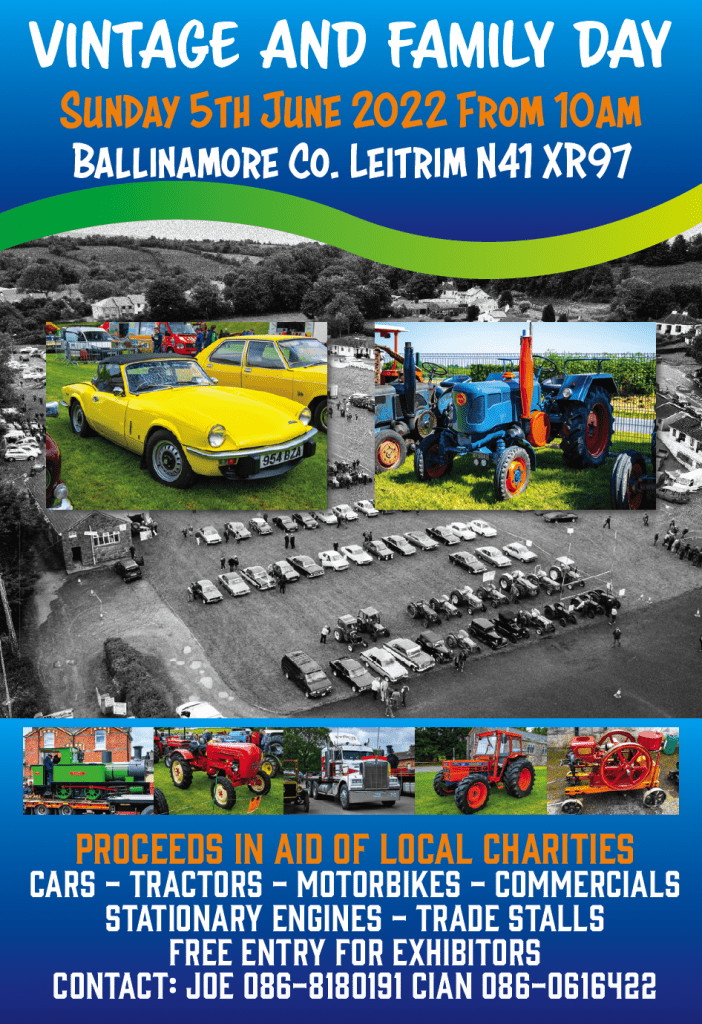 5th June: Ballinamore 8th Annual Vintage & Family Day in aid of local charities at St. Felim's, Ballinamore, Co. Leitrim, N41 XR97. All vintage exhibits welcome; for info, call Joe on 086 8180191 or Cian on 086 0616422.
5th June: Bray Vintage Car Club's Seafront Show at Bray Bandstand, open to pre-1992 vehicles only. All participating vehicles must be parted before 12.30pm and remain parked until 4pm. Event in aid of the local Lakers charity; for details, call Howards on 086 8300463.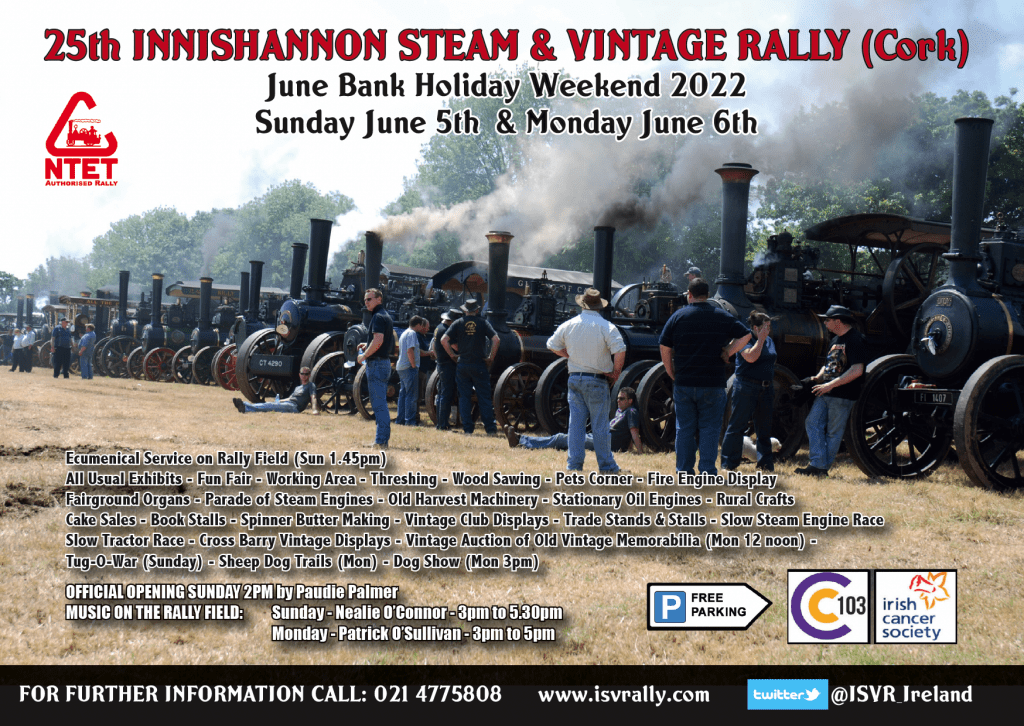 5th & 6th June: The Innishannon Steam & Vintage Rally in Innishannon, Co. Cork; more details to follow. For updates, see www. ivsrally.com.
8th June: Ballincollig Vintage Motor Club evening run to Kinsale, Co. Cork; for details, call 085 2087785 or 087 7937560.
Click here if you want to list your own event.
---
Full list of this year's events is available in the Irish Vintage Scene magazine. Buy the new issue in print or digital using the links below.


---
IRISH VINTAGE SCENE ISSUE 192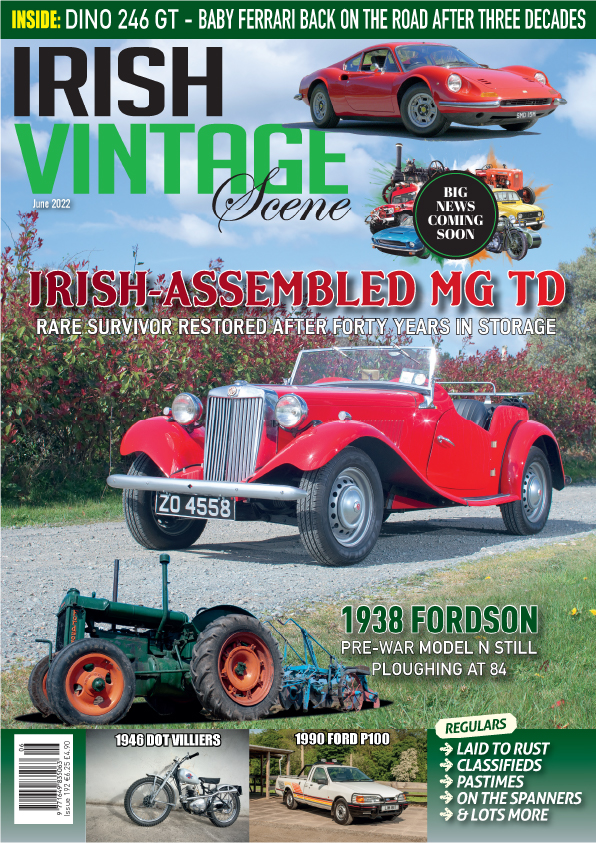 The cover spot of our June 2022 issue goes to a beautiful rarity in the form of a Dublin-assembled 1952 TD, which had lain as an unfinished project for many decades following the tragic passing of its owner. It's recently been restored, and is now back on the road in the summer sunshine. Our second car story outlines the efforts that one enthusiast went to in order to recommission a Ferrari Dino 246 GT after several decades in dry storage.
Our tractor feature this month looks at a 1938 Fordson Model N that, despite its great age, is still a regular entrant in ploughing competitions and is a source of great enjoyment for its owner and his young daughter. Our motorcycle feature outlines the restoration of a rare 1940s rigid-frame Dot Villiers trials bike that was sourced as a project from the Dot factory itself, and our commercial feature showcases the stunning result of a full restoration on a Ford Sierra P100 pickup that's been with one family since new.
All of the usual favourites are in there too, so don't miss out – buy your June 2022 issue of Irish Vintage Scene right here with FREE POSTAGE on the island of Ireland!