Upcoming events listed in Irish Vintage Scene magazine:
16th October: CART Carriganima Tractor Run; for info, call Danny Lane on 087 2213848.
16th October: Yesteryear Motor Club meet at Scanlon's Yard car park, Dungarvan, Co. Waterford, X35 NT68 at noon. All cars welcome; for details, call Noel on 087 9700720.
MODEL SHOWS: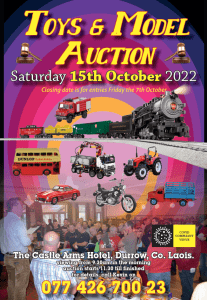 15th October: Toy & Model Auction in the Castle Arms Hotel, Durrow, Co. Laois; for details, call Kev on 0044 (0)77 4267 0023.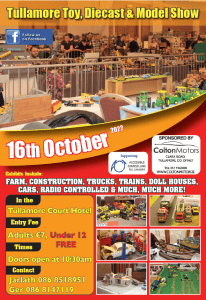 16th October: Tullamore Diecast Model Show at the Tullamore Court Hotel; for details, call Jarlath on 086 8518951.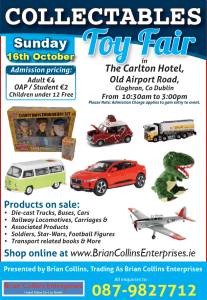 16th October: Collectables Toy Fair at the Carlton Hotel, Old Airport Road, Cloghran, Co Dublin from 10.30am to 3.30pm; for more details, call Brian on 087 9827712 or visit www.briancollinsenterprises.ie.
Click here if you want to list your own event.
---
Full list of this year's events is available in the Irish Vintage Scene magazine. Buy the new issue using the link below.

---
PRE-ORDER IRISH VINTAGE SCENE ISSUE 197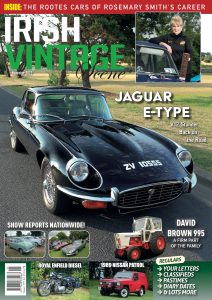 Sitting proudly on the cover of our November 2022 issue is a classic that needs little introduction – the Jaguar E-Type has been turning heads and winning trophies since its introduction in 1961, and while this stunning V12 Series III comes from a later stage of the model's life, it's still very much a thing of beauty following plenty of work by its owner. Our second car feature this month is very special, as we meet up with the legendary Rosemary Smith and some of the competition cars she's most associated with, to relive some of her past glories.
Our tractor feature this month is the tale of a cherished David Brown 995 that was restored using input from both sides of the Atlantic Ocean, our featured motorcycle is a real oddity in the form of a diesel-powered Royal Enfield Bullet, and our commercial feature tells the story of a 1989 Nissan Patrol 3.3 that spent its working life with the Tullamore fire service, before being saved from an uncertain fate by one of its serving fire-fighters.