Upcoming events listed in Irish Vintage Scene magazine:
1st October: Irish Veteran & Vintage Car Club's autumn social run for cars up to 31st of December 1992; for further details, see www.ivvcc.ie.
2nd October: The Connacht Pre-War Run, based at Hotel Westport, Westport, Co. Mayo; for further details, call Keith on 086 8523782.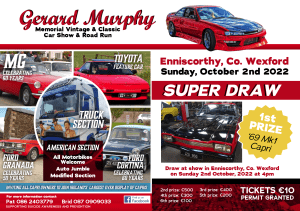 2nd October: The Gerard Murphy Memorial Classic Car Show & Run, Co. Wexford; for details, call Brid on 087 0909033 or Pat on 086 2403779 or see the event's Facebook page.
2nd October: Bandon Vintage Run, Co. Cork, in aid of the air ambulance, with full details to follow; for info, call Declan on 087 7614425.
3rd October: Donegal Vintage & Classic Car Club AGM at Jackson's Hotel, Ballybofey; for details, call Donal McGettigan on 087 9370679 or Eunan Kelly on 087 2366924.
Click here if you want to list your own event.
---
Full list of this year's events is available in the Irish Vintage Scene magazine. Buy the new issue in print or digital using the links below.

---
IRISH VINTAGE SCENE ISSUE 196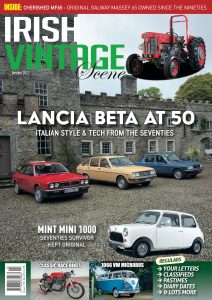 Claiming the cover spot of our October 2022 issue is one of the most infamous Italian cars of all, but sadly for the wrong reasons – the stylish, practical and lively Lancia Beta was on course to turn around its maker's fortunes when it was launched in 1972, but some well-publicised corrosion issues unfortunately took over the narrative and ruined its reputation. Fifty years after its launch, we look at what should have been an Italian success story. Our second featured car is a simply stunning 1978 Mini 1000 that was purchased in order to lower with a big set of wheels, but when its owner realised how amazingly original it was, he changed his plans from modification to preservation.
Our tractor feature this month tells the story of a recently restored Massey Ferguson 65 that's been part of the same Galway family for three decades, our motorcycle feature introduces us to two members of the Irish Classic Racing Association and three of their racing machines from Honda, Suzuki and Yamaha, and our commercial vehicle feature showcases a beautiful 1966 VW Microbus that was rebuilt by its owner after he imported it from the US, where it had been sitting in a field since the nineties!