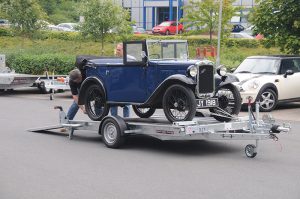 Established a number of years ago by Clive Latimer, Trailertek currently operate a Brian James Trailer dealership based in Co. Armagh. Such is the success of this dealership that management at Brian James Trailers have appointed Clive as their official Republic of Ireland importer to distribute their trailers throughout the country.
Clive's involvement in trailers goes back to the early nineties, when his father's garage business started selling livestock and utility trailers. The seed was firmly planted, and the knowledge and experience gained in the early days helped pave the way to today, where he is involved with one of Europe's leading and best-respected manufacturers, who now sell their trailers in several continents throughout the world.
While the name of Brian James Trailers is synonymous with vehicle transporters they also offer a wide and unrivalled range of commercial trailers, which will become more visible on Irish roads in the near future. "These are exciting times to be involved with Brian James Trailers, who have a professional range of trailers suitable for virtually any application" Clive explains. "I am dedicated to providing customers with a class-leading product through our authorised dealers in Ireland. These dealers have the knowledge and the professional ability to be able to offer advice on the range available and care for your trailer throughout your ownership."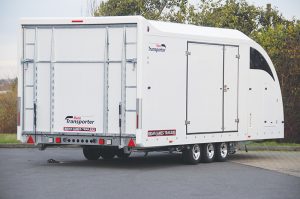 Whether customers have the requirement to transport an Austin 7 or an Aston Martin DB7, be assured that there is a transporter to suit, from an entry level Clubman to the recently-introduced Race Transporter series. Of particular interest to owners of high-value classic cars will be the enclosed Race Transporter range, which will allow you to move your car with no risk of damage from the elements, and the added benefit of security if your journey involves overnight stops. The professional quality, finish and modern styling is further enhanced through the extensive use of lightweight composite materials and aluminium, which has enabled weight to be reduced, resulting in better fuel economy. Interior space is paramount, and load-bed lengths of 5m, 5.5m, 6m and 6.5m are available, with complementing bed widths of 1.98m, 2.12m and 2.35m, thus making the Race Transporter suitable for all cars. Added options such as winches, storage compartments and even alloy wheels can be added to make your transporter as special as your car. As with all Brian James Trailers, the new Race Transporters have a standard five-year chassis warranty.
Im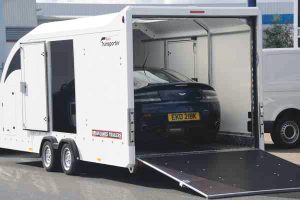 portantly, legislation for trailers has changed in recent times, and all new trailers sold from October 2012 for use within Europe must have EC-Type Approval. All new Brian James Trailers supplied through their authorised Republic of Ireland Dealers will come will an EC Type-Approval Certificate of Conformity. So, for your next car transporter or commercial trailer, contact your authorised Brian James Republic of Ireland dealer in the relevant area:
Munster: Jonathan Baker, Murphy Transport, Cork, 021 491 6500
Leinster: Robert McKinley, Leroni Trailers, Dublin, 046 905 2101
Ulster: Clive Latimer, Trailertek, Lurgan, 0044 (0) 7702 400450.
For further information on Trailertek's range of trailers, spares and accessories, log onto www.trailertek.net.