The May 2015 edition of Irish Vintage Scene (Issue 108) is on sale now, and as you've come to expect it's filled with a wide variety of feature vehicles from the length and breadth of the country. On the cover this month is a stunning example of one of the high-performance icons of the seventies and eighties – this 1980 Ford Escort RS2000 was snapped up in the UK a few years back by its current owner after a lengthy search, and even though it was one of the best examples he'd been able to find it still needed a bare-shell rebuild to bring it up to the standard he had set for it. Our second feature car is considered a real rarity even in its native Czech Republic, and so is practically unheard of here – the sixties Skoda 1000MB was the first of the company's famous line of rear-engined models, and this '67 has become a beloved part of its Irish family. We also bring you the penultimate progress update on the engine rebuild of a reader's 1928 Essex, which was hard up against its completion deadline as we went to print, and we visit a "time-warp" traditional garage in Co. Wicklow that's due to be cleared shortly following the passing of its long-time owner last year.
Our main tractor feature this month looks at two beautifully-restored E27N Fordson Majors as we tell the story of one man's affection for the model, a passion that he's now passed onto his young grandson. Our second feature brings you the unique story of a Massey Ferguson 135 that's been on the same Co. Carlow farm since 1965, and which emerged from a ten-year restoration just a few weeks before this magazine hit the shelves. Our feature motorcycle this month is also a unique machine – the 1928 Le Sepey Special, which has been created by its imaginative owner using parts from various vintage motorbikes – while rounding off our highly varied stories in this issue is a well-restored Ford D-Series truck that last appeared in this magazine as a "barn-find" project eight years ago.
Events-wise we've a number of reports this month, ranging from the Leitrim Vintage & Heritage Club autojumble to the NEC Classic Motorshow in Birmingham, England, and all of our usual attractions are in there too, so you won't want to miss the May 2015 issue of Irish Vintage Scene; get yours today!

.
.
Black Magic
Ford produced its Mk2 Escort in a wide variety of models, but if you were a driver in need of a fast but reliable daily then the RS2000 was king. This 1980 example is in stunning condition following a bare-shell restoration in the last couple of years.
.
---
A Major Passion

The E27N Fordson Major, or "High Nellie Fordson", is one that seems to bring out particularly strong feelings of nostalgia in classic enthusiasts. Pat Kelly from Gorey has restored two absolute beauties, and has passed on the passion to his grandson Shane.
.
.
---
Czech, Please!
Although today closely associated with its parent company Volkswagen AG, in its own right Skoda has a long and proud history stretching back into the nineteenth century. Its earlier models are treasured by enthusiasts, such as Ken Sweeney from Athy, owner of this attractive 1967 1000MB.
.

---
.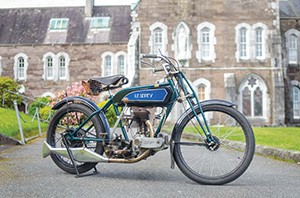 Special Reserve

Co. Cork has a long standing reputation as being a haven for creative and skilled imaginations from home and abroad. The inspired originality of Luc Racine's 1927 Le Sepey Special is very much in keeping with this tradition of skilled local craftsmanship with an international flavour.
.
.

---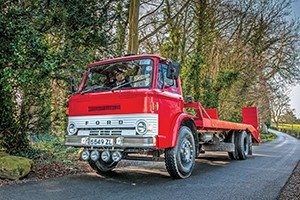 D-Pendable

BWhile the Ford D-Series was a popular and long-running truck it's a surprisingly rare sight at the vintage and classic shows, testament to how much they were driven into the ground in their working careers. This beautiful example has recently emerged from a careful rebuild.
.
.
---

.
.
Show & Event Report
Leitrim Vintage & Heritage Club Autojumble

Shamrock Car & Machinery Club Summer Run

Downpatrick & County Down Railway Event

NEC Classic Motorshow

North West Vintage Club Carrigart Rally
……………………………………………………………………………………….
Regulars
News & Events The latest developments from all over Ireland and abroad.
Diary Dates The most comprehensive list of upcoming events in Ireland.
Club Scene A dedicated section open to every club in Ireland to promote itself and its events.
Your Letters Have your say and get it off your chest; this is your place to say 
what you really think.
Laid to Rust A monthly pictorial of vehicles that are rusting away in the peace
of our countryside.
Past Times Ireland's best-known motoring historian, Bob Montgomery looks back at motoring and motoring events in the early days.
Model Scene News from the ever-growning world of model collecting.
Tales From Over the Water The often offbeat stories of our roving overseas reporter, Roger Hamlin.
Retrospect A page of old and nostalgic motoring photos sent in by our readers.
Classifieds Looking for a classic? Well this is Ireland's only dedicated marketplace.
Behind the Wheel Dick Byrne looks back at his memories of motoring in the last century.