Precious Metal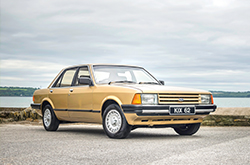 This beautiful Ford Granada has a precious nature that goes beyond its golden hue. It's an original 2.1 DL, a factory diesel model that is now rare in the extreme. This Irish example has been lovingly restored by a Cork family of enthusiasts to stunning condition throughout.
Faithful Ferguson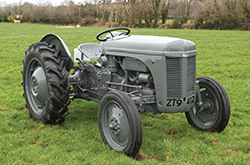 This year sees the 70th anniversary of the commencement of production of the Ferguson TE20 in 1946, and sixty years since the end of production in 1956, so it's the perfect time to look at a very original Irish example owned by a vintage enthusiast from Co. Cork.
The 'Works' Wonder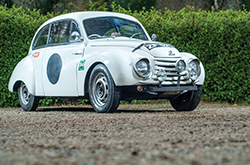 I'm sure that almost all classic car enthusiasts dream of a barn fi nd, or buying the same make and model of a car from their youth. Some even dream of reviving an old competition car to relive its glory days. John and Trevor Mitchell of the Kilgarvan Motor Museum in Co. Kerry have managed to fulfil all three dreams with their DKW 3=6.
Into The Blue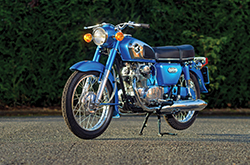 A loyal and dependable commuter machine that's come into its own as a classic these days thanks to its extensive chrome and mechanical simplicity, Honda's CD175 is as respected as it ever was. Maurice Cleary has done the model proud in this award winning restoration.
Bedford Beauty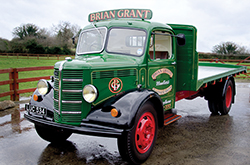 For some of us, the restoration hobby can be incorporated into the day job. Brian and Gary Grant are a father-and-son team from Co. Antrim who have managed to do just that, mixing in the restoration of some classic and vintage vehicles with their modern truck repair business, and this stunning Bedford O-Series is the result of one such project.

SHOW REPORTS….COUNTRYWIDE
IVETA Indoor Vintage Show

Lancaster Insurance NEC Classic Motor Show

Northam Vintage Swapmeet

Murrintown Model Show

The 5th Gerard Murphy Memorial Vintage & Classic Car Show & Road Run

Hershey Fall Meet
Regulars
News & Events The latest developments from all over Ireland and abroad.
Diary Dates The most comprehensive list of upcoming events in Ireland.
Club Scene A dedicated section open to every club in Ireland to promote itself and its events.
Your Letters Have your say and get it off your chest; this is your place to say what you really think.
Laid to Rust A monthly pictorial of vehicles that are rusting away in the peace of our countryside.
Past Times Ireland's best-known motoring historian, Bob Montgomery looks back at motoring and motoring events in the early days.
Model Scene News from the ever-growning world of model collecting.
Tales From Over the Water The often offbeat stories of our roving overseas reporter, Roger Hamlin.
Retrospect A page of old and nostalgic motoring photos sent in by our readers.
Classifieds Looking for a classic? Well this is Ireland's only dedicated marketplace.
Behind the Wheel Dick Byrne looks back at his memories of motoring in the last century.